Warble Entertainment's
The Edinburgh Harpist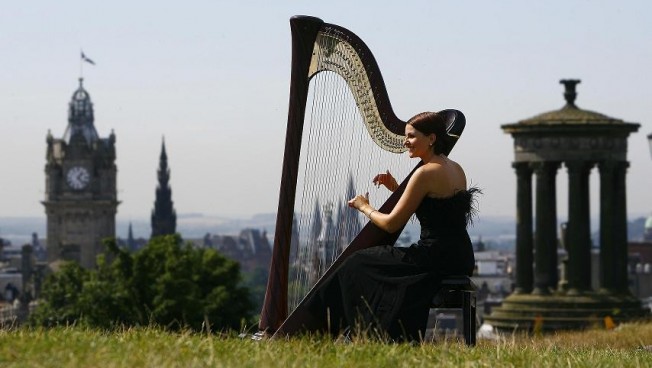 Location Midlothian
Starting from POA
Complete your perfect day with the romantic sound of the harp.
Let this breathtaking instrument create a unique atmosphere for your celebration.
The Edinburgh Harpist's music is available for any event and her comprehensive catalogue of over 200 pieces includes classical, jazz and world traditional music.
The Edinburgh Harpist is an International Harpist based in Edinburgh and her virtuoso performances and imaginative programmes have established her reputation as a harpist of exceptional accomplishment.
2 reviews
Song List
* Pedal Harp or Clarsach
** Pedal Harp only

Processional Music
*R. Wagner Bridal Chorus From 'Lochengrin'
*J. Pachelbel Canon In D
*Handel Arrival Of The Queen Of Sheba
*Bach Jesu, Joy Of Man's Desiring
**Js Bach Air From Goldberg Variations
*James Horner Brave Heart
*J.Massenet Meditation From 'Thais'
*Bach & Gounod Ave Maria

Signing Of The Register
*Alan Menken Love Theme From Beauty & The Beast
* G. Puccini O Mio Babbino Caro Musetta's Waltz
*Js Bach Jesu, Joy Of Man's Desiring
Air From Suite In D Major
*Debussy La Fille Aux Cheveux De Lin
*F. Chopin Prelude Op 28, No 7
*J.Massenet Meditation From 'Thais'
*Erik Satie Premiere Gymnopedie
*Anonymous Romanza
**Louis Bonfi Black Orpheus
*H.Carmichael Georgia On My Mind
*Nino Rota Romeo & Juliet
*New Britain Amazing Grace
*Robert Burns Oh! My Love Is Like A Red, Red Rose
*L. Van Beethoven Fur Elise
**F. Chopin Mazurka, Op 24, No 1/Posse
**C. Debussy Clair De Lune
The Girl With The Flaxen Hair
First Arabesque & Second Arabesque
**G. Faure Impromptu Op 86
**M. Glinka Nocturne
**F. Mendelssohn Songs Without Words
**G. B. Pescetti Sonata In C Minor
**G. Pierne Impromptu Caprice Op 9
**S. Prokofiev Prelude Op 12 No 7
**H. Renié Contemplation
**F. Schubert Serenade
**M. Tournier Etude Des Concert (Au Matin)

Hymns (Special Requests)
Please Choose Your Hymns On Www.Hymnsite.Com

Recessional Wedding March
*F. Mendelssonh The Wedding March
*H.Purcell Wedding March (Trumpet Voluntary)
*L. Van Beethoven Ode To Joy
*Bach Jesu, Joy Of Man's Desiring
**C. Salzedo Variations On A Theme In Ancient Style
Classical Solo
**B. AndresPreludes Book 1, 2, 3
Absidioles
**Bach Etudes For Harp/ Grandjany
Suite No.1(BWV 996)/Jamet
**J. S. Bach & C. Gounod Ave Maria
*L. Van Beethoven Fur Elise
Ode To Joy
**F. Chopin Mazurka, Op 24, No 1/Posse
Prelude Op 28, No 6
Raindrop Prelude Op28, No15
Prelude In C Minor
**C. Debussy Clair De Lune
The Girl With The Flaxen Hair
First Arabesque & Second Arabesque
**J. L. Dussek Sonata In C Minor/ Zabaleta
Six Sonatines
**G. Faure Impromptu Op 86
**M. Glinka Variations On A Theme Of Mozart
Nocturne
**G. F. Handel Passacaglia
**A. Hasselmans Feuilles D'Automne Op 45, 46 & 47
**P. Hindemith Sonata
**F. Mendelssohn Songs Without Words
*J. Pachelbel Canon In D
**G. B. Pescetti Sonata In C Minor
**G. Pierne Impromptu Caprice Op 9
**S. Prokofiev Prelude Op 12 No 7
**H. Renié Contemplation
**C. Salzedo Chanson Dans La Niut
Granada, Concert Fantasy On Lara
**F. Schubert Serenade
**L. Spohr Fantasie Op 35
**M. Tournier Etude Des Concert (Au Matin)
Feefie, Jazz Band Op 33
**D. Watkins Petite Suite
**M. Grandjany Fantasie On Theme Oh Haydn
**JS Bach Air From Goldberg Variations

Celtic Music Collection
*Scottish Traditional Music
Leaving Lerwick Harbour
Flower Of Scotland
Wild Mountain Thyme
The Hut On Staffin Island
Skye Boat Song
The Dark Island
Eleanor Plunkett
*S. Curcio Scottish Harp Music
*A. Macdearmid Celtic Garland
Ceol Na Clarsach
*D. Rees-Rohrbacher Harp Preludes For Church, Old Welsh Airs

*Traditional Irish Music Arrangements For Harp By G. Hambly
*K. Robertson Treasure Of Celtic Harp
*R. Williamson Legacy Of The Scottish Harpers
*S. Woods Fifty-Two Scottish Songs
*Isobel Mieras A Harper's Pleasure, 29 Songs For Harp

Jazz & Pop
**John Williams Music From Harry Potter
**A. Ray Fantazzia
**E. Hagen Harlem Nocturne
**I. Berlin Alexander's Ragtime Bugle Band
**A. Bzhezhinska Lemky's Ballade & Boogie
**E. John Circle Of Life From "The Lion King"
*N. Rota Romeo And Juliet
**G. Gershwin American In Paris And Rhapsody In Blue/Fell
**J. Williams Cantina Band From "Star Wars" (Mclaughlin)
**R. Rodgers My Funny Valentine
**B. Srtayhorn Take 'A' Train
*J. Merser Moon River
**L. Bonfi Black Orpheus
*H. Carmichael Georgia On My Mind
*Somewhere Over The Rainbow
**E. Blake Memories Of You
*A. Menken Beauty And The Beast
**G. Gershwin The Man I Love
**F. Lai A Man And A Women
**L. Webber Memory
**G. Miller Moonlight Serenade
**M. Jarre Somewhere My Love From "Doctor Zhivago"
**P. De Senneville Lettre A Ma Mere
**E. De Curtis Sing To Me
**J. Mercer Autumn Leaves
**M. Albert Feelings
**D. Weiss What A Wonderful World
**L. Bernstein Music From "West Side Story"
**L. Richie Endless Love
**B. Joel Piano Man & The Stranger
**P. Collins Do You Remember & Another Day In Paradise
**F. Neil Everybody's Talking From "Midnight Cowboy"
**G. Michael Careless Whisper
**M. Sherman It's A Small World
**M. Torme The Christmas Song
**J. Revaux My Way
**Howard Shore Music From The Lord Of The Rings