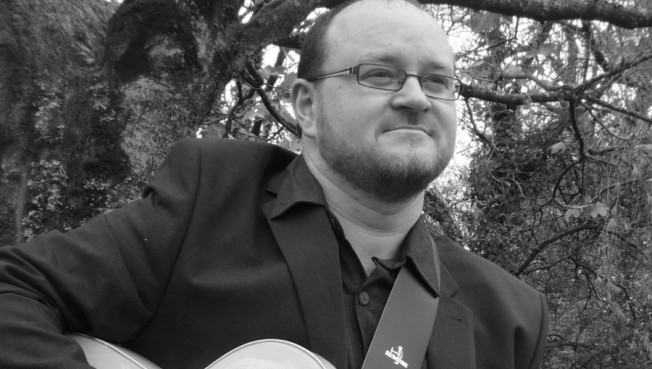 Location Carmarthen
Starting from £204.00
As a solo guitarist for weddings, functions, corporate and other events, Alex provides professionally prepared ceremony and background music in styles such as classical, jazz and film themes, popular music and folk, and is always happy to receive enquiries from clients searching for that perfect piece or genre for their event.
Number of Reviews and Counting... 1!
Alex has been playing guitar since the age of 13 and was performing with his first bands within a year of starting to learn. Building on his passion for music and the guitar he went on to study classical, jazz and solo acoustic styles and has been performing and teaching at a professional level for more than 17 years.
Alex's musical path included three well-spent years at the world-renowned Dartington College of Arts where his music degree studies included performance, composition and arranging - skills which he puts to good use writing tailor-made guitar arrangements of popular, classical, jazz and folk tunes for his many and varied clients.
Relocating to South Wales in 2013, Alex is now based in Carmarthenshire where he teaches guitar and continues to develop his already extensive performance repertoire. He is available for bookings throughout the UK. If you require emotive, passionate and inspired guitar playing to add that extra dimension to your special day, book Alex now!
Solo Acoustic, Classical or Jazz Guitar.
Options available for a duo consisting of guitar plus flute, vocals or harp.
Classical and Spanish Pieces
A la Nanita Nana - traditional, Spanish
Adelita - Francisco Tárrega
Adelita - Francisco Tárrega
Air on the G String - J.S. Bach
Alman - Robert Johnson
Andante - Fernando Sor
Andantino Op.60 No.3 - Matteo Carcassi
Andantino - Ferdinando Carulli
Aria - Johann Anton Logy
Ave Maria - Franz Schubert
Bianco Fiore - Cesare Negri
Bourrée - J.S. Bach
Bridal Chorus - Wagner
Canon in D - Johann Pachelbel
Caprice - Matteo Carcassi
Claire de Lune - Claude Debussy
Contradanza - Fernando Ferandière
Danza - 16th century, Italian
D'Oro Vedi Che Per Ti Moro - 16th century, Italian
Ecossaise - Mauro Giuliani
Ejercicio in E Minor - Jose Ferrer
Ejercicio No. 10/9 - Jose Ferrer
El Choclo - Angel Villoldo
El Noi de la Mare - traditional, Catalan
El Palito - traditional, Argentinian
Estudio - Francisco Tárrega
Farruca - traditional, Spanish
The Flower Duet - Léo Delibes
Gerbe des Fleurs - Jose Ferrer
Gigue - Johann Anton Logy
Greensleeves - traditional, English
Gymnopédie No.1 - Satie
Humming Song - Robert Schumann
In Dulci Jubilo - 16th century, German
Kemp's Jig - 16th century, English
La Borinqueña - traditional, Spanish
La Llorona - traditional, Spanish
Lágrima - Francisco Tárrega
Landler - Joseph Küffner
Leyenda - Isaac Albeniz
Menuet - Robert de Visee
Menuet - Dionisio Aguado
Minuet - J.S. Bach
Mistris Winter's Jump - John Dowland
Ode to Joy - Ludwig van Beethoven
Orlando Sleepeth - John Dowland
Pavanas - Gaspar Sanz
Pezzo Tedesco - 16th century, Italian
Plaisir d'Amour - Jean Paul Martini
Prelude - Robert de Visee
Romance - traditional, Spanish
Rondeau - Jean-Joseph Mouret
Rujero - Gaspar Sanz
Saltarello - Vincente Galilei
Sarabande - Johann Anton Logy
Scarborough Fair - traditional, English
Se Io M'accorgo - 16th century, Italian
Sheep May Safely Graze - J.S. Bach
Spagnoletta - 16th century, Italian
Villanos - Gaspar Sanz
Waltz - Dionisio Aguado
Waltz - Ferdinando Carulli
Wedding March - Felix Mendelssohn
Wedding March - A 'rocked up' version played on electric guitar with a backing track.
Welscher Tanz - Hans Newsidle
Popular Music
Alone - Heart
Brown Eyed Girl - Van Morrison
Can You Feel the Love Tonight - Elton John
Don't Know Why - Norah Jones
Every Breath You Take - The Police
Golden Brown - The Stranglers
Hallelujah - Leonard Cohen/ Jeff Buckley/ Alexandra Burke
I Can't Help Falling In Love - Elvis Presley/ UB40
I Just Called to Say I Love You - Stevie Wonder
If You Could Read My Mind - Gordon Lightfoot
Imagine - John Lennon
Let It Be - Lennon and McCartney
Lovin' You - Minnie Riperton
Mad World - Roland Orzabal
My Heart Will Go On - Deline Dion
Norwegian Wood - Lennon and McCartney
Rocket Man - Elton John
Shape of My Heart - Sting
Take Me Home, Country Roads - John Denver
The Way We Were - Barbra Streisand
What a Wonderful World - Louis Armstrong
Yesterday - Lennon and McCartney
Your Song - Elton John
Jazz Standards
Água de Beber
Ain't Misbehaving
All the Things You Are
All of Me
Aquellos Ojos Verdes
Blue Bossa
Body and Soul
But Beautiful
Caravan
Do Nothing 'til You Hear From Me
Don't Know Why
Easy Living
Fly Me to the Moon
Georgia on My Mind
Have You Met Miss Jones?
Here's That Rainy Day
Honeysuckle Rose
How High the Moon
I Hear Music
I'll Remember April
In a Sentimental Mood
Misty
On the Sunny Side of the Street
Satin Doll
Summertime
Sweet Georgia Brown
Take the A Train
Tangerine
The Surrey With the Fringe on Top
The Very Thought of You
They Can't Take That Away From Me
Time After Time
What a Wonderful World
When I Fall In Love
Folk Music
Boulavugue
Blarney Pilgrim
Dingle Regatta
Father Kelly's Jig
George Brabazon, 2nd Air
Greensleeves
Highland Boat Song
Lanigan's Ball
MacPherson's Rant
Merrily Kiss the Quaker
My Fair Young Love
O Danny Boy
Red Is the Rose
Rosalie
Scarborough Fair
Shi Beg Shi Mhor
Sitira Gal
Star of the County Down
Sweet Madeline
The Banks of the Suir
The Bantry Girl's Lament
The Coast Road
The Doon
The Morning Dew
The South Wind
Wellington's Advance
Rachel and Jon

, Wedding, Dorset
Thank you so much for your beautiful guitar music at our wedding ceremony. The lilting Irish ballads you played while we were signing the register created the perfect romantic atmosphere!
---
Lainston House, Hampshire
SS Great Britain, Bristol
Longleat House, Wiltshire
The Great Tythe Barn, Tetbury
Homewood Park, Bath
Nunney Castle
The Guildhall, Bath
Malmesbury Town Hall
Beechfield House, Wiltshire
Macmillan Cancer Support
Coleton Fishacre Gardens, Devon
Bath Spa Hotel
Gillingham Festival
Dartington Hall, Devon
Rhinefield House Hotel, Hampshire
Imperial Charity
Orchardleigh House, Somerset
Ashton Court, Bristol
Nunney Street Fayre
Riley's Wish
Marston House, Somerset
Frome Festival
Laverton Hall, Wiltshire
Marwell Hotel, Hampshire
St. Lawrence Chapel
Westbury Town Council
Chewton Place, Keynsham
Assembly Rooms, Bath
Bath Beer Festival
Bowood Golf Club, Wiltshire
What styles of guitar music can you provide?
I have an extensive repertoire of Classical, Jazz, Popular and Folk pieces so can accomodate most tastes. I'm always adding to my repertoire so if there's a specific style you'd like (Spanish, Blues, Celtic etc) please don't hesitate to ask.
Do you accept requests for specific pieces?
Yes. All bookings include one request piece at no extra charge*. Wedding clients especially like to choose pieces for the Processional, Signing of the Register and the Recessional. If the requested piece isn't already in my repertoire I'll either seek out sheet music or write my own arrangement for it. Please allow at least a month's preparation time before your event for request pieces.
Very occasionally a chosen piece might not be suitable for the guitar in which case I'll let you know within a few days of receiving the request so an alternative can be chosen.
*Additional requests are subject to a fee and require at least a month's notice.
Will the guitar be loud enough? Or too loud?
Played acoustically, the guitar is a fairly quiet instrument so there's no danger of it being too loud in smaller, more intimate settings. For larger spaces requiring extra volume I use an amplifier that is more than adequate for typical function venues and can be adjusted to your preferred level.
What are your requirements on the day?
- A performance area approximately 1.5 metres by 1.5 metres.
- A chair (armless, such as a dining chair).
- If the guitar is to be amplified, a power point within six metres of the performance area.
Sets typically 45-60 minutes. Up to 4 sets with a minimum 10 minutes break between each set (pre-recorded background music is provided between sets).
Please Note: The fees indicated below are approximate and based on a central location for each county. They are intended to provide a rough guide only and exact quotes can only be given once the date and exact location of your event have been provided.
North West
Cheshire
£288.00
Manchester
£300.00
Merseyside
£300.00
East Midlands
Northamptonshire
£324.00
Wales
Anglesey
£288.00
Caernarvonshire
£276.00
Denbigh
£270.00
Flint
£288.00
Cardigan
£240.00
Brecon
£204.00
Carmarthen
£204.00
Glamorgan
£204.00
Monmouth
£210.00
Pembroke
£204.00
West Midlands
Gloucestershire
£276.00
Herefordshire
£264.00
Shropshire
£264.00
Staffordshire
£312.00
Warwickshire
£312.00
Worcestershire
£288.00
South West
Devon
£282.00
Dorset
£276.00
Somerset
£252.00
Wiltshire
£252.00