Warble Entertainment's
Anna The Sussex Harpist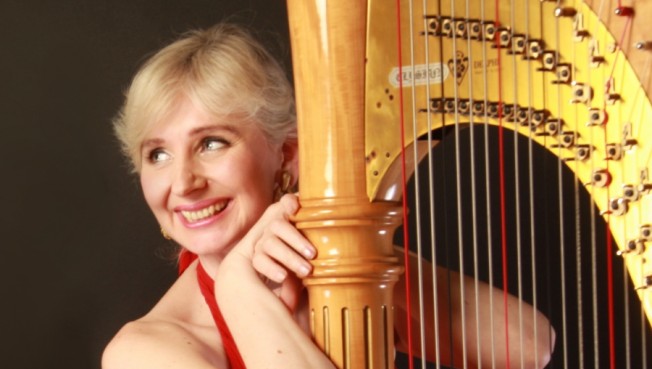 Location Sussex
Starting from £276.00
Anna is a Scottish born singer, harpist and songwriter. She trained at Chichester College and has an BA hons in music from Brighton University. She has composed, sung and played on many CD releases, radio performances and live concerts.
Currently, Anna performs solo with her grand harp as well as with other ensembles including an established Flute and Harp Duo and a Jazz Trio / Quartet.
1 reviews
Song List
Christmas Repertoire!
Silent Night
While Shepherds Watched Their Flock
O Little Town Of Bethlehem
Hark the Herald Angels
Holy Night
Marys Boy Child
Morning has Broken
Carol of the Drum
Jingle Bells
Good King Wencelas
The First Nowell
12 Days of Christmas
God Rest You Merry Gentlemen
Below are a list of example genres that Anna can cover.
Baroque
Handel-sonata in G major
Chaconne by Jermiah Clarke
JesuJoy of man's Desiring by sebastian Bach
Classical
Gnosienne no1 by Eric Satie
Gymnopedie by Eric Satie
Pachabels canon in G
Sicilienne
Scottish Traditional
Skyboat Song
My love is like a red red rose
A Daunce
Irish Traditional
English Traditional
Scarborough fair
Greensleeves
Kleizmer/Jewish Traditional
Halva
Berdichiever Khoid
Orientalische Melody
Russian Traditional
Those were the days
Moscow Nights
Italian Traditional
Siciliana by Pergolesi
Santa Lucia
Spanish Traditional
Popular
Dance me to the end of Love by Leonard Cohen
La vie en Rose
The Rose
The First Time ever I saw your face
My Perfect Moment
Repertoire for Jazz Ensemble
Autumn Leaves
Ain't Nobobies Buisiness
Blue Moon
Bye bye Blackbird
Can't Buy Me Love
Can't Help Loving Dat Man
Charlie is My Darlin
Comin Through the Rye
Dance Me to the End of Love
Dindi
Falling in Love Again
God Bless the Child
I Don't Want to Set the World on Fire
In a Sentimental Mood
La Vie En Rose
Loverman
Nearness of You
Once I Loved
Skye Boat Song
Slow Boat to China
Summertime
When I Fall in Love
Winter love
Wishbone Ash
.... and more ....