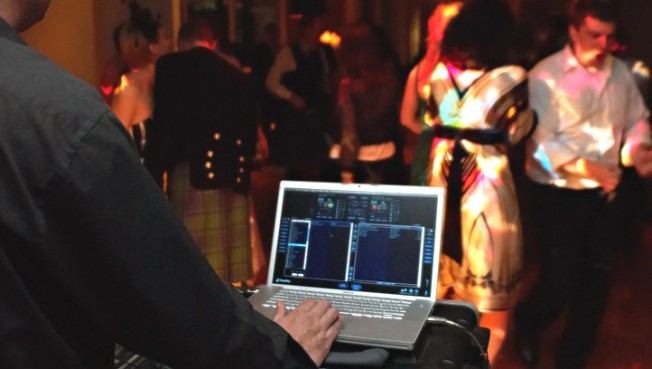 Location Midlothian
Starting from POA
BB DJs have been around now for over ten years supplying mobile discos and live music all over Scotland.
BB DJs has grown from strength to strength over the years.
Offering a mobile disco service that is second to none BB DJs are constantly reviewing their operation and have recently upgraded sound and lighting to a specification that is very hard to beat.
*Fantastic Scottish DJ with over ten years experience*
Number of Reviews and Counting... 1!
BB DJs have been around now for over ten years supplying mobile discos and live music all over Scotland.

BB's is a mobile disco company supplying discos for parties, weddings, corporate events, children's parties and believe it or not fashion shows! Unlike some beers, BB's travel well and can supply you with the professional service you expect anywhere in Scotland.

BB DJs offer a mobile disco service that is second to none and they are constantly reviewing their operation and have recently upgraded sound and lighting to a specification that is very hard to beat.

Here is a list of the types of equipment BBs are likely to use at an event:

Speakers: Bose 802 series III, Bose MB4 Bass Units, JBL Marquee Series 12's, Yamaha 15's

Amplifiers: Crown XS900, Crown XS1200, C Audio GB602, Crown XLS602, C Audio GB202

Lighting: Pilot 150 Intelligent Lighting System, Abstract Twister 3, Abstract Wildstar, NJD Chaos, Chauvet Abyss, Windmill Front Boxes, Star Front Boxes, Martin Ego 01, Martin Ego 03

CD Players & Mixers: Pioneer CDJ100s CD Decks, Pioneer DJM 500 & 700 Mixers, Citronic Dual Professional CD Player, Citronic Professional Mixer, Omnitronic Pro Dual CD Player, Omnitronic Pro Mixer

Other Components: Apple MacBook Pro, Fireface 800 audio interface, Bose Panaray Digital Controller, DOD 231Q Graphic Equaliser, Sienhiesser Radio Mics, DMX Lighting Controller, Pulse Lighting Controller, Sienhiesser Headphones, Shure SM58 Mics, Powerdrive Lighting Stands
Liz Smith

, Wedding, Glasgow
BB DJs were stars!!! He was the perfect person for our event. He managed to get two different nations to party, and boy did we party. The music was great and the chat apt. He even called the steps for our African guests in a country dance section. We had a great time. Full marks to BB DJs and the company.
---
BB previous clients include:
Jenners, After Hours, Arnold Clark, West Skelston, Bank Of America, Gala Casino, Diagio, RBS, HBOS, Clydesdale Bank, Eighty Queen Street, Bruntsfield Primary School, Sciennes Primary School, Debenhams, B&Q.
Previous venues include:
Lennoxlove, Borthwick Castle, Dundas Castle, Roxburghe Hotlel, Glasgow Piping Centre, Grosvenor Hotel, Glasgow Science Centre, Dynamic Earth, Marlyns Wynd, Gala Casino, Radisson Hotel, Merchants Hall, Morays Hall Hotel Perth, Eighty Queen Street, West End Hotel, Barnton Hotel, Dubar Golf Club, Gala Golf Club, Prestonfield Golf Club, North Queensferry Lodge Hotel, Woodside Hotel Aberdour, Braid Hills Hotel, Edinburgh Press Club, Bruntsfield Primary School, Sciennes Primary School, The French Institute Edinburgh, Mount Stuart House, Cameron House, Caledonian Hotel, Balmoral Hotel, Glenskirlie Castle, House For An Art Lover, Glasgow Galleries, Wedderburn Castle, Prestonfield House, Merchants Hall, George Hotel, Murrayfield Stadium, Easter Road Stadium, Balbirnie House Hotel, Merchants Golf Club, Corn Exchange, Marriot Maybury Hotel, Radisson SAS Hotel, Ballathie House Hotel, Glencourse House, Norton House Hotel, Surgeons Hall, The Jam House, Erskin Bridge Hotel, Royal College Of Physicians.
Weddings - This may be the only time you ever have to book a mobile disco and what a night to have to do it for, your wedding. Everyone you know will be there, family and friends, and they have all had a great day so far and are looking forward to the evening reception and the entertainment. This part of the day is so important as it will be the last thing everyone remembers of your big day.

The doubts and fears you may have will be born from a bad experience where you or someone you know was at a function where the entertainment was not as entertaining as it should have been for whatever reason. As you are probably by now aware there are hundreds of mobile disco or entertainment agencies who will be more than happy to relieve you of your entertainment budget, and some without really finding out what it is you are looking for.

BBs on the other hand are different. The five years experience they have in the wedding industry gives them an edge and what's more they are always looking for new ways to add value to their service. This has worked in their favour as a large number of our wedding bookings have come from people who were at a friend's wedding where BBs provided the disco.

BBs DJs will always:

• make the effort to find out what you are looking for
• make arrangements to meet you in person to discuss your requirements when required
• provide a professional service
• encourage your input on the music played

Corporate Entertainment - BBs are a professionally run operation who know what is expected in today's corporate entertainment market and deliver these expectations day in day out. No event is too large or too small and they have numerous ideas to make sure your evening ends with a bang!

An exceptional service usually comes at an exceptional price - not with BBs. They are all too aware of the need to cut costs and save money wherever possible in today's economic climate. However when organising an event you want to ensure your clients and staff have the night of their lives without your company spending a fortune. BBs DJs offer the exceptional mobile disco service at a reasonable price so you can relax and enjoy the evening.

Parties For Children - BBs provide an exciting fun disco party package for kid's parties and for all ages. As well as all of the latest tunes the DJ's come armed with games and fun ideas to ensure everyone has a ball, even the big people.

BBs are often called upon by local Primary Schools and children's groups to entertain the pupils from P1 to P7 at annual parties and celebrations. They are well aware of the disciplines required when working with children, which is why their reputation is so strong in this area.

Parties For Grown Ups - Birthday parties, anniversaries, work parties, going away parties, student events, school discos, house parties, Christmas parties, Halloween parties, Bar-B-Q's, fashion shows – BBs DJs do them all.
Why not have a theme disco based on any decade of music or style of your choosing. BBs can supply the music to match your theme.
Please Note: The fees indicated below are approximate and based on a central location for each county. They are intended to provide a rough guide only and exact quotes can only be given once the date and exact location of your event have been provided.