Welcome to your wedding entertainment bible. The following scriptures have been penned by the top wedding entertainment experts at Warble Entertainment. We write this in the hope that it will serve as your loyal guide through every aspect of planning your wedding entertainment.
There is an entertainment shaped mountain ahead of us and we are going to climb it together! As your Sherpa, we advise preparing a drink and settling in whilst we make this journey. Tea, coffee or even an alcoholic beverage are all fine by us. As long as you're comfortable.
If you are unsure of where to start with your wedding entertainment, it's here.
We will cover everything from what you can expect to pay for wedding entertainment, how booking performers actually works and loads of other useful tips, tricks and ideas to help you get the most out of your entertainment on your wedding day! If you want to skip ahead or return to a particular section, then follow our contents list. You ready? Let's get started…
How Much Does Wedding Entertainment Cost?
Before you book something it's good to know how much you can expect to pay. Live wedding bands and entertainment come in all shapes and sizes, and therefore, prices can vary. A good rule of thumb for professional wedding musicians is that the cost per musician or performer is usually around £200 to £300. When we do the math then you can expect duos in the region of £400 to £600 and full four piece or larger bands to be around £1000. Now that is some solid mathematics, are you impressed? We didn't use a calculator or anything.
Remember that factors such as the distance your entertainment has to travel, the popularity of the date and any extra services offered can alter the price. Weekdays and off-peak dates can often be cheaper!
The best thing about wedding entertainment these days is that every budget is catered for. You can still have an amazing celebration with a small budget. On the other end of the scale you can make a big impression when spending big.
The Cost of Hiring Professionals
Hiring a group of professional musicians or entertainers to perform at your wedding may seem expensive on the surface, but there is a good reason for this. If there is but one thing you should take away from this guide, it's that you should absolutely hire professionals for what is potentially the biggest day of your life.
"But, I have a mate who can do it…" you insist! We all know a friend who plays the guitar, or a colleague who reckons they are a dab hand on the drums and claims they can rip through the drum fill in 'In The Air Tonight' with ease. They might be able to hold a tune, but put them in front of a crowd, under pressure, with a list of requests and a sea of drunken friends… how can you guarantee they won't crumble like a dog biscuit?
These are the parts of the day that your friends and family will remember the most, so don't leave it up to chance! Does your mates band have Public Liability Insurance? Is their equipment PAT tested? Do they even have their own equipment? Avoid these headaches and go to a professional. Trust us, this is not a risk you want to take. Ain't nobody got time for that drama on their wedding day! Hell naw.
What Is Included In The Price?
So now we have a rough idea of how much hiring a performer will cost you, but what are you actually paying for?
Performance: This is the bit you really care about. The actual performance from beginning to end makes up part of the fee for your entertainment, and it promises to be epic!
Expertise: When booking a professional, you are also paying for the years of experience that come with their craft. The best wedding entertainers will know how to deal with pretty much any situation, because you can guarantee they've dealt with it many times before.
PAT/PLI: Like we mentioned above, professional wedding entertainers will have the relevant insurance and equipment documents. Your venue may ask to see these – and booking through an agency ensures that you are paying for a performer that is fully insured.
Equipment: The performer will provide all of their own equipment as part of the fee. You don't have to worry about PA hire, microphones, amplifiers or any other technical wizardry…
Travel: This is actually one of the biggest expenses, yet many seem to forget about this part. The travel time alone, and then setting up and packing down can amount to many hours! Our advice would be to opt for entertainment that is closer geographically to your venue. You will save money and the performers will find it much easier.
Bespoke Service: Every performance is unique. Your band may play a bespoke set for you, or even learn requests for your first dance or ceremony. Your wedding entertainment will make their performance tailor-made for you and will spend the time working with you to create something special.
All of this and more makes up the final price that you see in front of you for your potential wedding entertainment! Bear this in mind when you are looking for entertainers. The most professional acts will create memorable moments on your wedding day and will provide all of the above as part of their fee. Now let's take a look at some different types of entertainment that you can actually book for your wedding day.
Wedding Entertainment Ideas
There are so many different types of wedding entertainment, and it can be overwhelming when you first start looking. To begin with, we are going to focus on the most common (and most popular!) type of wedding entertainment. Live wedding bands.
Your Guide to Wedding Bands
Without a doubt, the most sought-after type of wedding entertainment by most couples is the live wedding band. Get this right, and you really do have a show-stopping finale to your big day.
'The Indie Killers were absolutely amazing! The atmosphere was electric and it was like our own private gig. Every single person was on the dance floor and the set list couldn't have been more perfect.' (Leanne & Tom's Bonfire Night Wedding with The Indie Killers).
Booking a wedding band is a process, but is also one of the most enjoyable and exciting parts of your wedding planning! There is something special about live music, it can generate so much energy and emotion in a room. With this in mind, it's a good idea to put a lot of thought into what band you choose. Here are the things you should look for when searching for your perfect wedding band.
Genre: Decide on your style. The most popular style of wedding band available is the 'Rock & Pop Cover Band' archetype. These bands will have something for everyone, and can really bring a proper gig atmosphere! There are so many styles of bands available such as festival style folk bands, soul bands and much more. If your wedding is themed then this makes your decision much easier.
Setlist: Does the bands setlist line up with your tastes? Party bands spend a long time refining their set for maximum impact. Don't just look for your favourite tracks. Instead, search for songs that will keep everyone up on the dance floor.
Videos: As much as you may wish this wasn't true – you are very, very unlikely to be able to see your chosen band live before you book them. Unless you have been lucky enough to catch them at another private event (or are an expert wedding crasher), seeing them live will be tricky. This is why a strong video is necessary for the top bands. Study these videos as they will give you the best idea of what your band will look and sound like live!
Feedback & Testimonials: Paying attention to testimonials from real couples is so important. Do they have many reviews and can you trust they will deliver on your day? Real wedding blogs are also a great resource and can give you a bigger picture of someone's day with your ideal band!
Extras: Make sure you're getting value for your money. Find out what extras the band offer as part of their package! Do they provide a DJ set in between and after sets? Can they learn your first dance song or maybe even provide an acoustic set earlier in the day?
Social Media: Get your stalk on. Everyone these days is a semi-professional social media stalker by day, so do the same with your band! Check them out on Facebook or Instagram and see what they get up to. You might spot some awesome live clips, pictures from previous weddings or hidden gems. If you are booking through an agency then see what they are putting out on social media, and if they are a reputable company.
Wedding Venue Checklist For Live Music
Before we move on to what other types of entertainment you can have on your wedding day, you will want to use the following venue checklist. Ask your wedding venue these questions before you book your wedding band:
This should be your first question! Make sure your chosen venue actually allows live music before you book your band.
Is there a sound limiter?

Some wedding venues have sound limiters in place that cut the power if the noise level is too high. If your venue does have one, don't panic! Check out this guide on sound limiters at weddings along with some suggestions for suitable acts.
Do I have to choose from your supplier list?

Some venues work to a specific supplier list, and this is true for entertainment as well. Make sure you are allowed to bring in your own band before you book outside the venue.
If you're one of those people who likes to party late into the night, firstly send us an invite to your wedding! We'd love to party with you. Secondly, check if the venue has a curfew. You don't want any surprises on the night.
How big is the stage/dance floor?

You need to know if there's enough space for your band to fit, and also enough space for you and your party to throw some shapes on the dance floor. What's the point in practicing your moves in the mirror if you can't bust them out on the night?
Congratulations, you're now a wedding band expert! Join the cool club. Enjoy your search for your live music. You'll soon realise that it's really exciting to book a band so make sure you revisit the above tips to help you find the right one for you.
So, what about entertainment for the rest of your day? When booking wedding entertainment, we say that the best approach is to work backwards. There is so much that you can have on your day, but prioritising the big finale and then figuring out the rest of your day will make things much simpler. Begin at the end of night as this is the part most of your guests will remember!
Once you've booked your wedding band or DJ, you can start to focus on the rest of your day. We're going to revisit the evening party later on for some more advice but for now, let's take a journey through the 4 main parts of your day in search of some wedding entertainment ideas for each of them.
Wedding Ceremony Entertainment Ideas
The wedding ceremony is one of the most important parts of your nuptials – after all it's the part where you actually get married! Such a special moment deserves special attention.
Consider the role your entertainment takes here and how it can elevate and heighten the emotions of your big moment. The way your ceremony plays out will set the tone for the rest of the day, so think carefully about what atmosphere you would like.
The use of live music is the most common type of entertainment in a wedding ceremony. If you a hire a musician for your wedding ceremony, the format is usually as follows…
Prelude (Guest Arrival): Around 30 minutes of background music.
Procession, Signing the Register and Recessional: Typically 3 to 4 songs, possibly including your aisle walk.
The type of musician you choose to hire for your wedding ceremony depends on what atmosphere you would like. Wedding harpists for example are one of the most popular acts booked for ceremonies. The instrument both looks and sounds beautiful, and overall, it's a really stunning way to begin the day.
You can always hire a vocalists such as classical singers or a full choir to really ramp things up. This will absolutely create an amazing memory for anyone who attends.
Other popular wedding ceremony musicians include solo guitarists, string quartets and classical musicians. You will notice that all of these musical options are great as a 'backdrop'. You don't want anything too overpowering here, just something that augments the already romantic atmosphere.
Of course, you might be thinking that you can always pop on a CD and walk down the aisle to a pre-recorded track. If you have the opportunity to have your song played live by a musician or sung by a choir, you absolutely should. It creates such incredible memories and will be unique to you. Your chosen artist will be able to learn your track on their instrument, or even suggest tracks for you to walk down the aisle to.
Not only will a live performer sound incredible, they will also relax your guests in what is typically the most formal part of the day.
It is easy to fall into the trap of thinking that because this is your big moment, everyone else will be completely switched on and ready to fully invest their undivided attention into every single romantically filled second of your ceremony. The truth is a little less picture-perfect, however. Now don't shoot the messenger but the reality is that a lot of people can find wedding ceremonies unenjoyable!
For many guests it can be boring, stressful and may even drag on for too long. They may get restless and feel tense from the seriousness of the situation. Do them a favour and provide a relief point to keep them relaxed. They will subconsciously thank you for it and the rest of your day will be better off for it!
Drinks Reception Entertainment Ideas
There are so many gaps and lulls throughout a wedding which means that guests can easily get bored, tired, hungry, or a combination of all three! The most common wedding 'lull' is the drinks reception. These lulls can be alleviated, or better yet, become the highlights of your wedding day by a little forward thinking.
The beauty of the drinks reception is in its freedom. You really can have anything. Ooh. This is often where you'll see unique wedding entertainment being used as a way to break the ice.
Breaking the ice is really important this early on in the day. Some of us are social chameleons and can talk for England with anyone and everyone! Others may be a little more reserved – especially with the nerve-wracking idea of two sides of the family coming together, having to make small talk. These social interactions are notoriously a little bit awkward. "Oh yes, the ceremony was lovely wasn't it?" or "we're so lucky to have such beautiful weather today!" are two phrases often overheard being articulated by guests attempting to make some semblance of conversation with their wedding guest counterpart. Please rescue these poor souls. A talking point is sometimes needed, and this is where your wedding entertainment comes in.
Moving away from live music for a minute, you have the opportunity to think outside the box here. Walkabout entertainers are always a top choice for couples. They have the ability to roam the space and work up close with guests. Wedding magicians and caricaturists are both extremely popular here and certainly provide a talking point for guests. Magicians often employ a 'street magic' style similar to Derren Brown or Dynamo, using mind reading effects and sleight of hand. It's outstanding to see them work a room! Caricaturists are also great fun and can provide a keepsake memento for guests to take home.
Your unique entertainment options are vast, so see what you can find. From living trees to celebrity lookalikes or fire performers, there is a weird and wonderful world of ways to stand out. Anything goes, so look for something that represents your personality as a couple! You can shock, surprise, amuse or amaze with the right entertainment.
Live music is also really popular during the drinks reception. You can be really open here about what styles you have, but definitely hold back on trying to create a lively party experience just yet. That can come later! Instead, look towards different styles of performers. Maybe solo acoustic singers who can provide some background music or even percussionists for something a little more unique. A top tip here is to consider asking your ceremony musician to stay a little later and perform during the drinks reception as well! A smart way to save a little money on your entertainment. Told you we were a good Sherpa!
Wedding Breakfast Entertainment Ideas
As your guests sit down to eat, it can be a good idea to keep the atmosphere flowing.
The wedding breakfast provides a mixed bag. There is quite a lot happening! Photos are being taken, food is being consumed, small talk is still happening (albeit hopefully less stilted if you've relaxed your guests!) and of course speeches are being delivered. A subtle combination of wedding entertainment ideas can be the best approach.
The thing to remember about the wedding breakfast is that it's the last big section of the day before your evening party starts. Some of your guests will need more than a 3 course meal to coax them up onto the dance floor later on. It is up to you to use this time wisely and set the scene for what's to come.
One popular idea is the use of surprise wedding entertainment. Catching your guests off guard this way is absolutely hilarious and really shakes things up! We already mentioned celebrity lookalikes above, but the image of Del Boy, Jack Sparrow or Gordon Ramsay crashing your speeches and causing a scene is just wonderfully mad.
Surprise singing waiters are so much fun and very unexpected. They can turn the mood from formal to friendly and fun in a matter of seconds. The best singing waiters will pose undercover as your waiting staff… then all of a sudden they will cause a ruckus and burst into song from out of nowhere! It's such a fun way to create a memorable moment on your wedding day.
Like previous parts of your wedding day, background music is also recommended here. Remember that people are eating and talking so nothing too overpowering! Both saxophonists and pianists can be a good idea during this part of the day. They set the scene for more music later on but aren't too intrusive during a meal setting.
Evening Reception Entertainment Ideas
This is it, the big party! Hopefully everyone is suitably softened up at this point and ready to let loose. So what's it going to be? Band or DJ?
For a long time, this has been an internal debate for couples looking to book their evening wedding entertainment. The truth is that both have their strong points. Live music is something special and exciting, whereas wedding DJ's can be quite cost effective in comparison to a live band and still fill a dance floor.
In recent years, however, the choice has widened to more than just having a wedding band or a DJ. There is a new kid on the block with both DJ's and live musicians such as saxophonists or percussionists collaborating together. The rise of Sax & DJ duos and trios is great for those that are stuck deciding between a band or a DJ. They are also perfect for recreating that Ibiza club vibe.
The most common compromise is to book a band that offers a pre-mixed DJ set as part of their package. This way, you get the benefits of both a DJ and a band without having to pay for both! Now we know you are a wedding band expert at this point already as a result of our advice earlier on, but there are a couple more tips and tricks we can share about live music for weddings.
Wedding Band Timings
Wedding bands will always try to be as accommodating as possible with their set times, but which set length is best? Most commonly bands will offer either 2 x 60 minute sets or 3 x 40 minute sets. Our advice is that 2 x 60 minute sets should be what you aim for.
Think about the flow of your night. With three separate sets of 40 minutes, you're moving the band on and off stage with more breaks. The other thing to consider is that with two 60 minutes, the band are only having to bring your guests onto the dance floor a couple of times. Breaking things up and making them do this an extra time just fragments your night.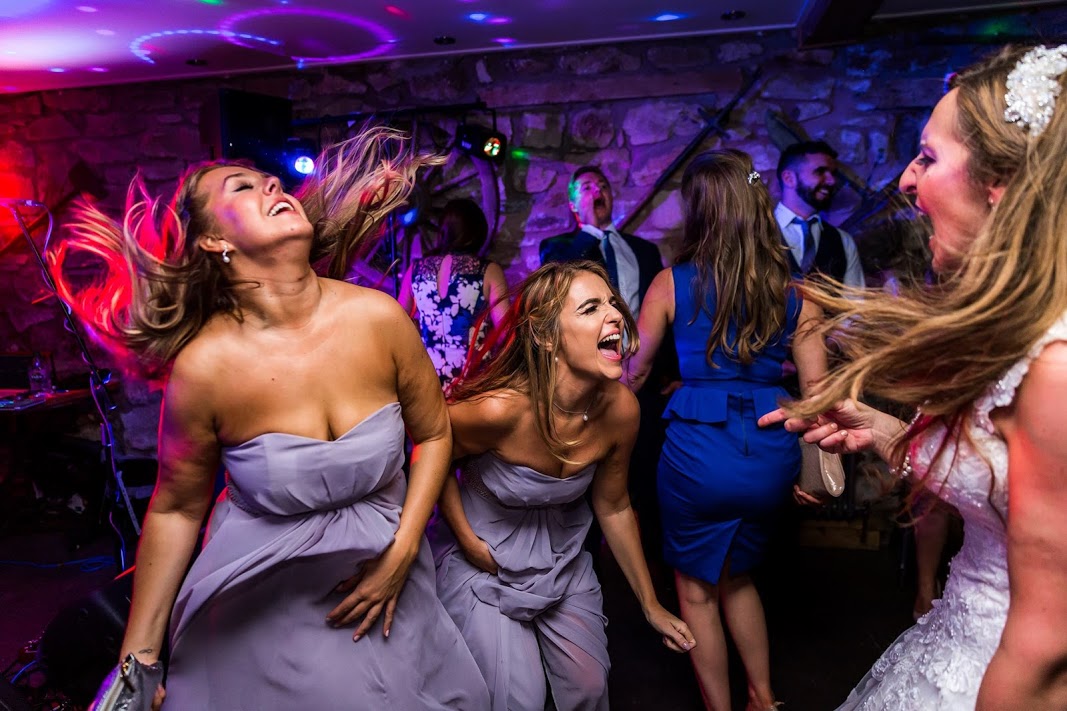 Ultimately, it's ideal to get the band to start as late as possible. Your dance floor will be bouncing if you wait for the right moment to kick things off! A full dance floor is what every bride and groom wants on their wedding day. What other things can you do to ensure that your dance floor is packed?
Ways To Fill The Dance Floor At Your Wedding
Invite Your Guests Onto The Dance Floor: This is so important. The very second your first dance is over, you can set the tone for the rest of the night by getting all of your friends and family onto the dance floor. The absolute worst thing you can do is to depart the dance floor after your first dance. It's your day, and people want to celebrate with you! Stay on the dance floor for a bit and get things going.
Hands Off The Set List: Trusting your choice in wedding music goes a long way towards a great night. It's natural to want to have a say in what songs your band play on the night, but try not to be too controlling. A professional band will have created a setlist that has been refined to perfection over years of live performances. Let them do what they do best and have faith!
Look After The Band: This is something that comes with the territory of hiring human beings to perform on your big day. That's right. These living, breathing, walking, talking talented pieces of flesh, blood and bone are about to travel countless miles to give the performance of their lives for you and your guests. Provide them some musical fuel with some food, drink and a place to rest up and change before the show. Wind them up and let them loose.
Have The Bar In The Same Room: If possible, try and have your bar in the same room as your band. This is something you can check when you visit your venue. At this point in the night, the drinks are flowing the party is moving! Keeping everything contained means that the visit to the bar won't separate your guests too much.
Use Professionals: This one rings so true that it's worth mentioning twice! Professional wedding bands are experts at reading a crowd and knowing exactly what to do to fill a dance floor. Your wedding entertainment will be able to interact with the crowd and create an incredible atmosphere.
How To Book Wedding Entertainment
So how does booking your wedding entertainment actually work? It's not as complicated as you might think. Here is what you can expect from the booking process.
Find Your Ideal Wedding Entertainment:
With our tips outlined in this guide, you should be well on your way to choosing the right entertainment for you. If you are still unsure who is right for you, you can always contact us for help or give us a call. Our team are crazy smart about this kind of thing!
Once you've decided which acts you like the look of, it's time to make your enquiry. The more details you can provide, the better! This means your wedding date, your venue, budget, timings, number of guests, what kind of music you like, which shoe you put on first and maybe even your favourite pizza topping. Okay, we wouldn't go that far but we do like to get to know you. It helps us match you with your ideal entertainment. Your entertainment expert will then find out if your chosen acts are available on your date and work out an accurate quote for you.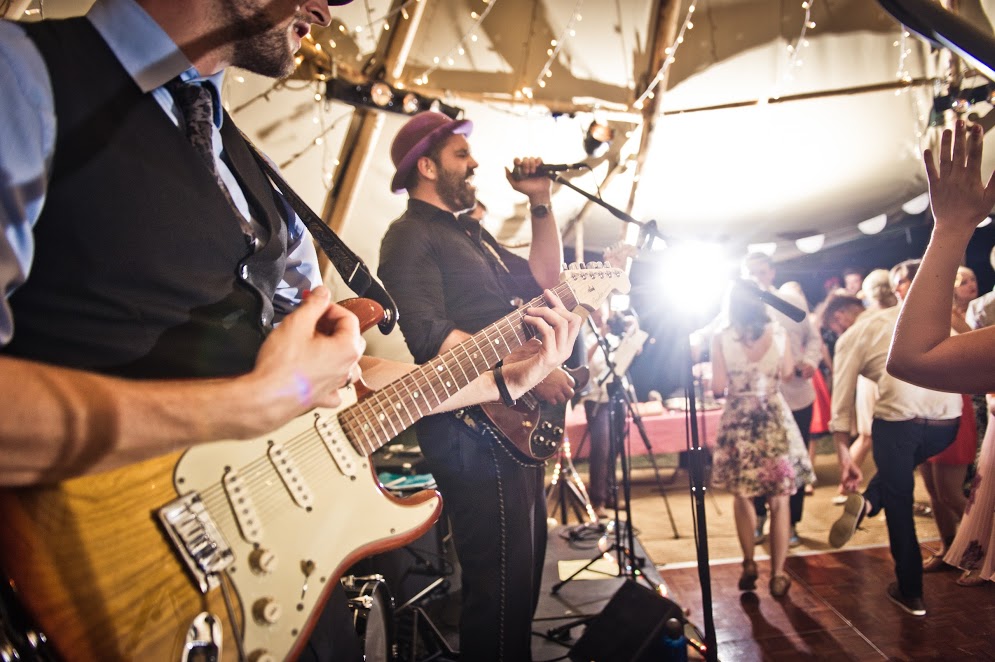 If your chosen is act is available on your date (hooray!), then you will receive a quote. This price will include everything listed in our price guide at the beginning! If your act is available, you should look to book as early as possible. The best bands and wedding entertainers are often booked up years in advance and there is nothing worse than missing out!
Confirm Your Wedding Entertainment:
If you are happy with the price and want to go ahead, confirm the booking with your agent. You can return your contract and pay your deposit to secure them for your date!
Speak With Your Entertainment:
In the weeks leading up to your big day, your entertainment will contact you to go over any finer details. This gives you the opportunity to get to know the people you've booked before they turn up at your wedding. They will be able to answer any last minute questions you have and help you organise certain parts of your day.
You're all set! Just sit back and let your day unfold. Your entertainment is due to arrive and everyone knows where they are meant to be and when! You have an amazing celebration ahead of you so relax in the knowledge that your guests will be thoroughly looked after and entertained.
The Role Of An Entertainment Agency
Booking through an entertainment agency ensures that your choice of acts will have all of the relevant documents needed to perform at your wedding. It also means you have the choice of the best acts available in the country. Booking wedding entertainment is something that people usually only do once in their life! It makes sense to speak with an entertainment expert to help guide you through the process. As you have probably gathered from this guide, we certainly know our stuff and we love to help.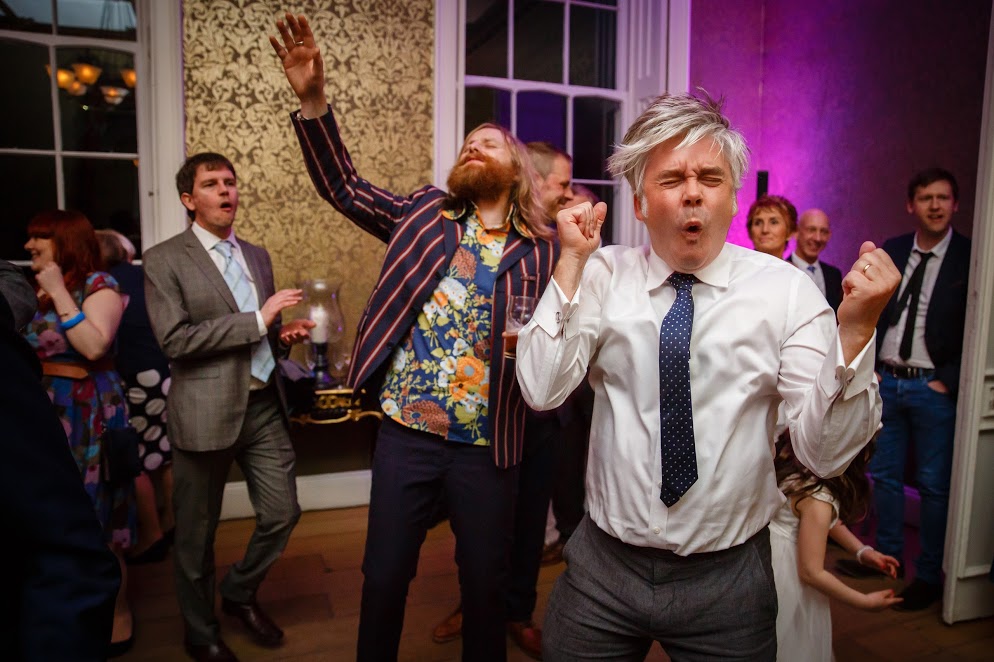 An agency will also take care of all the contracts, paperwork, follow up calls, daily correspondence, double checks and any of the last minute panic if anything happens to change! Now don't worry, it's not always so hectic. If any problems do occur, however, you can rest assured knowing that a dedicated team of people are there to handle any scenario.
For example, Warble Entertainment provide a 24 hour emergency helpline service. If something unforeseen were to happen, we will work like ghosts in the night to rescue the situation on your big day. Why stress when help is on hand?
Final Words
And that brings our biblical entertainment scriptures to a close! We hope you have found The Ultimate Guide to Booking Your Wedding Entertainment useful. The ideas and tips enclosed here are born out of years and years of experience in booking wedding entertainment for thousands of couples in the UK, and even the rest of the world.
Well, what else is there to say? It's been a pleasure. The team here at Warble Entertainment Agency always welcome any other questions you may have about your wedding entertainment. The truth is, we have only just scratched the surface in this guide!
If you want to chat with us further then you can call on 0845 643 9384. Feel free to email us at info@warble-entertainment.com and of course you can follow us on Facebook, Instagram, Pinterest, Twitter or YouTube for more wedding entertainment advice and inspiration!
Good luck with your entertainment search and all the best from us,
Love Warble XOXO
Published by Warble Entertainment, where entertainment lives.