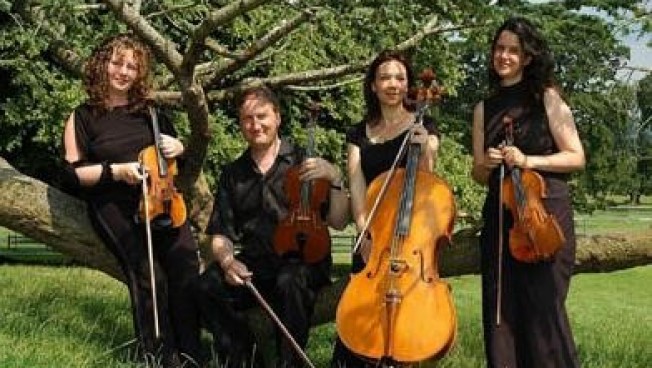 Location Devon
Starting from POA
The Devon String Quartet is an outstanding professional String Quartet available for Weddings and Corporate Entertainment in Devon and The South West, including Cornwall and Somerset.
They are available for concerts, weddings, parties, funerals and corporate entertainment, and their experience and professionalism means that you can be assured of the highest standard of performance and immaculate presentation.
*The Devon String Quartet has an exceptionally large repertoire to choose from*
Listen




Number of Reviews and Counting... 1!
The Devon String Quartet is an outstanding, professional string quartet based in Devon in the South West of England. The quartet is available for concerts, weddings, parties, funerals and corporate entertainment, and their experience and professionalism means that you can be assured of the highest standard of performance and immaculate presentation.
Priding themselves on personal service the quartet is more than happy to discuss your wishes for the day and assist you with your selection of music. As a traditional string quartet composed of two violins, viola and cello, The Devon String Quartet believe this combination offers the most musical enjoyment for the audience and support this with an exceptionally large repertoire covering a myriad of genres.
Violin (x 2), Viola, Cello
Wedding Music
Trumpet Tune – Purcell
Trumpet Voluntary – Clarke
Wedding March – Wagner
Entrance Of The Queen Of Sheba – Handel
Rondeau – Mouret
Ave Maria – Schubert
Air – Bach
Jesu Joy Of Mans Desiring – Bach
Aria From "Xerxes" – Handel
Largo From Winter – Vivaldi
Liebestraum – Liszt
Wedding March– Mendelssohn
Canon – Pachabel
Alleluja From "Exultate Jubilate"- Mozart
Traumeri – Schumann
Sheep May Safely Graze– Bach
Wachet Auf – Bach
Ode To Joy – Beethoven
Arioso – Bach
Panis Angelicus – Franck
Andante From Piano Concerto No 21 – Mozart
Sleeping Beauty Waltz – Tchaikovsky
World Music
Gypsy Life – Herbert
Romanza Andaluza– Sarasate
Simple Gifts (American Folk Tunes) –Naughtin
Danzas Argentinas– Ginastera
Tango El Choclo
Jalousie – Gade
Noites Cariocas – Bandolim
Tango: Por Una Cabeza
Tanguedia Iii – Piazzolla
Tico-Tico – Abreu
Popular Classics

Trisch-Trasch Polka - Strauss
Czardas - Monti
La Vie En Rose - Louighy
Arie – Bach
Humoreske - Dvorak
The Swan – Saint-Saens
Bahn Frei Polka - Strauss
Hungarian Dance – Brahms
Folk Tune - Fletcher
Fiddle Dance – Fletcher
Royal Fireworks Music
I – V – Handel
Water Music Suite In F
I – Ix - Handel
Water Music Suite In D I- Ix – Handel
Voices Of Spring – Strauss
Roses From The South– Strauss
Pavanne – Faure
Brandenburg No 21 Mvts 1,2 – Bach
Larghetto – Elgar
Bolero – Ravel
Divertimento In D – Mozart
Divertimeno In Bb – Mozart
Divertimento In F – Mozart
Chacony – Purcell
Chanson De Matin – Elgar
Concerto Grosso For 2 Violins– Vivaldi
The Four Seasons – Vivaldi
Violin Concerto In E Major 1
1st Mvt – Bach
Golliwogs Cake Walk– Debussy
Pavanne Pour Une Infante Defunte – Ravel
Nimrod – Elgar
Double Concerto For 2 Vlns Mvt1,2,3 – Bach
Symphony No 40, 1st Mvt – Mozart
Tango - Albeniz
Easy Listening
The Man I Love – Gershwin
I Know Him So Well– Andersson
But Not For Me –Gershwin
Misty
You're The Top – Porter
Irish Mist – Traditional
Reel Fiddlin – Traditional
Just Another Rumba– Gershwin
Cock Linnet – Traditional
Blue Tango – Anderson
Scarborough Fair– Traditional
Morenita Do Brazil- Farralito
Moondance – Van Morrison
Palladio – Jenkins
By Strauss- Gershwin
Suite Irish Sherry– Traditional
Sleigh Ride – Anderson
It Don't Mean A Thing– Ellington
Country Club – Joplin
Paragon Rag – Joplin
Don't Get Around Much Anymore– Ellington
Anything Goes – Porter
Every Time We Say Goodbye– Porter
I Do Like To Be Beside The Seaside– Kind
Bridge Over Troubled Water
A Fine Romance
Yesterday– Lennon And McCartney
Eleanor Rigby– Lennon And McCartney
When I'm Sixty Four – Lennon And McCartney
Variations On Happy Birthday – Hill
We Have All The Time In The World – Barry
As Time Goes By – Hupfeld
Embracable You – Gershwin
Someone To Watch Over Me – Gershwin
Day Tripper – Beatles
A Hard Day's Night – Beatles
Eleanor Rigby – Beatles
Yellow Submarine – Beatles
Back In The USSR – Beatles
Show Songs, TV And Film Themes, Popular
Jeeves And Wooster
James Bond Theme– Norman
Over The Rainbow (From The Wizard Of Oz)– Arlen
My Heart Will Go On (From Titanic) – Horner
Schindlers List – Williams
Moon River (From Breakfast At Tiffany's)– Mancini
Meggies Theme – Mancini
Charade – Mancini
Song From "10" - Mancini
Jerome Kern Medley No 2the Music Of The Night (From Phantom Of The Opera) – Webber
One Hand, One Heart (Westside Story) – Bernstein
My Fair Lady – Loewe
Love Story – Lai
By The Sleepy Lagoon (Desert Island Discs)– Coates
Send In The Clowns– Sondheim
Love Theme From Romeo And Juliet – Rota
Sabbath Prayer – Bock
Sunrise, Sunset – Bock
Opera Classics
Puccini: Nessun Dorma
O Mio Babbino Caro - Puccinithe Flower Song" - Delibes
Der Vogelfunger (Magic Flute) – Mozart
Habanera (Carmen) – Bizet
Toreadors Song – Bizet Meditation From Thais– Massenet
Three Little Maids From School - Sullivan
Kathryn

, Wedding, Devon
The quartet played at our wedding and were absolutely fantastic. Played classical tunes and modern pop songs including Lady Gaga! They also learnt a couple of songs for us, including "Here comes the Sun", which was great as the sun actually shone. Would highly recommend them for a special occasion.
---
Please Note: The fees indicated below are approximate and based on a central location for each county. They are intended to provide a rough guide only and exact quotes can only be given once the date and exact location of your event have been provided.
South West
Cornwall
£696.00
Devon
£672.00
Dorset
£696.00
Somerset
£696.00