Why Have Kids Wedding Entertainment?
One of the secrets to having a stress-free wedding day is by providing some way of entertaining children and keeping the kids busy during your wedding.
Some couples opt to have a kid free (adults only) wedding. By doing this, you may be eliminating potential guests that would normally wish to bring their children along, as well as those who are unable to find a someone to look after their children whilst they attend your wedding.
Finding that balance is important. Adding entertainment for kids at a wedding can help you ensure that everyone is looked after, leaving you to enjoy your own day properly.
Most couples will have wedding entertainment as a high priority on their to-do list of wedding planning tasks, but will often forget about organising wedding entertainment for children.
Overall, you will want your friends and family to enjoy themselves at your wedding, be relaxed and have fun!
If your guests are bringing kids with them, you will need some kids wedding entertainment ideas to help keep them busy! The upside to this is that your guests will have more freedom to enjoy themselves if they know that there is children's wedding entertainment to take the pressure off them.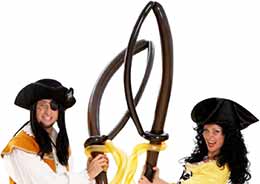 Children's Wedding Entertainment Ideas
One of the great things about planning entertainment for children at a wedding is that kids are notoriously highly imaginative!
Getting kids wedding entertainment right is mostly about giving license for children to enjoy themselves, along with a bit of guidance and designated spaces for this to happen.
It's easy for the little ones to get bored and restless at a wedding. Check out the following kids wedding entertainment ideas to keep the children happy on your big day!
Face Painters
Face painters are one of the most popular children's wedding entertainment ideas in the UK.

For a long time, face painting for kids has been seen as the 'go-to' for keeping the children busy and out of your hair at a wedding reception!

Face painters a fantastic idea for adding some colour and light-hearted fun to your wedding day and are able to set up in small spaces.

One of our favourite things to see is when the adults cannot resist getting involved as well! Much like many wedding entertainment ideas for kids, they are so much fun for all ages and this generational crossover is where these wedding ideas come to life.

Face painters are easily one of the most in demand wedding entertainment for kids, as well as being an awesome idea for summer weddings in general.

Balloon Modellers
It can help to hire a wedding entertainer for children at certain key points during the day.

For example; during speeches, whilst guests are enjoying the drinks reception or even when photographs are being taken.

Balloon modellers will create elaborate balloon models to add some vibrancy to your wedding. They can also make your wedding photos pop in wonderful ways! Looking back at your day and seeing splashes of colour and smiling faces is a great way to remember your wedding.

Balloon modellers and other wedding entertainment for kids will lighten the mood and also removes some of the seriousness when it comes to traditional elements of a wedding.

If you don't want your wedding to feel stuffy and boring, add some childlike innocence to your day. It doesn't need to be serious all the time! A wedding can include silly and cheerful ideas such as balloon modelling entertainers.

Children's Wedding Magicians
When kids attend weddings, they are in a different state of mind to adults. The gravity of the day and the importance of a wedding isn't fully realised at a young age. Making children conform to the usual wedding traditions is a recipe for restlessness and boredom!

If you're inviting children to your wedding, then you can easily make their experience magical and one to remember.

One of the best ways to keep kids entertained at weddings is with magic and children's wedding magicians.

Wedding magicians are a popular idea on their own. However, hiring a specific children's wedding entertainer for this is a great idea to keep kids entertained.

Children who are comfortable with joining in with the fun can get involved in the magic show. Kids wedding entertainers like magicians are highly experienced and are able to adapt their routines to make sure the children get the most out of the experience!

You and your guests can rest easy in the knowledge that the kids are being looked after and kept busy with incredible trickery, sleight of hand magic, show stopping illusions and a tongue in cheek slapstick humour that is guaranteed to put smiles on faces at your wedding.

Wedding Caricaturists
Caricaturists are among the most popular and unique wedding entertainment for kids.

Both children and adults will end up watching the fun unfold as these skilled wedding entertainers capture likenesses of your guests.

These highly amusing drawings of wedding guests will have people in fits of laughter, especially the kids!

Children are great subjects for caricaturists to draw. They respond exceptionally well to being drawn, and also enjoy watching the drawing take place. The best moments happen during the 'reveal', when the caricaturist finally shows his work!

Both the children and adults can take these drawings home with them, providing the kids with a great memento of the day and a funny memory to look back on.

Children's Wedding Entertainment Packs & Games
Activity packs for kids at a wedding are a great way to keep children entertained.
Not only are they great fun for kids but they are also a cost-effective wedding entertainment idea.
You can also consider creating your own DIY wedding party packs and activity bags for kids. Don't let the little ones get bored or frustrated and fill them with fun art supplies and puzzles!
Lawn games are also fun for all the family at a wedding. Outside celebrations definitely benefit from some kind of wedding entertainment for kids as they run around and enjoy the outside weather.
Less is more here so keep it simple with your wedding lawn games. Giant Jenga and ring toss are classic garden games for a wedding!