Warble Entertainment's
Wedding Entertainment for Kids

Why Have Kids Wedding Entertainment?
One of the secrets to having a stress-free wedding day is by providing some way of entertaining children and keeping the kids busy during your wedding.
Some couples opt to have a kid free (adults only) wedding. By doing this, you may be eliminating potential guests that would normally wish to bring their children along, as well as those who are unable to find a someone to look after their children whilst they attend your wedding.
Finding that balance is important. Adding entertainment for kids at a wedding can help you ensure that everyone is looked after, leaving you to enjoy your own day properly.
Most couples will have wedding entertainment as a high priority on their to-do list of wedding planning tasks, but will often forget about organising wedding entertainment for children.
Overall, you will want your friends and family to enjoy themselves at your wedding, be relaxed and have fun!
If your guests are bringing kids with them, you will need some kids wedding entertainment ideas to help keep them busy! The upside to this is that your guests will have more freedom to enjoy themselves if they know that there is children's wedding entertainment to take the pressure off them.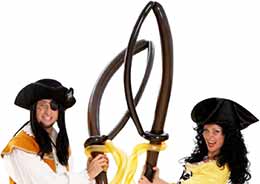 Children's Wedding Entertainment Ideas
One of the great things about planning entertainment for children at a wedding is that kids are notoriously highly imaginative!
Getting kids wedding entertainment right is mostly about giving license for children to enjoy themselves, along with a bit of guidance and designated spaces for this to happen.
It's easy for the little ones to get bored and restless at a wedding. Check out the following kids wedding entertainment ideas to keep the children happy on your big day!
Children's Wedding Magicians
Children's Wedding Entertainment Packs & Games
Activity packs for kids at a wedding are a great way to keep children entertained.
Not only are they great fun for kids but they are also a cost-effective wedding entertainment idea.
You can also consider creating your own DIY wedding party packs and activity bags for kids. Don't let the little ones get bored or frustrated and fill them with fun art supplies and puzzles!
Lawn games are also fun for all the family at a wedding. Outside celebrations definitely benefit from some kind of wedding entertainment for kids as they run around and enjoy the outside weather.
Less is more here so keep it simple with your wedding lawn games. Giant Jenga and ring toss are classic garden games for a wedding!