We have put a few package ideas together to help you get some Christmas entertainment ideas. As with all events we can cater to all sizes, themes and budgets and these are just a few suggestions based on events we have organised in the (Christmas) past, present and future! Everything can be changed or added to, and if there is something you really wanted that isn't in there, then let your entertainment coordinator know and they can arrange it.
The team at Warble has years of experience in organising entertainment for all kinds of events so if you need any help creating the right ambience through entertainment, please let your entertainment coordinator know and they will be able to direct you to the perfect solution.
Right, on with the show…
Moonlight & Mistletoe: Starting Price £995.00
Arrival and Drinks:  Have one of our friendly and inviting Caricaturists mingle with your guests, making them laugh and putting them at ease whilst drawing hilarious cartoon versions of them. On request, the caricaturist can personalise the paper used with the name and date of your Christmas event.
Or, have one of our close-up magicians leave your guests spellbound and wowed with their illusions and sleight-of hand skills. What is Christmas without a little magic?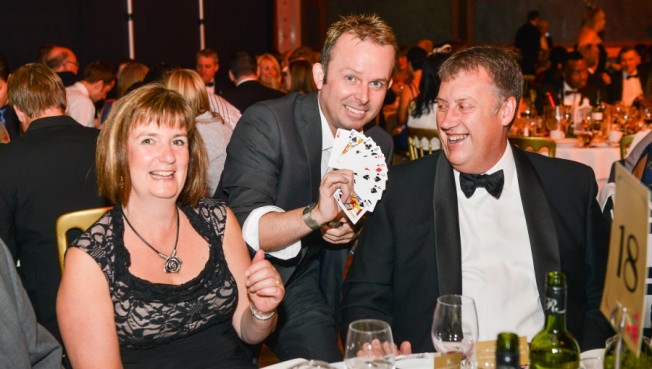 Feasts and Speeches: If you are having a meal, treat your guests with a feast for their ears and have them entertained by one of our singers or acoustic duos. Perfect as background music whilst eating, or to get everybody in the mood for dancing.
A Touch of Sparkle: Have our specialist ice sculptors create a unique and inspiring ice sculpture or vodka luge to add a touch of shine to your event. The pieces can be inlaid or engraved with your company logo or name. Or have a piece carved to reflect your event. Everything from snowflakes to sleighs can be created for you. Accentuated with LED lights, they are a perfect centre piece for any festive party.
A Christmas Carol: Starting Price £2495.00
Arrival of the guests: Bring the festive season back with a Christmas Choir to greet your guests with a carol performance. Performing everything from 'Silent Night' to 'Rockin' Around the Christmas Tree' they can cater to the ambience of your event perfectly.
Let's Feast! Wow your guests with a surprise of a completely different kind by having some surprise singing waiters or waitresses burst into song at the end of your meal. We have something a little different on our roster, breaking away from the norm and serenading individual guests, handing out roses and generally bringing hilarity and equal measures of musical ability to your event.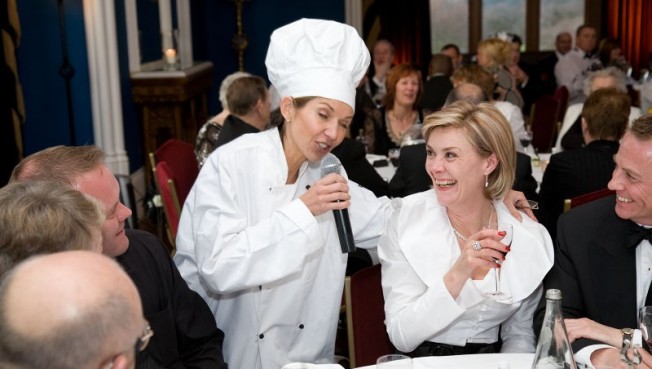 Party: Continue the night with one of Warble Entertainment's fantastically versatile live party bands. Most of our bands include a FREE DJ option to keep your guests dancing all night long! Providing music from the 60s to the present day, as well as some Christmas classics it is a fun and fabulous finale to your event.
A Winter Wonderland: Starting Price £4995.00
Arrival of the guests: Your guests arrive, and are greeted by a twinkling living table. After being handed a glass of something Sparkly they move into the drinks reception and are wowed by a crystal ball juggler, manipulating crystal balls across their skin. In the background a smooth and magical singer is performing Christmas songs with a swing twist creating the perfect ambience for a festive celebration.
The Meal: The music continues during the meal, provided by a string quartet performing modern as well as classical anthems. Meanwhile, your guests are perplexed and intrigued by a huge covered dome in the room with them. The waiters are charming and conversing with your guests, topping up their drinks, serving their puddings, when suddenly something happens… one of the waiters emerges holding a guitar, two more waiters suddenly meet him and burst into song. Moving around the tables they serenade and surprise your guests, making them laugh. The Singing Waiters: Live are wonderfully funny and musically brilliant.
The music dies down and the guests continue chatting, commenting on the wonderful act that has just performed, when slowly the chatter dies down, as magical and twinkling music begins. A man walks to the strange dome and pulls away the covering, unveiling a beautiful giant snowglobe, with acrobatic living characters inside. Complete with moving glitter and beautiful costume, they astound with their contortion and acro-balance act, performing a 'Winter Wonderland' themed love story for your guests.
Evening Entertainment: Complete your evening with a fully live themed band for your event. With DJ options, female or male vocals Warble Entertainment Agency can supply a band along any theme you may need.  From 20's to Latin, Rock/Pop to Swing/Jazz, or have one of our top DJ's keep your guests on their feet to the very end.
Interrupt the dancing by asking your guests to step outside your venue. In the grounds will be a lone person, eclipsed by burning fire pots on the ground. Then watch and be astounded by surprise fire juggler, courtesy of our circus performers. It is an absolute WOW factor way to end a winter themed event.
We hope that the ideas above have got your creative juices flowing and given you a starting point for your own function or event. Please be advised that the options for Christmas Packages are based on starting fees and may vary depending on location and performance time, give your event coordinator as many details as you can and a comprehensive quote will fly your way!
Published by Warble Entertainment