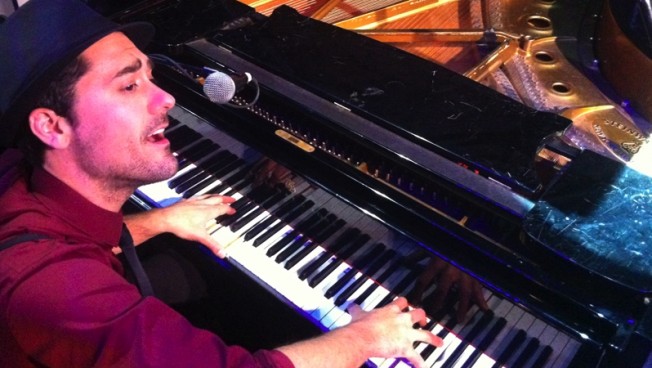 Location London
Starting from £312.00
Get the fire and soul of rock n roll! Jake performs with some of the most exciting musicians in the country, able to span a wide range of musical styles he gets the best quality performance possible and specialises in delivering an authentic sound.
Listen




Number of Reviews and Counting... 10!
Jake has been performing in the record industry professionaly for the last decade. Ever since he was a boy he used to bang the piano along to his parents record collection of Rock n Roll, Stax and Motown, singing the classics like Johnny B Goode and Midnight Hour. He gained a BA Hons in music from the prestigious Liverpool Institute of Perfroming Arts (LIPA), Jake has fine-tuned his craft over years of working in the record business. In that time he has written, performed and produced on a number one selling album, and worked with a variety of major recording artists. In 2012, he won best original song at the British Blues Awards.
Jonnie B Goode - Chuck Berry
Great Balls of Fire - Jerry Lee Lewis
Hound Dog - Elvis
No Particular Place to Go - Chuck Berry
Hallujar I love her so - Ray Charles
Mess Around - Ray Charles
What I say - Ray Charles
Blue Suede Shoes - Elvis
Whole Lotta Shaking - Jerry Lee Lewis
Wild One - Jerry Lee Lewis
Jailhouse Rock - Elvis
Blueberry Hill - Fats Domino
Such a night - Dr John
Heartbreak hotel - Elvis
Moondance - Van Morrsion
Jackie Wilson Said - Van Morrison
Bring it on home - Sam Cooke
Flip, Flop and Fly - The Blues Brothers
Let the good times roll - Shirley and Lee
Have I told you lately - Van Morrison
Lady madonna - The Beatles
Midnight Hour - Wilson Pickett
Tutti Frutti - Little Richard
Long Tall Sally - Little Richard
Walking in Memphis - Marc Cohn
My babe - Little Walter
The Letter - Joe Cocker
Samantha Scotts

, Private Party, Black Horse, Findon, West Sussex
Fabulous and will use again. Thank you for last minute booking, excellent service.
---
Louise Campbell

, Birthday Party, Camberley Heath, Surrey
Jake was a pleasure to deal with before (planning music and timings) and during the party. He was perfect for us. His performance was brilliant (as said by many at the party) and he worked hard with a smile to deliver the eclectic mix of music that everyone wanted on the night! Would definitely use again and recommend. Thanks Jake!
---
Suzie Chard

, Birthday Party, Essex
Jake was great fun. My mother passed that morning so my 40th birthday celebration ended up being a celebration of her life. Jake dealt with the situation so well and played some great rock and roll to keep the party lively. Bravo.
---
Richard Payne

, Wedding, Leicestershire
He gave 100% and was very professional. An excellent range of music, which he played for all tastes. Would recommend him.
---
Rob Snell

, Wedding, Farleigh Golf Course, Surrey
Jake was great, on time, played good music with passion. Thank you.
---
Julie Mead

, Wedding, Devon
Jake did a fantastic job at our wedding. His piano playing and vocals really got the party started and he kept playing (in rather warm conditions), long after his official time had ended. Jake was also very wiling to learn additional songs and take requests on the night, and was a huge hit with our guests. A big thank you from us both!
---
Katy Scott

, Wedding, London
Everyone was very impressed with Jake at our wedding. He put in 110%, is very talented and an all round good bloke. He read and entertained the crowd brilliantly and I'd highly recommend him. It was quite hard to find a lively rock n roll pianist who also sings so we were pleased when we came across Jake on your website and he certainly lived up to our expectations. Thanks Jake! and Ben at Warble for your organising. Katy
---
Jackie Johnson

, Birthday Party, Wiltshire
Thank you to Warble Entertainment, especially Joanne, very obliging and recommended Jake for my mum's 80th birthday party to play some good upbeat 50s and 60s music. Jake did not disappoint, a lovely guy who arrived well ahead of schedule despite driving from London to Wiltshire. His 2 sets had everybody's feet tapping and he was hugely enjoyed by all present, both young and old, a hugely accomplished entertainer. I would highly recommend him to anyone looking for a great live act. I hope that we get the opportunity to hear him again sometime. Many thanks.
---
Ashley Coghill

, Private Party, Buckinghamshire
From the first contact I had with you (Warble Entertainment), your response has been first class, prompt and reliable. The booking procedure was easy to understand and all the important 'stuff' was explained clearly. As you told me, Jake contacted me at the agreed point of time before the event and we discussed the running list and all important timings. On the day, Jake arrived at the agreed time and started his set promptly. I am very impressed with Warble Entertainment and shall have no hesitation in using the company again should the opportunity arise. Thanks again for helping make my parents Golden Wedding party such a success! Jake's music was perfect for our 50th wedding anniversary party. Most of the guests were elderly weren't interested in dancing, but Jake's song choices were very popular and got everyone's feet tapping and hands clapping! Jake was sympathetic to the situation and made sure the volume was low enough for people to hear each other, but also high enough for people to really enjoy his performance. Jake was very friendly, attentive and chatty to all of us. I would highly recommend Jake. He is a superb artist!
---
Jackie Heasman

, Birthday Party, Devon
Wanted to say how wonderful Jake was - he made contact prior to the party and on the day, he arrived on time and set up. The music was fabulous just want we had wanted, a very talented signer and pianist, had lots of people up and dancing in no time. He joined in the fun and encouraged others to have fun too, a real asset to the night. Cannot recommend him highly enough and I know we will book Jake again for future events! Thank you so much Jake for making my mum's birthday such a special night for her, she had a blast! I have had a lot of guests tell me how much they too enjoyed your music. PS. Thanks also for entertaining some of the little ones during your break too :-) Best wishes, Jackie Heasman.
---
Ron Dennis Private Party
Nantwich Jazz ann Blues Festival
Markham Inn - Chelsea
The Crown Hotel - Nantwich
Ronnie Scotts - London
Dover Street Arts Club
Meridian - Piccadilly
Piano - High Street Kensington
Telfords Warehouse - Chester
Cheshire Cat - Nantwich
The Half Moon - Putney
Islington Academy - Angel Islinton
Harrisons - Cheshire
Jake can do a few requests if notified in advance.
Please Note: The fees indicated below are approximate and based on a central location for each county. They are intended to provide a rough guide only and exact quotes can only be given once the date and exact location of your event have been provided.
North West
Cheshire
£432.00
South East
Bedfordshire
£348.00
Buckinghamshire
£348.00
East Sussex
£348.00
Essex
£348.00
Hampshire
£348.00
Hertfordshire
£348.00
Kent
£348.00
Oxfordshire
£348.00
Surrey
£348.00
Sussex
£348.00
London
£312.00