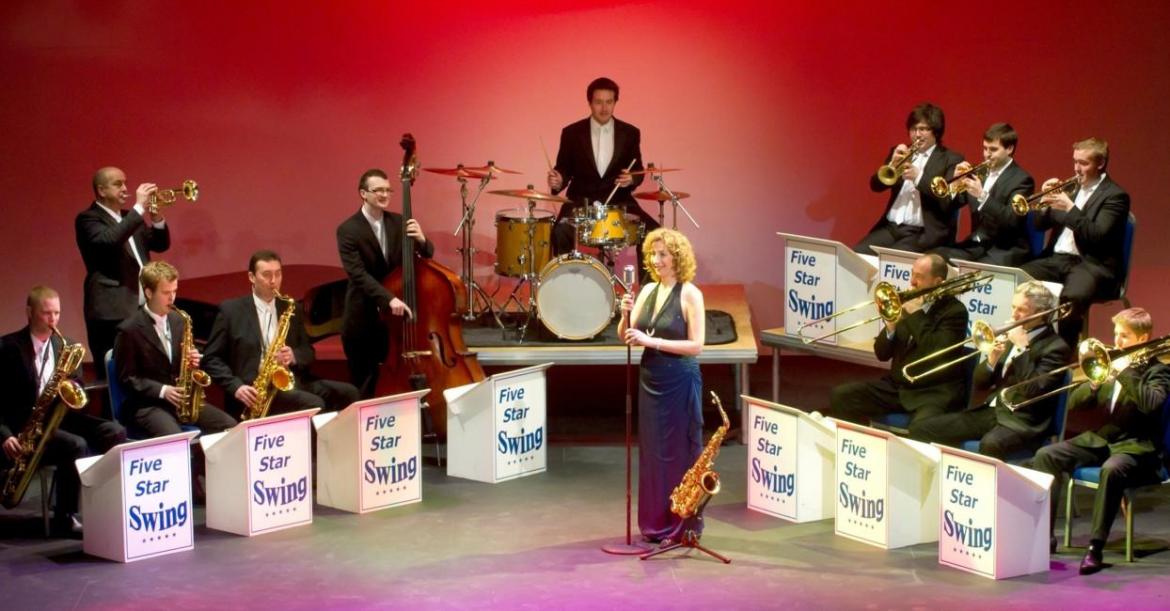 Location Hertfordshire
Starting from POA
Five Star Swing - as seen on stage in London's West End at the Leicester Square Theatre and Dame Vera Lynn's Charity events. The power and excitement of the swing band in full flight! Featuring Multi-instrumentalist and vocalist with the authentic impact of Glenn Miller, Sinatra, Basie, Ella Fitzgerald, Michael Buble and Jools Holland style Jive!. Performed for "Strictly Dance Fever" runners-up and featured on stage for the national tour of "Bugle Boy" – the Glenn Miller Story. Plus BBC TV "Children in Need".
"They Swing like crazy - Superb !" Sheila Tracy (BBC)
"A formidable Swing Band...beautiful ballads to glorious Big Band sounds !" Tony Parker, Encore Magazine
".. at the finish, cheers rang out continuously until the house lights came up !"Jim Kennedy, Music Critic
Number of Reviews and Counting... 2!
Five Star Swing is recognised as one of the most versatile and accomplished Jazz and Swing bands in the UK. Whether performing for dancing, listening or major theatre productions, you can be sure that your event will go with a swing! Experienced in all types of functions and Stage Shows, with excellent vocalists and musicians, Five Star Swing creates the vibrant sound of the Big Band era. Style is added to every performance from an exciting repertoire, featuring songs from Frank Sinatra, Natalie Cole, Glenn Miller and Jazz favourites, through to modern day artistes - Robbie Williams, Jamie Cullum and Jools Holland.
The show is performed by Five Star Swing - an eight-piece band containing three multi-instrumentalists/ vocalists and lead by Chris and Simone Smith.
Chris, who's varied career has taken him from Jazz festivals to 'Top of the Pops', uses experience gained in playing and writing for Glenn Miller's Brother (Herb Miller) to bring the songs to life. Saxophonist and Vocalist, Simone, has performed with the 'New Squadroniares' and played Lead Alto Saxophone in the later days of the 'Ivy Benson Show Band'.
Be entertained with hits from the Rat Pack, Glenn Miller and Ella Fitzgerald plus the foot -stomping best of Jazz & Blues - Jools Holland style. This versatile and accomplished Swing Band recreates the exciting sound of the big band days, featuring five saxophones, male and female vocalists, multi-instrumentalists and dynamic rhythm section.
5 – 8 Piece (includes: Vocals, Saxophones, Trumpet, Keyboard, Rhythm Section)
Male Vocal
Mr Bojangles
It Had To Be You
Something Stupid
I've Got You Under My Skin
All The Way
Fly Me To The Moon
The Girl From Ippaneima
Witchcraft
You Make Me Feel So Young
The Lady Is A Tramp
Chicago
Come Fly With Me
My Kind Of Town
I Get A Kick Out Of You
How About You
Nice And Easy
Unforgettable
Bad Bad Leroy Brown
Something Stupid
Allright Ok You Win
The Way Youy Look Tonight
That's Life
New York, New York
Female Vocal
Don't Get Around Much
Almost Like Being In Love
Orange Coloured Sky
Get Happy
Paper Moon
A Foggy Day
Fly Me To The Moon
Fever
Don't Sit Under The Apple Tree
Chattanooga Choo Choo
The Very Thought Of You
Perfidia
I Know Why
That Old Devil Called Love
All Of Me
Cabaret
Bye Bye Blackbird
Can't Buy Me Love
Fever
Dream A Little Dream
NY State Of Mind
Glenn Miller
In The Mood
Don't Sit Under The Apple Three
American Patrol
Chattanooga Choo Choo
Pennsylvania 65000
String Of Pearls
Moonlight Serenade
Little Brown Jug
Tuxedo Junction
Perfidia
I Know Why
Other Big Band Classics
Begin The Beguine
Opus One
Sing Sing Sing
Flying Home
Jersey Bounce
Tequila
Parkinson Show Theme
It's You Or No One
Salute To The Band Box
Pick Yourself Up
Misty
Moose The Mooshe
Be-Bop
Blues Brothers Medley
Dear Hunter Theme
War-Time Sing-A-Longs
It's A Long Way To Tipperary
Pack Up Your Troubles…
We'll Meet Again
Lilli Marlene
The White Cliffs Of Dover
I'll Be Seeing You
There'll Always Be An England
A Nightingale Sang In
Berkeley Square
I'll Never Smile Again
Bless 'Em All
Roll Out The Barrel
Run Rabbit Run
Wish Me Luck
We're Gonna' Hang Out The Washing
Kiss Me Good Night Sergeant-Major
Jazz & Blues
Misty
Moose The Mooshe
Be-Bop
A Night In Tunisia
Blues Brothers Medley
O.K. Alright You Win
Blue Moon
Syrup Of Phiggs
Over And Over Again
Sweet Home Chicago
Tequila
Other
Everybody Needs Somebody
Gimmie Some Lovin'
Sweet Home Chicago
Think
Twistin'
Soul Man
Midnight Hour
Peter Gunn Theme
Mustang Sally
Rock 'N' Roll Medley
Knock On Wood
Jailhouse Rock / Medley
I Feel Good
Wipe Out
Da Do Ron Ron
Stop In The Name Of Love
Baby Love
Build Me Up Buttercup
Terry Lovell

, Birthday Party, Mulberry House Hotel, Essex
One word - Fantastic!
---
Julia Bichard

, Wedding, London
Five Star Swing played for us at our wedding reception. Prior to the event, Chris was prompt and helpful with the arrangements, and was really flexible about our timings, and agreed to play the songs from their song list that we particularly liked. On the day, the band played fantastically - I really enjoyed dancing to the music. Also, our timing changed on the day in a way that meant it would be difficult for the band to take a full break. Chris and the band were really great about this and agreed to shorten their break to fit in with our timings - a testimonial to how flexible they were! We are really grateful for this! I wouldn't hesitate to recommend the band.
---
Past clients include: The Treasury, Labour Party Conference, BBC Children in Need, party for BBC 'Strictly Dance Fever' finalists, BT James Bond themed nights, Blenheim Palace, etc...
Previous venues performed at include: Brentwood Centre - Brentwood, Winding Wheel Theatre - Chesterfield, Pavilion Theatre - Worthing, Winter Gardens Theatre - Ventnor, Gordon Craig Theatre - Stevenage, The Regent Centre - Christchurch, Theatre Royal - Margate, The Castle - Wellingborough, Talk of the Town - Milton Keynes, Hove Centre - Hove, Campus West Theatre - Welywn, The Radlett Theatre - Radlett, Customs House - South Shields, Mowlem Theatre - Swanage, Angel Theatre - Woodbridge, Eric Morecambe Hall - Harpenden, Castle Hall - Hertford, The Elgiva - Chesham, The Harlequin - Redhill, Ben Hall - Rugby, Pavilion - Exmouth, Thameside Theatre - Grays, Camberley Theatre - Camberley, Hazlitt Theatre - Maidstone, library Theatre - Leighton Buzzard, Capitol Theatre - Horsham, Cromer Theatre - Cromer, Barking Theatre - Barking, Colne Theatre - Colne, Kenneth More Theatre - Ilford, Gravesend - Gravesend, Swan theatre - High Wycombe, Beck Theatre - Hayes, Town Hall Theatre - Hartlepool, Rosehill Theatre - Whitehaven, Alban Arena - St Albans, Empire Theatre - Blackburn, Roses Theatre - Tewesbury, Medina Theatre - Isle of White, Winter Gardens - Margate, Tivoli Theatre - Winbourne, Memorial Theatre - Frome, Lowther Pavilion - Lytham St Anne's, Hippodrome - Great Yarmouth, Pavilion Theatre - Weymouth, The Playhouse - Weston-super-Mare, Queens Hall - Dunoon, Corran Hall - Oban, Phoenix Theatre - Blyth, Warners Holiday Centres, Broadway Theatre - Peterborough, Spa Pavilion - Felixstowe, Royal Hippodrome Theatre - Eastbourne, Princes Theatre - Clacton, Claire Hall - Heywards Heath, Princess theatre - Hunstanton, Medina Theatre - Isle of Wight, Kings Hall - Hern Bay, Chequer Mead Com' Arts - East Grinstead, Manor Pavilion Theatre - Sidmouth, Queen Mother Theatre - Hitchin, Plinston Hall - Letchworth, Rufus Centre - Flitwick, Wyvern theatre - Swindon, Civic Theatre - Aylesbury, Stantonbury Theatre - Milton Keynes, Norden Arts centre - Maidenhead, Parkway Theatre - Cleethorpes, The Sands - Gainsborough, Spa Theatre - Lemington spa, Thwaites Theatre - Blackburn, Priory Centre - St. Neots.
Please Note: The fees indicated below are approximate and based on a central location for each county. They are intended to provide a rough guide only and exact quotes can only be given once the date and exact location of your event have been provided.