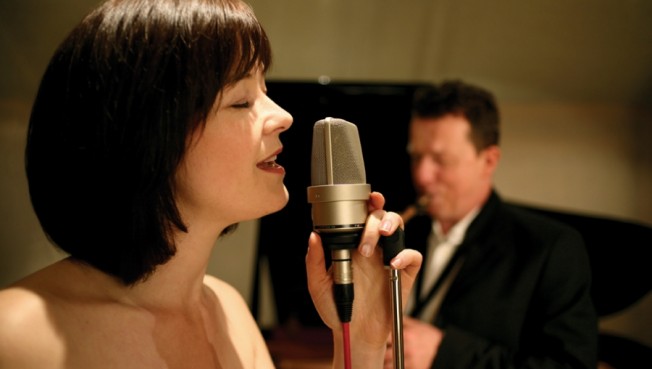 Location Bedfordshire
Starting from £900.00
An award-winning duo of sophisticated female vocals and smooth tenor sax that provides stylish and popular jazz, swing, Motown, soul, R&B and pop for weddings and special events.
Number of Reviews and Counting... 1!
The Smoothtone Jazz Duo have more than 15 years experience performing for special events throughout the UK.
They perform live with their own high-quality recordings of piano, double-bass, drums and guitar to create a stylish and dynamic live-band sound.
Their extensive reperoire covers all the classics from Ella Fitzgerald, Frank Sinatra and Peggy Lee to Stevie Wonder, Van Morrison, Estelle, Adele, Alicia Keys and more.
Their smooth soulful sound is ideal as a backdrop to a wedding ceremony, drinks reception and wedding meal, while their repertoire of high-energy dance music is perfect for an evening party.
Soloists: solo sax; solo piano; solo guitar
Duos: sax & female vocals; sax & piano; piano & double-bass; female vocals & guitar; sax & guitar
Trios: sax, female vocals & piano; sax, piano & double-bass; sax, female vocals & guitar; sax female vocals & trumpet
Quartets: sax, female vocals, piano & double-bass; sax, piano, double-bass and drums
Quintets: sax, female vocals, piano, double-bass & drums; sax, trumpet, piano, double-bass and drums
Or, create your own line-up from a choice of: sax, female vocals, piano, double-bass, drums, guitar, trumpet, trombone, guitar
Classic Jazz, Swing and Latin Jazz: Autumn Leaves, Beyond the Sea, Cheek to Cheek, Come Fly With Me, Fly Me to the Moon, Georgia, Hit The Road Jack, I Get a Kick Out of You, It Had To Be You, I've Got You Under My Skin, Let There Be Love, Let's Do It, LOVE, Mack The Knife, Mas Que Nada, Misty, Mr Bojangles, My Baby Just Cares for Me, Night and Day, Oye Como Va, Paper Moon, Perhaps Perhaps Perhaps, Something Stupid, Straighten Up and Fly Right, Sway, The Girl from Ipanema, The Lady is a Tramp, The Way You Look Tonight, Wave, What a Difference a Day Made, Wonderful World
Jump Jive, Rock & Roll, Motown and 60s: At Last, Blue Moon, Buena Sera, Call Me, Can't Take My Eyes Off You, Daytripper, Don't Be Cruel, Dream a Little Dream, Feeling Good, Fever, Here Comes the Sun, Higher and Higher, I Put a Spell On You, It's Now or Never, I Wish I knew How, Jump Jive and Wail, Just a Gigolo, King of the Swingers, La Bamba, Light My Fire, Mambo Italiano,Route 66, Runaround Sue, Signed Sealed Delivered, Stand By Me, Sweetest Feeling, Tequila, The Wanderer, These Boots are Made for Walking
Classic soul, disco, funk, pop: Blame it on the Boogie, Boogie Oogie Oogie, Brown Eyed Girl, For Once in My Life, Get Down On It, I'm in the Mood for Dancing, Isn't She Lovely, I Want You Back, I Wish, Knocks Me Off My Feet, Let's Stay Together, Lovely Day, Loving You, Never Too Much, Nobody Does it Better, Perfect Day, September, Sing it Back, Superstition, Thinking of You, Walk on the Wild Side, Walking on the Moon, Walking on Sunshine
Soulful Contemporary: A Team, A Thousand Years, Better Together, Come Away With Me, Cupid (Amy Winehouse), Empire State of Mind, Fields of Gold, Heaven, If I Aint Got You, Kissing You, Make You Feel My Love, No One, Ordinary People, Over the Rainbow, People Get Ready, Put Your Records On, Skyfall, Songbird, Teenage Dream (Acoustic), Use Somebody, Where I Sleep, You Got the Love
Upbeat Contemporary: All About that Bass, American Boy, Candy, Crazy in Love, Forget You, Get Lucky, Happy, Mercy, Price Tag, That Man, Valerie
Charlie and Louise

, Wedding, Sussex
Your music was just fantastic and made our wedding very personal and unique. From the ceremony songs to sax on the lawn to taking us through the evening, everyone loved you!
---
Honda Plc, Euroweek, Lakeside Shopping Centre, World Hotels, Pride of London, Ernst and Young, The National Trust, RWE UK, The British Chamber of Commerce, Mitchells and Butlers, Irwin Mitchell LLP, The London School of Pharmacy, Cranfield University, Austin Reed, Exporta Group, Star Events, Strutt Parker, University of Essex, Infinity Tracking, Klaxon Marketing, Abode Marketing, Knebworth Golf Club, Morgan Tucker, 16 Regiment... plus more!
The Smoothtone Jazz Duo creates all the dynamism of a live band so is ideal for smaller venues or more intimate events. They can adapt their set-list to suit the mood of your day - whether you prefer a classic jazz sound or contemporary party music.
The duo can easily play in more than one location within your venue on the day and can happily play outside if the weather is agreeable!
Three x 50-minute sets of live music divided to suit you over your choice of time-frame from 3hrs to 6hrs (or more).
Please Note: The fees indicated below are approximate and based on a central location for each county. They are intended to provide a rough guide only and exact quotes can only be given once the date and exact location of your event have been provided.
Scotland
Aberdeen
£1,800.00
Inverness
£1,800.00
Perth
£1,800.00
Sutherland
£1,800.00
Ayrshire
£1,800.00
Fife
£1,800.00
Stirlingshire
£1,800.00
West Lothian
£1,800.00
Dumfries-shire
£1,800.00
East Lothian
£1,800.00
Lanarkshire
£1,800.00
Midlothian
£1,800.00
Glasgow
£1,800.00
Edinburgh
£1,800.00
Foreign Locations
Europe
£1,800.00
North East
Durham
£1,380.00
Northumberland
£1,380.00
North Yorkshire
£1,140.00
South Yorkshire
£1,140.00
Tyne and Wear
£1,140.00
West Yorkshire
£1,140.00
Yorkshire
£1,140.00
East Yorkshire
£1,140.00
Leeds
£1,140.00
North West
Cheshire
£1,140.00
Cumbria
£1,380.00
Manchester
£1,380.00
Lancashire
£1,380.00
Merseyside
£1,380.00
Liverpool
£1,380.00
East Midlands
Derbyshire
£1,140.00
Leicestershire
£1,140.00
Lincolnshire
£1,140.00
Northamptonshire
£1,140.00
Nottinghamshire
£1,140.00
Rutland
£1,140.00
East
Cambridgeshire
£1,020.00
Norfolk
£1,140.00
Suffolk
£1,140.00
Norwich
£1,140.00
West Midlands
Gloucestershire
£1,140.00
Herefordshire
£1,380.00
Shropshire
£1,140.00
Staffordshire
£1,140.00
Warwickshire
£1,140.00
Worcestershire
£1,140.00
Birmingham
£1,140.00
South East
Bedfordshire
£900.00
Berkshire
£1,140.00
Buckinghamshire
£1,140.00
East Sussex
£1,140.00
Essex
£1,140.00
Hampshire
£1,140.00
Hertfordshire
£1,020.00
Isle of Wight
£1,140.00
Kent
£1,140.00
Oxfordshire
£1,140.00
Surrey
£1,140.00
Sussex
£1,140.00
West Sussex
£1,140.00
London
£1,140.00
Middlesex
£1,140.00
South West
Cornwall
£1,380.00
Devon
£1,380.00
Dorset
£1,140.00
Somerset
£1,380.00
Wiltshire
£1,380.00
Bath
£1,380.00
Bristol
£1,380.00