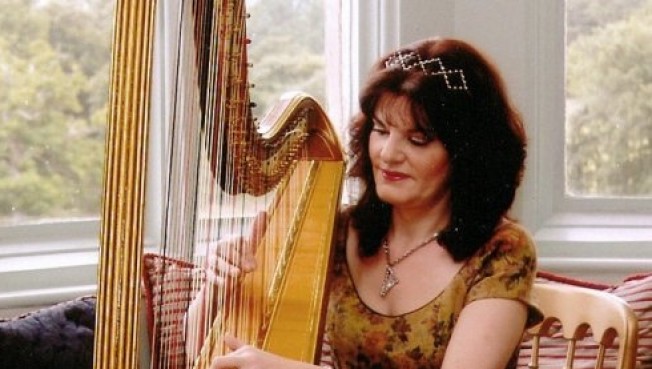 Location West Sussex
Starting from £264.00
The South East Harpist will enhance any occasion be it wedding, dinner, funeral, lecture/ recital or charity event - it is the ideal relaxing background music.
The South East Harpist endeavours to play music to suit all tastes from classical and traditional to old time favourites, songs from films and shows and more recent popular hits.
The Harp is the ultimate romantic touch at a wedding and couples are delighted when The South East Harpist is able to play their 'special tune', as it gives an extra personal dimension to their wedding day.
*The South East Harpist is the perfect addition to any Wedding*
Number of Reviews and Counting... 4!
The South East Harpist started harp lessons at the age of fourteen with Surrey based harpist Susannah Shucksmith. She then continued her musical training under Sidonie Goossens OBE and finished her studies with Sussex harpist Helen Arnold.
The harp she plays today is a magnificent Gold Concert Harp. The South East Harpist also has an antique gold harp made by Thomas Dodd in London around 1820. This beautifully carved and guilded harp is ideal for smaller venues.
Classical

Air On A G String - Bach
Ave Maria - Bach/Gounod
Barcarolle (Tales Of Hoffman) - Offenbach
Bridal March - Wagner
Cantique De Jean Racine - Faure
Canon In D - Pachelbel
Caro Nome From Rigoletto - Verdi
Chanson De Mai - Hasselmans
Danse De Corregidor - De Falla
El Picaflor - Marson
Emperor Waltz - Strauss
Eighteenth Century March - Anon
Excerpts From The Magic Flute - Mozart
Gram's Lullaby - Gustavson
Hornpipe From The Water Music - Handel
Intermezzo - Mascagni
Jesu Joy Of Man's Desiring - Bach
Jupiter From The Planets(I Vow To Thee My Country) - Holst
La Source - Hasselmans
Largo - Handel
Largo From Guitar Concerto In D - Vivaldi
Largo From The New World Symphony - Dvorak
Largo From 'Winter' (Four Season) - Vivaldi
Le Onde - Einaudi
Marble Halls - Balfe
Minuet In G - Bach
Nefili - Einaudi
Ode To Joy - Beethoven
O Isis And Osiris From The Magic Flute - Mozart
O For The Wings Of A Dove - Mendelssohn
O My Beloved Father - Puccini
Pavane - Faure
Pearl Fishers Duet - Bizet
Prelude No:1 In C - Bach
Prelude No:3 - Tournier
Prelude No:7 - Chopin
Rhapsody On A Theme Of Paganini - Rachmaninoff
Romance - Rossetti
Rondo - Rossetti
Sarabande - Handel
See The Conquering Hero - Handel
Serenade - Schubert
Sonata No:6 - Naderman
Sleepers Wake - Bach
To A Wild Rose - Macdowell
Spring - Vivaldi
The Ashokan Farewell - Ungar
Trumpet Voluntary - Purcell
Waltz - Brahms
Where Ere You Walk - Handel
Musicals/ Movies

Aladdin - A Brand New World
Blood Brothers - Tell Me It's Not True
Breakfast At Tiffanys - Moon River
Cats - Memory
Dances With Wolves - The John Dunbar Theme
Disney (Snow White) - Hi Ho
Disney (Snow White) - I'm Wishing
Disney (Snow White) - With A Smile And A Song
Disney (Jungle Book) - The Bare Necessities
Evita - Don't Cry For Me Argentina
Gladiator - Earth
Girl Crazy - But Not For Me
Girl Crazy - Embraceable You
Gone With The Wind - My Own True Love (Tara's Theme)
Ice Castles - Through The Eyes Of Love
Lord Of The Rings - In Dreams
Lord Of The Rings - Into The West
Lord Of The Rings - May It Be
Notting Hill - She
Notting Hill - When You Say Nothing At All
Phantom Of The Opera - All I Ask Of You
Phantom Of The Opera - Angel Of Music
Phantom Of The Opera - Music Of The Night
Phantom Of The Opera - Think Of Me
Phantom Of The Opera - Wishingyou Were Somehow Here Again
Robin Of Sherwood - Everything I Do
Robin Of Sherwood - Kamen (Theme From Harry's Game)
Showboat - Can't Help Lovin' Dat Man
South Pacific - Some Enchanted Evening
Tammy - Tammy
Tell Me It's Not True - Blood Brothers
The Fantasticks - Try To Remember
The Boyfriend - I Got Rhythm
The King And I - Dance Of Anna And Sir Edward
The King And I - Hello Young Lovers
The Sound Of Music - Edelweiss
The Sound Of Music - The Hills Are Alive
Titanic - My Heart Will Go On
Wizard Of Oz - Somewhere Over The Rainbow
Folk/ Traditional/ Celtic
Eng Trad

Irish Trad

Bendeemers Stream
Carrickfergus
Carrigdown
Cockles And Mussels
Danny Boy (The Londonderry Air)
Down By The Sally Gardens
Eleanor Plunkett
Foggy Foggy Dew
I Will Walk With My Love
Lullaby
Roving Galway Boy
The Foggy Dew
The Gartan Mother's Lullaby
The Gentle Maiden
The Kerry Dance
The Lark In The Clear Air
The Last Rose Of Summer
The Origin Of The Harp
The Rose Of Tralee
The Silver Moon My Mistress Is
Women Of Ireland
Scottish Trad
Amazing Grace
Kelvin Grove
My Love Is Like A Red Red Rose
Och Lomond
Loch Tay Boat Song
The Skye Boat Song
Ye Banks And Braes
Welsh Trad

All Through The Night
Black Sir Harry
David Of The White Rock
Hush My Baby
Men Of Harlech
New Years Eve (Deck The Halls)
Over The Stone
The Ashgrove
The Dove
Watching The Wheat
Maori Trad

Hine E Hine
Pokare Kare Ana
Mexican Trad

Las Manaitas
La Paloma Azul
Enya

Anywhere Is
Evening Falls
Fallen Embers
From Where I Am
Hope Has A Place
No Holly For Miss Quinn
On Your Shore
Only Time
Pilgrim
Shepherd Moon
Silver Inches
Tea House Moon
Watermark
Easy Listening
A Nightingale Sang In Berkley Square - Vera Lynn
A Summer Place - Percy Faith Orchestra
Aint Misbehavin' - Fats Waller
All I Have To Do Is Dream - Everly Brothers
And I Love You So - Don Williams
Angels - Robbie Williams
As Long As I Have You - Elvis Presley Autumn Leaves - Johnny Mercer
Bewitched - Fran Sinatra
Blue Moon - Marcels
Could I Have This Dance? - Ann Murray
Don't Sit Under The Apple Tree - Andrew Sisters
From This Moment - Shania Twain
Heartbeat - Buddy Holly
Heaven - Bryan Adams
In The Mood - Glen Miller
I Love How You Love Me - The Paris Sisters
I Will Always Love You - Dolly Parton
It's All In The Game - Cliff Richard
Let It Be Me - Everly Brothers
Love Is All Around - Wet Wet Wet
Love Is Blue - Jonny Mathis
Love Me With All Of Your Heart - Ray Charles Singers
Rhythm Of The Rain - The Cascades
Strangers In The Night - Frank Sinatra
The Rose - Bette Midler
The Twelfth Of Never - Cliff Richard
The Wind Beneath My Wings - Bette Midler
Time To Say Goodbye - Sarah Brightman & Andrea Bocelli
Unchained Melody - Righteous Brothers
What A Wonderful World - Louis Armstrong
When I Fall In Love - Nat King Cole
Wonderful Tonight - Eric Clapton
You're The Inspiration - Peter Cetera
The Beatles

And I Love Her
Eight Days A Week
Fool On The Hill
Here There And Everywhere
I Will
I'm Happy Just To Dance With You
Norwegian Wood
Yesterday
Kevin Oram

, Wedding, Kent
Thanks for your best wishes. The South East Harpist was fab. We have thanked her but will obviously do so formally when we get back to England. Once again thank you for your help.
---
Jennifer Sandle

, Wedding, London
We were extremely happy with The South East Harpist's beautiful performances of harp music. It made our wedding feel very magical and romantic and added such a wonderful element to our ceremony. She played beautifully at our drinks reception and made it such a classically romantic experience. Our wedding would not have been as wonderful as it was without her music. We are very pleased with your service and would definitely recommend you to family and friends, and would certainly use you again. Thank you.
---
Jo-Anne Little

, Wedding, Kent
Apologies for not replying sooner but I have been snowed under since our return from our honeymoon. Thank you for all your help with organising The South East Harpist to play at our wedding. We were very happy with your service and The South East Harpist was very good and could not have been more helpful and flexible. We are so pleased we had a harpist as it really did make a difference. I have attached a photo the photographer took of The South East Harpist if you could be so kind as to pass it on. I am looking forward to the next party and will certainly consider your services. Thanks once again.
---
Julie Milne

, Wedding, Kent
The South East Harpist provided the most perfect musical entertainment at my daughters' wedding.She played all the tunes requested to a very high standard and it was delightful to catch the melodious sound of an old favourite that evoked happy memories for us all present. She was prompt and discrete on arrival and remained quietly in place whilst the speeches were said. The "icing on the cake" was that her beautiful dress matched our peacock themed wedding perfectly! I would highly recommend The South East Harpist to anyone as her selection was far more varied than any other I sampled. Thank you, Julie Milne
---
The South East Harpist now works as a soloist and has given recitals at National Trust properties, played at the City of London Guildhall, The Baltic Exchange, The Savoy and Hilton Langham Hotels, as well as for many weddings, private and charity functions. She plays at Penshurst Place in Kent wearing Period Costume and has appeared on Meridian Television in a documentary for The Pilgrim's Way.
The South East Harpist makes period costumes and wears them when she plays at historic venues. Some of these have been Carrisbrooke, Corfe, Bodium, Hever Castles and Battle Abbey.
More unusual venues include: The Insurance Institute London, Southampton Airport, The Foundling Hospital, London, in the VIP marquee during the Wimbledon Tennis Championships, London Zoo, Fort Nelson, The Wetlands and Wildfowl Trust in Arundel, Gatwick Airport and The Royal Courts of Justice - to name but a few.
Harp music can also be very therapeutic and The South East Harpist regularly entertains residents in nursing, residential and care homes. She also gives informal talks and demonstrations to school children, Women's Institutes, Rotary, Lions, Probus and other groups. The South East Harpist is currently Resident Harpist at The Spa Hotel in Tunbridge Wells, Kent, The Insurance Institute of London and Penshurst Place in Kent.
The South East Harpist will wear costumes to echo the theme of your event. Playing in a castle or at a historic venue, wearing a period costume adds dramatically to the atmosphere of the occasion.
The harp is a very versatile instrument and The South East Harpist is able to cover many musical styles. It is the ultimate romantic touch at a wedding and couples are delighted when The South East Harpist is able to play their 'special tune', as it gives an extra personal dimension to their wedding day.
The Wedding Ceremony: This includes playing the harp as your guests are gathering, the entrance of the bride, during the signing of the registers and as the bride and groom leave.
Reception Drinks/ Photos before Wedding Breakfast: The harp to be played during the drinks reception and whilst photographs are being taken (aprox. 1 ½ hrs continuous playing).
Wedding Breakfast: The harp to be played throughout the wedding breakfast providing light background music until the speeches begin (aprox. 2 hrs continuous playing).
The South East Harpist also offers the following packages:
Ceremony and Reception Drinks
Reception Drinks and The Wedding
BreakfastCeremony and The wedding Breakfast
Ceremony, Reception Drinks and The Wedding Breakfast
Please Note: The fees indicated below are approximate and based on a central location for each county. They are intended to provide a rough guide only and exact quotes can only be given once the date and exact location of your event have been provided.
East Midlands
Lincolnshire
£300.00
East
Cambridgeshire
£300.00
West Midlands
Warwickshire
£300.00
South East
Bedfordshire
£264.00
Berkshire
£264.00
Buckinghamshire
£264.00
East Sussex
£264.00
Essex
£264.00
Hampshire
£264.00
Hertfordshire
£264.00
Isle of Wight
£312.00
Kent
£264.00
Oxfordshire
£264.00
Surrey
£264.00
Sussex
£264.00
West Sussex
£264.00
London
£300.00
Middlesex
£264.00
South West
Devon
£360.00
Dorset
£300.00
Somerset
£300.00
Wiltshire
£300.00