Warble Entertainment's
The South East Harpist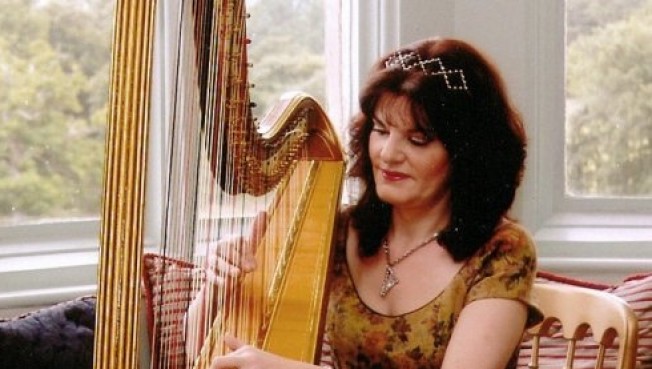 Location West Sussex
Starting from £264.00
The South East Harpist will enhance any occasion be it wedding, dinner, funeral, lecture/ recital or charity event - it is the ideal relaxing background music.
The South East Harpist endeavours to play music to suit all tastes from classical and traditional to old time favourites, songs from films and shows and more recent popular hits.
The Harp is the ultimate romantic touch at a wedding and couples are delighted when The South East Harpist is able to play their 'special tune', as it gives an extra personal dimension to their wedding day.
*The South East Harpist is the perfect addition to any Wedding*
4 reviews
Song List
Classical

Air On A G String - Bach
Ave Maria - Bach/Gounod
Barcarolle (Tales Of Hoffman) - Offenbach
Bridal March - Wagner
Cantique De Jean Racine - Faure
Canon In D - Pachelbel
Caro Nome From Rigoletto - Verdi
Chanson De Mai - Hasselmans
Danse De Corregidor - De Falla
El Picaflor - Marson
Emperor Waltz - Strauss
Eighteenth Century March - Anon
Excerpts From The Magic Flute - Mozart
Gram's Lullaby - Gustavson
Hornpipe From The Water Music - Handel
Intermezzo - Mascagni
Jesu Joy Of Man's Desiring - Bach
Jupiter From The Planets(I Vow To Thee My Country) - Holst
La Source - Hasselmans
Largo - Handel
Largo From Guitar Concerto In D - Vivaldi
Largo From The New World Symphony - Dvorak
Largo From 'Winter' (Four Season) - Vivaldi
Le Onde - Einaudi
Marble Halls - Balfe
Minuet In G - Bach
Nefili - Einaudi
Ode To Joy - Beethoven
O Isis And Osiris From The Magic Flute - Mozart
O For The Wings Of A Dove - Mendelssohn
O My Beloved Father - Puccini
Pavane - Faure
Pearl Fishers Duet - Bizet
Prelude No:1 In C - Bach
Prelude No:3 - Tournier
Prelude No:7 - Chopin
Rhapsody On A Theme Of Paganini - Rachmaninoff
Romance - Rossetti
Rondo - Rossetti
Sarabande - Handel
See The Conquering Hero - Handel
Serenade - Schubert
Sonata No:6 - Naderman
Sleepers Wake - Bach
To A Wild Rose - Macdowell
Spring - Vivaldi
The Ashokan Farewell - Ungar
Trumpet Voluntary - Purcell
Waltz - Brahms
Where Ere You Walk - Handel
Musicals/ Movies

Aladdin - A Brand New World
Blood Brothers - Tell Me It's Not True
Breakfast At Tiffanys - Moon River
Cats - Memory
Dances With Wolves - The John Dunbar Theme
Disney (Snow White) - Hi Ho
Disney (Snow White) - I'm Wishing
Disney (Snow White) - With A Smile And A Song
Disney (Jungle Book) - The Bare Necessities
Evita - Don't Cry For Me Argentina
Gladiator - Earth
Girl Crazy - But Not For Me
Girl Crazy - Embraceable You
Gone With The Wind - My Own True Love (Tara's Theme)
Ice Castles - Through The Eyes Of Love
Lord Of The Rings - In Dreams
Lord Of The Rings - Into The West
Lord Of The Rings - May It Be
Notting Hill - She
Notting Hill - When You Say Nothing At All
Phantom Of The Opera - All I Ask Of You
Phantom Of The Opera - Angel Of Music
Phantom Of The Opera - Music Of The Night
Phantom Of The Opera - Think Of Me
Phantom Of The Opera - Wishingyou Were Somehow Here Again
Robin Of Sherwood - Everything I Do
Robin Of Sherwood - Kamen (Theme From Harry's Game)
Showboat - Can't Help Lovin' Dat Man
South Pacific - Some Enchanted Evening
Tammy - Tammy
Tell Me It's Not True - Blood Brothers
The Fantasticks - Try To Remember
The Boyfriend - I Got Rhythm
The King And I - Dance Of Anna And Sir Edward
The King And I - Hello Young Lovers
The Sound Of Music - Edelweiss
The Sound Of Music - The Hills Are Alive
Titanic - My Heart Will Go On
Wizard Of Oz - Somewhere Over The Rainbow
Folk/ Traditional/ Celtic
Eng Trad

Irish Trad

Bendeemers Stream
Carrickfergus
Carrigdown
Cockles And Mussels
Danny Boy (The Londonderry Air)
Down By The Sally Gardens
Eleanor Plunkett
Foggy Foggy Dew
I Will Walk With My Love
Lullaby
Roving Galway Boy
The Foggy Dew
The Gartan Mother's Lullaby
The Gentle Maiden
The Kerry Dance
The Lark In The Clear Air
The Last Rose Of Summer
The Origin Of The Harp
The Rose Of Tralee
The Silver Moon My Mistress Is
Women Of Ireland
Scottish Trad
Amazing Grace
Kelvin Grove
My Love Is Like A Red Red Rose
Och Lomond
Loch Tay Boat Song
The Skye Boat Song
Ye Banks And Braes
Welsh Trad

All Through The Night
Black Sir Harry
David Of The White Rock
Hush My Baby
Men Of Harlech
New Years Eve (Deck The Halls)
Over The Stone
The Ashgrove
The Dove
Watching The Wheat
Maori Trad

Hine E Hine
Pokare Kare Ana
Mexican Trad

Las Manaitas
La Paloma Azul
Enya

Anywhere Is
Evening Falls
Fallen Embers
From Where I Am
Hope Has A Place
No Holly For Miss Quinn
On Your Shore
Only Time
Pilgrim
Shepherd Moon
Silver Inches
Tea House Moon
Watermark
Easy Listening
A Nightingale Sang In Berkley Square - Vera Lynn
A Summer Place - Percy Faith Orchestra
Aint Misbehavin' - Fats Waller
All I Have To Do Is Dream - Everly Brothers
And I Love You So - Don Williams
Angels - Robbie Williams
As Long As I Have You - Elvis Presley Autumn Leaves - Johnny Mercer
Bewitched - Fran Sinatra
Blue Moon - Marcels
Could I Have This Dance? - Ann Murray
Don't Sit Under The Apple Tree - Andrew Sisters
From This Moment - Shania Twain
Heartbeat - Buddy Holly
Heaven - Bryan Adams
In The Mood - Glen Miller
I Love How You Love Me - The Paris Sisters
I Will Always Love You - Dolly Parton
It's All In The Game - Cliff Richard
Let It Be Me - Everly Brothers
Love Is All Around - Wet Wet Wet
Love Is Blue - Jonny Mathis
Love Me With All Of Your Heart - Ray Charles Singers
Rhythm Of The Rain - The Cascades
Strangers In The Night - Frank Sinatra
The Rose - Bette Midler
The Twelfth Of Never - Cliff Richard
The Wind Beneath My Wings - Bette Midler
Time To Say Goodbye - Sarah Brightman & Andrea Bocelli
Unchained Melody - Righteous Brothers
What A Wonderful World - Louis Armstrong
When I Fall In Love - Nat King Cole
Wonderful Tonight - Eric Clapton
You're The Inspiration - Peter Cetera
The Beatles

And I Love Her
Eight Days A Week
Fool On The Hill
Here There And Everywhere
I Will
I'm Happy Just To Dance With You
Norwegian Wood
Yesterday