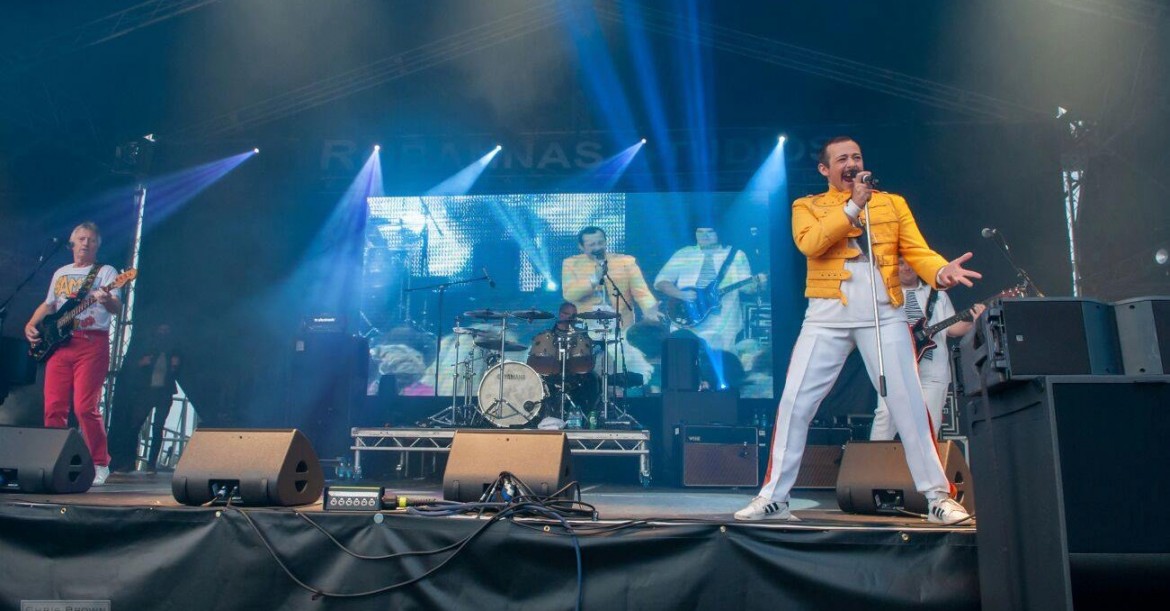 Location Staffordshire
Starting from POA
Along with the many fans who mourn the loss of Freddie Mercury, QE2 aim to celebrate the wealth of talent that came together in Queen by recreating, with breathtaking accuracy, the style and excitement of a LIVE Queen concert.
Number of Reviews and Counting... 1!
A Brief History...
Having played together for 10+ years, and realising that the Queen songs that they performed received rapturous approval, as opposed to the songs of other artistes, B-fifteen, as they were then known, decided to embark on a monumental task - To recreate the best, most talented rock band EVER.
What's In A Name...
The name QE2 was deliberated over for a long time. A name was needed that was aesthetic visually, but portrayed the same strength that the name QUEEN commanded.
The large 'Q' was considered an integral part of the design, but the image seemed a little weak on its own. After some experimentation, the crown was added, and that's how it is today.
Are They Serious?
You bet your life they're serious. Being staunch Queen fans themselves, the last thing QE2 want to do is alienate Queen fans, either by name or performance.
By aiming to replicate a live Queen performance, with all its charm and charisma, and where possible, adding the studio harmonies, QE2 aim to please and impress as many people as possible.
In The Beginning...
In 1993 QE2 formed to pay tribute to the World's No.1 band. The arduous task of co-ordinating lighting, image, clothes, make-up, (Yes, make-up! If QE2 do a job, the job is done professionally throughout!), mannerisms and not least, by any means, the harmonies and music of the greatest band in the world. The Stoke-based band rehearsed behind closed doors for twelve months to perfect the show - The 1986 Magic Tour.
QE2 are now critically acclaimed as... "The UK's top Tribute to Freddie Mercury & Queen".
The rest, as they say, is history.
One vision
Tie your mother down
In The Lap of The Gods
Seven Seas of Rhye
Tear It Up
It's a kind of magic
Don't stop me now
Somebody To Love
Killer QueenI Want To Break Free
Freddie Ad-lib
Love of my life/Is this the world we created
Brighton Rock
Medley: Now I'm Here/ Bicycle Race/ Fat Bottomed Girls
Show Must Go On
Bohemian Rhapsody
Hammer To Fall
Radio Ga Ga
Another One Bites The Dust
Crazy Little Thing
We Will Rock You
We Will Rock You (Fast Version)
We Are The Champions
Samantha Williams - Ledbury Town Football Club

, Venue Club, Herefordshire
On behalf of myself and Andy, we would like to say a huge thank you to you and all the band members and crew for a thoroughly enjoyable evening. I have received many great comments on how much people enjoyed the evening and of course QEII.The band should be very proud of themselves for putting on a fabulous performance. On behalf of Andy, myself and the club we wish you all the very best and every success for the future and again thank you to all of you for a great night.
---
Surprisingly enough for a tribute act, QE2 are a band for all occasions and have played at all types of events ranging from weddings to stadiums!
As a Queen tribute act expect everything and anything Queen-esque!
QE2 are able to provide a top of the range sound system, lighting rig and sound engineer, for any size of venue. They are a flexible group willing to discuss the requirements of the client.
QE2 - Standard performance 1 x 90 minutes they can also accomodate 2 x 45 minutes or 1 x 60 minutes.
Please Note: The fees indicated below are approximate and based on a central location for each county. They are intended to provide a rough guide only and exact quotes can only be given once the date and exact location of your event have been provided.