Emily & Seb booked Friends of the Bride to perform at their woodland wedding at Abbeywood Estate, Cheshire.
What was your best single moment of the whole day?
Emily – We would both say the wedding ceremony. It's maybe a part of the day that gets overlooked when planning as focus tends to end up on the dress, the dinner, the reception décor and the evening entertainment. However, to walk into the church full of everyone we love the most, and have them all witness us commit ourselves to a life together was so special.  It was also just so exciting to know that our big day was actually beginning after the months of build up and the endless waiting!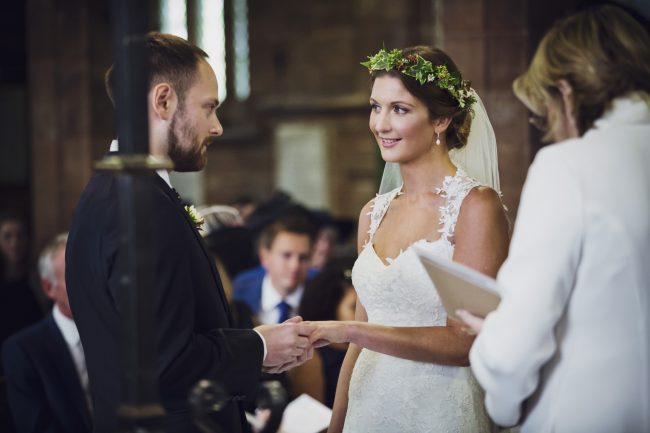 Why did you pick your venue?
Emily – Abbeywood Estate is just behind the village that I grew up in. We used to walk our dogs in the forest just behind it every day. Therefore, this venue was somewhere I felt very connected to. Even more so because my sister had also got married there two years earlier and it had been perfect in every way. It has the most beautiful gardens and woods and being just a couple of miles from my family home it was a no-brainer really. Plus, we're hoping they may give us a family discount of buy two weddings get one free for my littlest sister!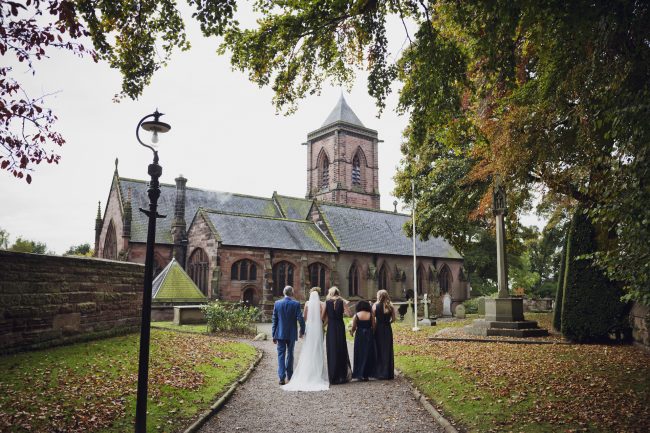 Did you have a specific style or theme for your big day?

Emily – I grew up with a slight obsession about the Elves and the Elven Realm – Rivendell, in Lord of the Rings. This was a loose inspiration for wedding which translated into us having lots of candles and ivy in the reception venue as well as the ivy detail on my dress and my ivy flower crown. Seb would say the theme was loosely Manchester United which he did manage to squeeze into the day somewhere!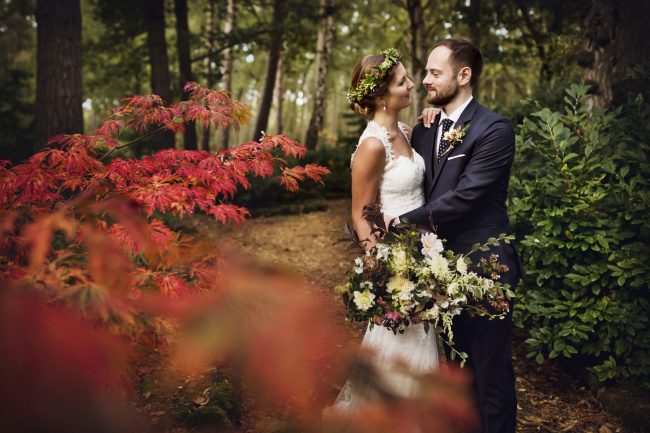 How did you hear about the act?

Emily – We came across the band by googling wedding bands in the North West/Manchester area and thought they looked and sounded fantastic on their website. We loved that you could see and hear them on video, and from reading their reviews we were convinced from the outset that they would be amazing! Their playlist was also right up out street – lots of music from our university days e.g. the Killers, Kings of Leon…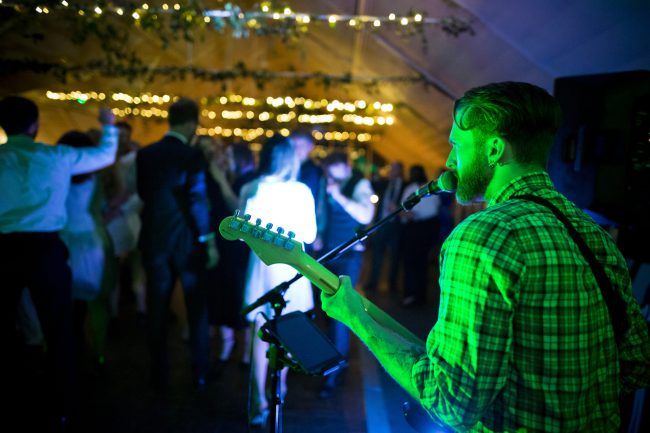 What did they bring to your day?

Emily – The band got the party started immediately. We have never had so much fun dancing at a wedding and I know we're biased but so many of our wedding guests have commented on the energy (and insanity) of the dance floor! It was filled for the entire night, with extremely questionable dance moves taking place, even during the DJ sets that the band provided for free in-between sets. Some of my favourite photographs are of the dance floor – thanks to the band for creating this awesome vibe and crazy fun atmosphere!
Did you have a first dance song and what was it?

Emily – George Ezra – Budapest. The band played it beautifully and although I had been dreading the first dance (I am a terrible dancer having taken my best moves from my Dad!) in the end it was one of my favourite moments of the whole day.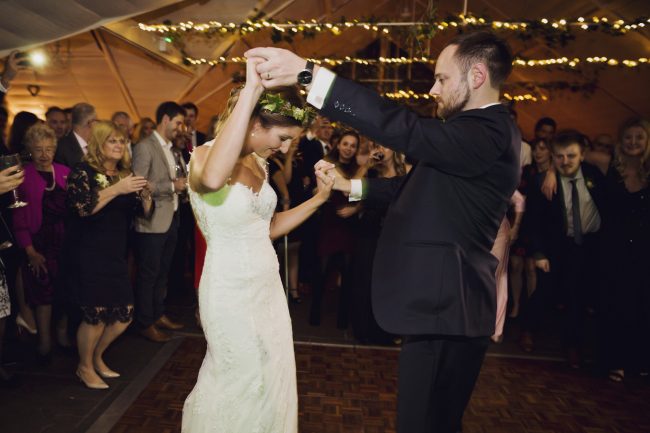 Where did you draw inspiration or find suppliers for your wedding?

Emily – I was hooked on Pinterest. It was great for inspiration and ideas.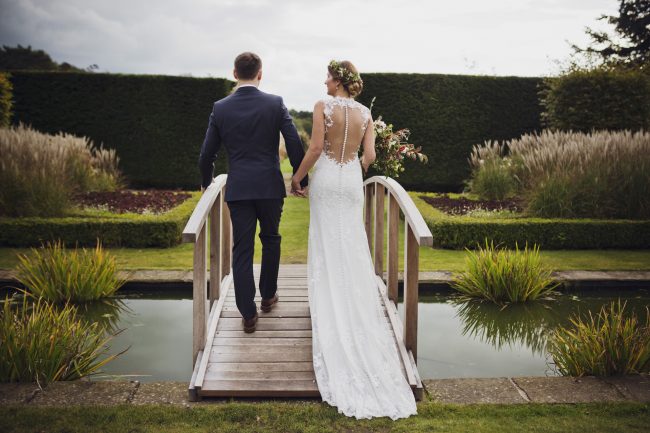 What did you think of the service provided by Warble?

Emily – Warble were great at keeping in touch every step of the way from booking until the event. They emailed frequently at key moments to keep reminding me of what the next steps were or that the booking was all fine. It meant I felt totally organised without actually having to do much myself!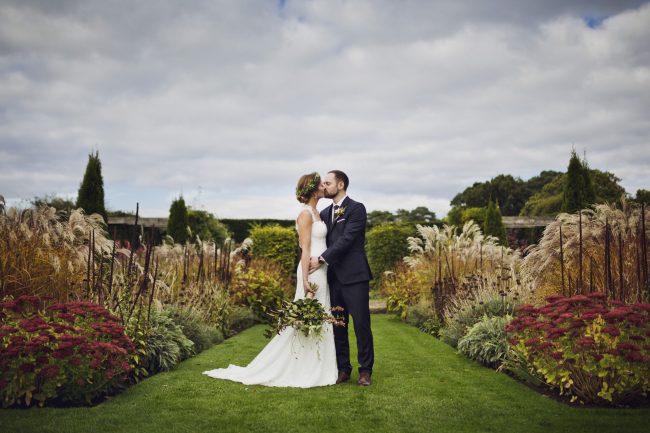 Best piece of advice for other couples planning their wedding?

Emily – Ignore other people. Everyone seems to have a piece of advice or an opinion on what "should" be done at your wedding or how you "should" do things but at the end of the day its your wedding so just suit yourselves and enjoy it as you can't keep everyone happy!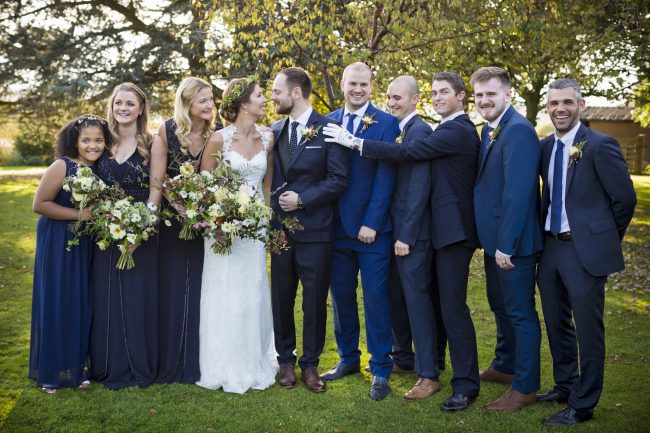 Looking back is there anything you would change?

Emily – Not a thing. Our day was perfect. I wish we could do it again. We even got the weather despite it being October 22nd!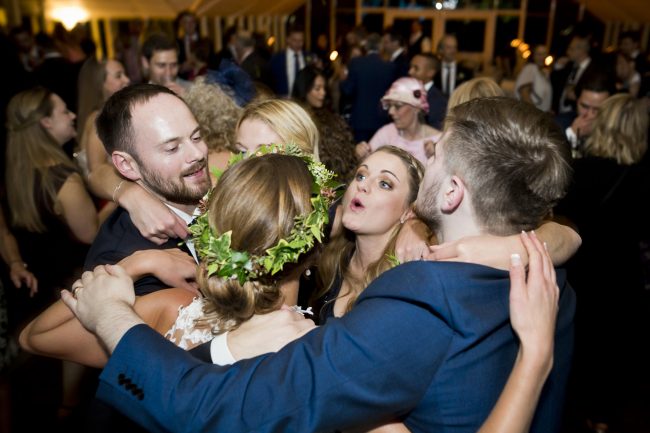 Favourite Suppliers:

Warble entertainment (Friends of the Bride) – Band
Mark Tattersall – Photographer
Lizzie Griffiths – Make Up
Abbeywood Estate – Reception venue and food

Published by Warble Entertainment