Warble Entertainment's
The Essex String Quartet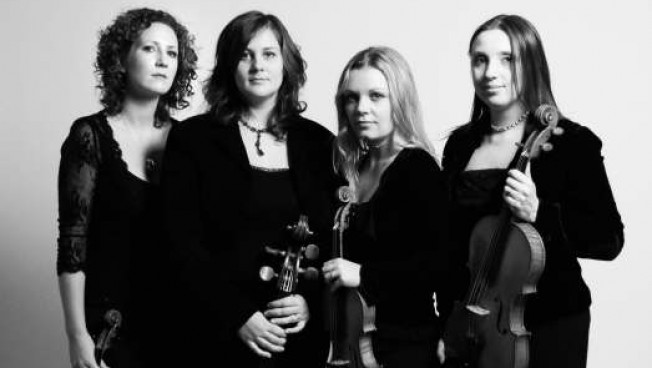 Location Essex
Starting from POA
The Essex String Quartet is one of the countrys leading string quartets.
It was formed by graduates of Londons world famous conservatoires, who have all gone on to have successful careers as soloists, chamber and orchestral musicians.
The quartet has performed for numerous prestigious clients, both at home and abroad and also has an enviable reputation for it's work at weddings and other smaller scale functions.
Why not let The Essex String Quartet transform your event into something really special.
1 reviews
Listen




Song List
Bach: Jesu Joy
Purcell: Two Rondeaux
Bach: Prelude In E Major
Bach: Fugue In D Major
Bach: Fugue In G Minor
Handel: Allegro I
Handel: Alla Siciliana
Handel: Allegro II
Handel: Sarabande / Two Variations
Pergolesi: Se Tu M'ami, Se Sospiri
Purcell: Dido's Lament
Purcel: Music For A While
Scarlatti: Sonata K87
Bach: Sheep May Safely Graze
Bach: Air On A G String
Jeremiah Clarke: Trumpet Voluntary
Gluck: Dance Of The Blessed Spirits
Pachelbel: Canon In D
Bach: Concerto For Violin And Oboe
Handel: Water Music Suite In F: I Overture
II Adagio
III Allegro Moderato
IV Air
V Allegro
VI Allegro
VII Bourree
VII Hornpipe
IX Finale
Handel: Water Music Suite In D: I Overture
II Hornpipe
III Andante Con Moto
IV Aria
V Lentement, VI Bourree
VII Minuet
VIII Gigue
IX Coro
Handel: Music For The Royal Fireworks: I Overture
II Bourree
III La Paix
IV La Rejouissance
V Minuet
Handel: Arrival Of The Queen Of Sheba
Handel: Departure Of The Queen Of Sheba
Bach: Concerto For Two Violins
Purcell: Trumpet Tune
Vivaldi: Spring
Vivaldi: Summer
Vivaldi: Autumn
Vivaldi: Winter
Vivaldi: Concerto In E Minor For Strings
Telemann: Concerto For Viola
Schumann: Traumerei
Delibes: Flower Duet From Lamke Delibes: Flower Duet From Lamke
The Man I Love
Fascinatin' Rhythm
I've Got Rhythm
Blue Tango
Forgotten Dreams
The Syncopated Clock
Anything Goes
Dance Of The Sugar Plum Fairy
Offenbach: Barcarolle (Version II)
Tchaikovsky: Andante Cantabile
Intermezzo From Cavalleria Rusticana
Delibes: Valse Ballet From Coppelia
Prince Igor
Dvorak: Humoresque
Andantino From 'La Forza Del Destino'
Mendelssohn: Sehnsuchtig
Grieg: Studenternes Serenade
Debussy: Golliwog's Cake Walk
Albenez: Tango
Macdowell: A Deserted Farm
Three Little Maids From School
Wagner: Bridal March
Mendelssohn: Wedding March
Grieg: Norwegian Dance No.2
Grieg: Norwegian Dance No.3
Offenbach: Barcarolle (Version II)
Bizet: Prelude To Carmen
Grieg: Waltz
Dvorak: Slavonic Dance No.VIII
Elgar: Idylle
Tchaikovsky: Chant Sans Paroles
Romance From The Gadfly
Barber: Adagio For Strings
Faure: Pavane
Delibes: Pizzicati From Sylvia
Elgar: Nimrod
Elgar: Salut d'Amour
Massenet: Meditation
Bizet: Habanera From Carmen
Bartok: Rumanian Folk Dances
Faure: 'Kitty Valse' From The Dolly Suite
Debussy: Danse
Theme From Romeo And Juliet Overture
Brahms: Hungarian Dance No.5
Brahms: Hungarian Dance No.6
Holst: St. Paul's Suite
Mozart: Divertimento In F
Mozart: Eine Kleine Nacht Musik
Boccherini: Quartet Op.8, No.5
Every Time We Say Goodbye
A Foggy Day
Let's Call The Whole Thing Off
Summertime
The Typewriter
Sandpaper Ballet
Someone To Watch Over Me
The Waltzing Cat
A Trumpeter's Lullaby
Belle Of The Ball
Love Is Here To Stay
Somebody Loves Me
Softly, As In A Morning Sunrise
When Hearts Are Young
Nice Work If You Can Get It
Swanee
They Can't Take That Away From Me
New York, New York
Beethoven: Adagio Cantabile From The Pathetique Sonata
Beethoven: Minuet From Sonata Op. 49, No. 2
Haydn: Serenade From String Quartet Op. 3, No. 5
Haydn: Andante From Oboe Concerto
Mozart: Rondo Alla Turca
Mozart: A Musical Joke
Mozart: Adagio In C
Schubert: Ave Maria
Schubert: Standchen
Schubert: Moment Musicale
Schumann: Kinderszenen
Boccherini: Minuet
Haydn: Quartet Op. 33, No. 3 (The Bird)
Mozart: Divertimento In D
Mozart: Divertimento In Bb
Moon River
Leaning On A Lamppost
A Nightingale Sang In Berkley Square
Maria
Funiculi Funicula
Moonlight In Vermont
Let's Do It
My Funny Valentine
Sole Mio
You're The Top
Plink, Plank, Plunk
Night And Day
Anything Goes
The Lady Is A Tramp
Que Sera Sera
Mister Sandman
Tenderly
The Londonderry Air
Jeeves And Worcester
Chi Mai
I Know Him So Well
I Dreamed A Dream
Theme From 'The Piano'
Wanting You
Drinking Song
When I'm Sixty Four

Plus many more...