The Nottinghamshire String Quartet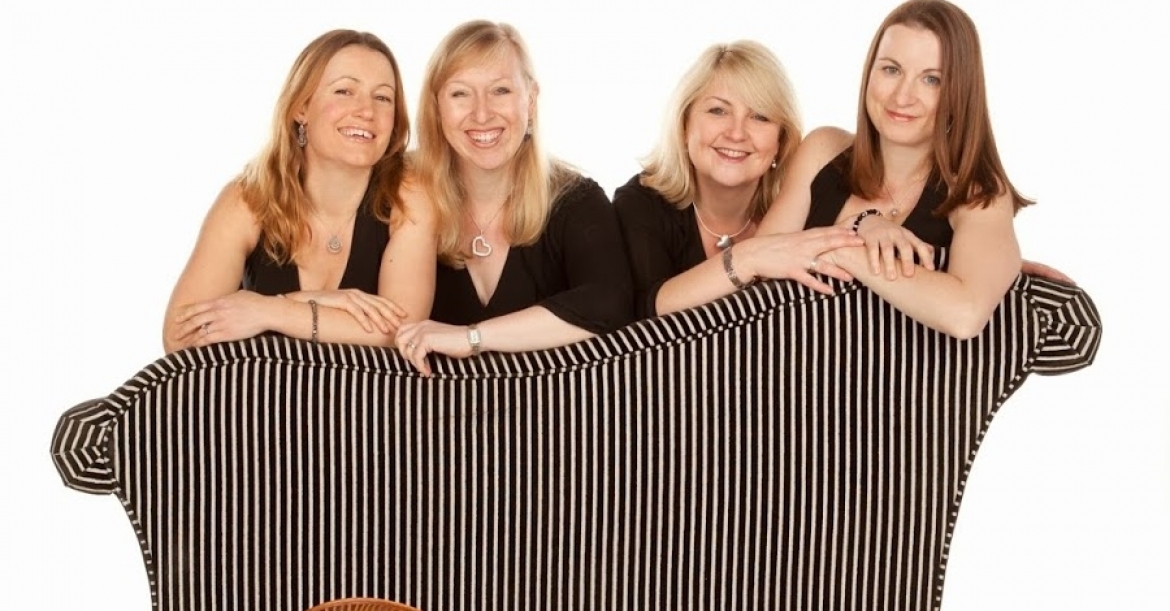 Location Nottinghamshire
Starting from POA
The Nottinghamshire String Quartet is a professional, vibrant string quartet with an eclectic playlist mixing classical music with lighter numbers, jazz and popular repertoire.
The quartet's versatile repertoire includes music to suit any occasion - from Beethoven to Bohemian Rhapsody!
*The Nottinghamshire String Quartet are extremely popular at wedding ceremonies and receptions, civil partnership ceremonies, society dinners, parties, balls, art exhibitions, product launches and corporate events*
The Nottinghamshire String Quartet
Number of Reviews and Counting... 1!
The Nottinghamshire String Quartet is an all female string ensemble with over 10 year's experience of playing at weddings and corporate functions all over the UK and further afield.
The Nottinghamshire String Quartet formed in Nottinghamshire in 1996 and each member went on to study in London at the top three music conservatoires; the Royal Academy of Music, the Royal College of Music and the Guildhall School of Music. The string quartet has a huge profile in London and also in Nottingham and the Midlands where they originally met and still perform.
Individually, members of the string quartet have played with the Royal Philharmonic Orchestra, the Moscow Ballet, the Royal Scottish National Orchestra, the BBC Symphony Orchestra, the London Concert Orchestra and the European Union Youth Orchestra. They have also performed in concert, on tour and on television alongside Will Young, Shakira, Rod Stewart, Il Divo, Robbie Williams, Simply Red and Elton John.
The Nottinghamshire String Quartet are a reliable, sophisticated choice for your event. Some of their more modern repertoire has been specially arranged for the quartet and is unique to The Nottinghamshire String Quartet.
Quartet - Cello, Viola, Violin (x 2)
Classical
Adagio FROM 'Pathetique' Sonata - Beethoven
Air FROM THE Water Music - Handel
Air ON A G STRING - J. S. Bach
Arioso - Bach
Arrival OF THE Queen OF Sheba - Handel
Ave Maria - Bach
Ave Verum Corpus - Mozart
Barber OF Seville - Rossini
Can-Can - Offenbach
Canon - Pachelbel
Concerto FOR Two Violins - Bach
Divertimento No. 1 - Mozart
Divertimento No. 2 - Mozart
Divertimento No. 3 - Mozart
Eine Kleine Nachtmusik - Mozart
Excerpts FROM THE 'Four Seasons' - Vivaldi
Hallelujah Chorus (FROM 'The Messiah') - Handel
Hornpipe FROM THE Water Music - Handel
Jesu, Joy OF Man's Desiring - Bach
La Rejouissance (Music FOR THE Royal Fireworks) - Handel
Minuet IN G Major - Beethoven
Nimrod FROM Enigma Variations - Elgar
Nutcracker Suite - Tchaikovsky
Pachelbel's Canon IN D - Pachelbel
Panis Angelicus - Franck
Pavane - Faure
Prince OF Denmark's March - Clarke
Radetzky March - Strauss
Rondo ALLA Turca - Mozart
Sleepers Wake - Bach
Spring FROM THE 'Four Seasons' Violin Concertos - Vivaldi
Trumpet Voluntary - Clarke
Tuba Tune IN D MAJOR - C S Lang
Where E'ER YOU WALK - Handel
Zadok THE Priest - Handel

Romantic
Adagio FROM THE BALLET 'Spartacus' - Khachaturian
Ave Maria - Schubert
Barcarolle - Offenbach
Bolero - Ravel
Bridal Chorus (Here Comes The Bride) - Wagner
Chanson DE Matin - Elgar
Chanson DE Nuit - Elgar
Clair DE Lune - Debussy
Dambusters - Coates
Dance OF THE Sugar Plum Fairy - Tchaikovsky
Danse DES Mirlitons - Tchaikovsky
Danse Espagnole - DE Falla
Ecossaise - Schubert Flower Duet FROM 'Lakme' - Delibes
Golliwog's Cake Walk - Debussy
Gymnopodie No 1 - Satie
Hoe Down (FROM 'Rodeo') - Copland
Humoresque - Dvorak
In THE Hall OF THE Mountain King - Grieg
Intermezzo (FROM THE BALLET 'Sylvia') - Delibes
Intermezzo FROM 'Carmen' - Bizet
Intermezzo FROM 'Cavalleria Rusticana' - Mascagni
Jupiter (Theme FROM Planets) - Holst
Meditation (FROM Thais) - Massenet
Morning FROM 'Peer Gynt' Suite - Grieg
O Sole Mio - DI Capua
Pie Jesu FROM 'Requiem' - Faure
Romance (FROM 'The Gadfly') - Shostakovich
Salut D'amour - Elgar
Seguidilla FROM 'Carmen' - Bizet
Sicilienne - Von Paradis
Skater's Waltz - Waldteufel
Slavonic Dance No 7 - Dvorak
Tango - Albeniz
Thunder & Lightning Polka - J Strauss
To A Wild Rose - Macdowell
Trepak (FROM THE Nutcracker)- Tchaikovsky
Violin Concerto-2nd Movement - Mendelssohn
Waltz Of The Flowers - Tchaikovsky
Wedding Day At Troldhaugen - Grieg
Wedding March From 'Midsummer Night's Dream' - Mendelssohn

Light Classical
Basse Dance From The Capriol Suite - Peter Warlock
Blue Danube Waltz - Strauss
Cock Linnet - Collins/Leigh Arr. Martelli
Dance Of The Comedians - Smetana Entry Of The Gladiators - Fucik
Fandango Espagnol - Chabrier
Liberty Bell - Sousa
March Of The Devils - Suppe
Washington Post - Sousa
William Tell Overture - Rossini

Opera
Brindisi - 'Drinking Song' From 'La Traviata' - Verdi
Marriage Of Figaro - Non Piu Andrai - Mozart
Marriage Of Figaro - Voi Che Sapete - Mozart
O Mio Babbino Caro - Puccini
Prelude To Carmen - Bizet
Quartet From 'Rigoletto' - Verdi
Three Little Maids (From 'Mikado') - Arthur Sullivan

Popular
Bittersweet Symphony - The Verve
Bohemian Rhapsody - Queen
Can't Buy Me Love - Beatles
Can't Take My Eyes Off You - Crewe & Gaudio
Dancing Queen - Abba
Eleanor Rigby - Beatles
Got To Get You In To My Life - Beatles
Hey Jude - Beatles
How Deep Is Your Love? - The Bee Gees
It's All About You... - Mcfly
Light My Fire - The Doors
Love Me Tender - Elvis
Mamma Mia - Abba
Money, Money, Money - Abba
Moondance - Van Morrison
Mustang Sally -
Nobody Does It Better - Carly Simon
Penny Lane - Beatles
She (Notting Hill Soundtrack) - Charles Aznavour
Stand By Me - Ben E King
Truely - Lionel Richie
Try A Little Tenderness - Elvis
Waterloo - Abba
Waterloo Sunset - Ray Davies
When I'm 64 - Beatles
Yellow Submarine - Beatles
Yesterday - Beatles
Yesterday Once More - The Carpenters
Your Song - Elton John

Jazz
A Foggy Day - Gershwin
A Nightingale Sang In Berkeley Square - Manning Sherwin
Begin The Beguine - Cole Porter
Come Fly With Me - Sammy Cahn And Jimmy Van Heusen
Embraceable You - Gershwin
Fascinatin' Rhythm - Gershwin
Fly Me To The Moon - Bart Howard
Guantanamera - Pete Seeger
Harry Lime Theme - Anton Karas
I Got Rhythm - Gershwin
I'm Gonna Wash That Man Right Out Of My Hair - Rodgers
Just Another Rumba-Gershwin
La Bamba - Richie Valens
Let's Do It - Cole Porter
Let's Face The Music And Dance - Nat King Cole
Makin' Whoopee - Donaldson
New York, New York - Kander
Nice Work If You Can Get It - Gershwin
Singing In The Rain - Nacio Herb Brown
Slap That Bass - Gershwin
Summertime - Gershwin
Take The 'A' Train - Billy Strayhorn
That's Amore - Harry Warren
They All Laughed.... - Gershwin
You're The Top - Cole Porter

Christmas
Chestnuts Roasting On An Open Fire - Torme And Wells
It's Beginning To Look A Lot Like Christmas - Meredith Wilson
Santa Baby - Monroe
The Christmas Song - Torme & Wells

Latin American / Tangos
Cherry Pink - Pablo Beltran
El Choclo - Villoldo
Jalousie Tango - Jacob Gade
La Cumparsita - Rodriguez
La Paloma - Sebastian Iradier
Por Una Cabeza - Gardel
Tomo Y Obligo - Carlos Gardel

Ragtime
Country Club - Scott Joplin
Maple Leaf Rag - Scott Joplin
Paragon Rag - Scott Joplin
Ragtime Dance - Joplin

Film
Gabriel's Oboe From 'The Mission' - Ennio Morricone
Goldfinger - John Barry
Goldfinger - Barry
James Bond Theme Tune - Barry
Moon River - Henry Mancini
Schindler's List Theme - John Williams
Somewhere Over The Rainbow - Harold Arlen
Theme From 'Pride And Prejudice' - Carl Davis

Television
Mad Dogs & Englishmen - Noel Coward
Theme From 'Poirot' - Christopher Gunning

Hymns
Dear Lord And Father Of Mankind
Guide Me, O Thou Great Redeemer
I Vow To Thee My Country
Jerusalem
Love Divine
Morning Has Broken
Praise My Soul
Sing Hosanna

Musicals
All I Ask Of You - Lloyd Webber
All That Jazz From 'Chicago' - John Kander
America From West Side Story - Bernstein
Anything Goes - Cole Porter
Chicago - Fred Fisher
Consider Yourself - From 'Oliver'
Happy Talk - Rodgers & Hammerstien
I Could Have Danced All Night - Lerner & Lowe
Music Of The Night - Lloyd Webber
Officer Krupke From West Side Story - Bernstein
Raindrops Keep Falling On My Head - Bacharach
Smoke Get In Your Eyes (From Roberta) - Jerome Kern
Sunrise, Sunset (From "Fiddler On The Roof") - Jerry Bock
There's No Business Like Show Business - Irving Berlin
Mark Hooper- TTS Group Ltd

, Corporate, Nottinghamshire
Very accommodating. Everyone loved them as they provided a nice atmosphere to arrive to.
---
The String Quartet have played at weddings and corporate functions in some of the country's finest venues including Tower Bridge, Chatsworth House, Knebworth House, Woburn Abbey, The Royal Courts of Justice, Burghley House and Amberley Castle. They have even played for a wedding on Guernsey, a corporate event in Brussels and performed concerts in the Caribbean including one on the exclusive island of Mustique.
The Nottinghamshire String Quartet has played for companies such as Proctor and Gamble, English Heritage, HSBC, Boots and Mercedes-Benz.
Corporate Events
The Nottinghamshire String Quartet has vast experience of performing for businesses in London, the South and the Midlands. Whether your function is an intimate 'do' or a huge party, The Nottinghamshire String Quartet can tailor their programme to create the perfect ambience. With their all-encompassing repertoire, The Nottinghamshire String Quartet can accompany a quiet dinner with classical sounds or entertain hundreds of guests with their arrangements of Abba, the Beatles and the Beach Boys.
Weddings
The Nottinghamshire String Quartet are available to play for wedding services, ceremonies, civil partnerships, blessings and receptions. The Nottinghamshire String Quartet have been entertaining wedding guests since 1996 and have extensive experience of tailoring their repertoire to create the right mood for your special day. They can help you plan your booking to suit your needs and are available to talk to in the months leading up to the engagement.
The quartet can play from as little as one hour to five hours and are happy to travel between venues if the ceremony and reception are in different places.
The Nottinghamshire String Quartet have repertoire to suit both church services and civil ceremonies and will gladly offer advice about which music to consider.
Please Note: The fees indicated below are approximate and based on a central location for each county. They are intended to provide a rough guide only and exact quotes can only be given once the date and exact location of your event have been provided.