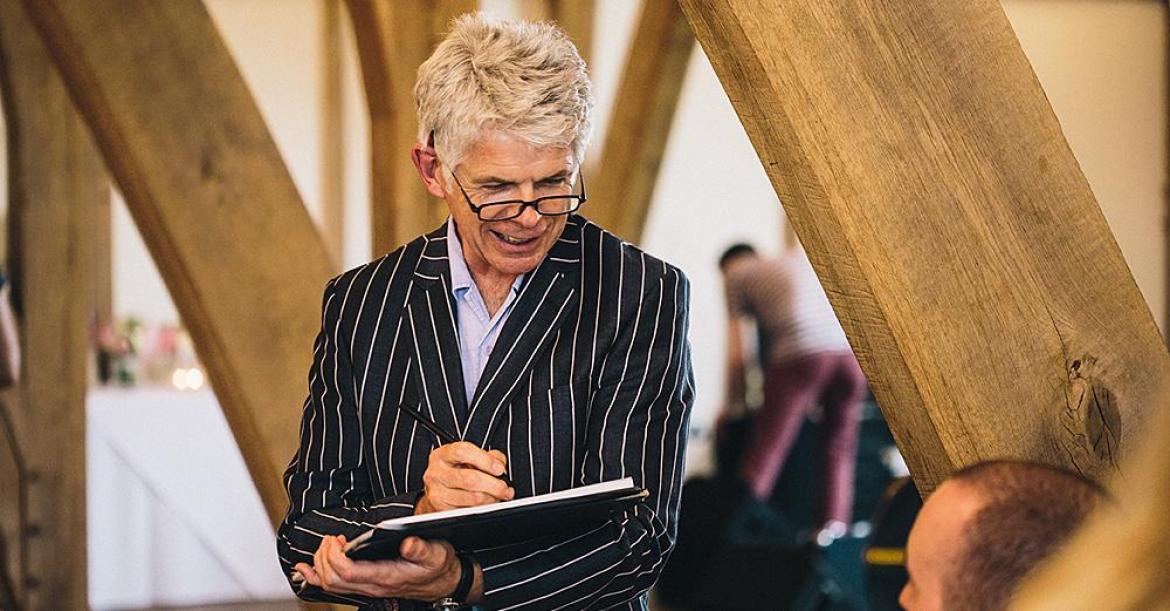 Location Cumbria
Starting from £330.00
Chris has been drawing caricatures for over 20 years at weddings, parties and corporate events and exhibitions. He has a gentle but humourous style of drawing that your guests will love.
He covers Cumbria, the Lake District, Lancashire, Cheshire, Manchester, Liverpool, the North and North West, Gretna and Lockerbie and might even be tempted to venture into parts of West Yorkshire.
*Outstanding North-West Based Caricaturist, Chris is highly sought after for all manner of events*
Number of Reviews and Counting... 14!
Chris's caricature style is kind but humorous so guaranteed not to offend. Ladies particularly love the long eyelashes and narrow waistlines! He draws black and white outline sketches on A4 at the rate of about 15 caricatures per hour. Chris normally works as a stroll about artist but can work seated at an easel depending on the situation. His caricatures go down brilliantly at weddings.
Keely Hogben

, Wedding, The Plough, Cumbria
Chris was amazing a definite contributor to a totally perfect day for our son's wedding. He worked non-stop and really engaged with the guests. Cannot recommend him highly enough. Every guest told me how much they loved the concept.
---
Rob Ditchburn

, Wedding, Dumfries-shire
Chris was so relaxing as he got on with his work which was brilliant, had all our guests laughing in a good way - nobody was upset and so funny. All in all, a lovely man. I highly recommend him. Big thanks!
---
Kirsty Taylor & Ross Turner

, Wedding, Lancashire
The whole process was fantastic, from start to finish. Charlotte at Warble was amazing - friendly and professional. She answered all our questions, and quickly too. Chris was amazing - everybody loved him. He was friendly, funny, incredibly talented and dapper too. On top of that, he was very fast, which was brilliant as everyone got a caricature. How he managed to do such detailed drawings so quickly, we don't know. Chris was a great addition to our wedding day, and I would highly recommend him and Warble to anyone looking for entertainment for their day. Thank you!
---
Richard Hawthorn

, Wedding, Cumbria
Chris was subtle in his presence, but very friendly when engaging with our guests. We couldn't have been happier with Chris on the day. Pictures were great and quick (good for kids!) and he stayed over to make sure everyone got a picture! Thanks
---
Esme Vance

, Wedding, Cumbria
Fantastic artist a real hit with all my guests. Thank you so much would highly recommend both Warble and Chris M. X x x
---
Lyndsey Sinclair

, Wedding, Lancashire
Absolutely amazing, we and our guests loved Chris! He was so friendly and made everyone at ease. Wouldn't hesitate to recommend him for any occasion!
---
Leoni Bisset

, Wedding, Cumbria
We were absolutely thrilled with Chris and all our guests loved having something special to take away with them! Our only regret is that we didn't book Chris for longer! Everyone in the room was queuing up for theirs done! Chris by far surpassed expectations. I was also extremely happy with your service prior to the wedding and any queries were responded to quickly. Me and Chris would like to thank yourself and Chris for helping to make our day very special!
---
Sue Annetts - Deloitte

, Corporate, Cheshire
Chris turned up in plenty of time for the event and worked his way through the queue of people, solidly for the three hour booking! His drawings were fabulous (I'm sorry I didn't have time to sit to have mine done!!) He was friendly and chatty - nothing was too much trouble, he just set up and got on with the job. We would definitely book him again. I have also had a couple of other people asking for his number so I will pass your information on. I hope he enjoyed the day too!?
---
Katie Lawson

, Wedding, Cumbria
Very well presented and pleasent! Great entertainment for your guests - would definately recommend!
---
Paul Clays

, Wedding, Dumfries and Galloway
Chris M was absolutely fabulous, a great caricaturist and a smashing bloke. In the 3 hrs we had him, every single one of our guests had a caricature done. Chris was surrounded all night as it was fascinating to see how good and how quickly he did them. A massive thanks to Warble Entertainment too for sorting us out at such short notice and making our wedding day one we'll never forget. Cheers Paul
---
Sorrell Butler

, Wedding, Cumbria
Definitely worth every single penny. Very talented and such a hit with the guests. Very pleased with our choice and would definitely recommend.
---
Emma Jones

, Wedding, Cheshire
Christopher was absolutely fantastic! He was relentless in trying to get through all our guests and stayed late to get more done. Everyone commented on how good he was and they couldn't wait to show us their caricatures. Would definitely recommend 100%. Thanks again!
---
Gaynor Watson

, Private Party, Lancashire
Chris was brilliant, everyone commented, he was friendly, patient and very professional. I would recommend your services, to everyone, thanks!
---
Pauline Enstone

, Private Party, Cheshire
Hi Marie, Chris was wonderful!! I can't recommend him highly enough. Chris mixed and mingled and coped fantastically with elderley relatives( who were at first a bit puzzled by the idea but were soon won over), as well as 3 year olds that took some distracting and entertaining to keep still (ish!) His picures were fantastic and everyone loved them. He was so quick too, every single person got a picture as a keepsake. He arrived exactly on time and was just great. Thank you Chris, it was a pleasure meeting such a talented artist, and a wonderful personality.
---
Chris has worked for private clients all over the North West and is often at places like ...
The Castle Green Hotel - Kendal
The Langdale Chase Hotel - Windermere
Barton Grange Hotel - Preston
The Wordsworth Hotel - Grasmere
The Trout Hotel - Cockermouth
The Lakeside Hotel - Cumbria
Chris has also worked for companies such as
Mercedes-Benz
HM Armed Forces in Germany, Holland and the UK
Astra-Zeneca
Black Sheep Brewery
Aston Martin
BUPA
Braun Medical
Co-operative Financial Services
For larger parties Chris works as a roving artist with an A4 pad, drawing quick caricatures in ink (and without the aid of an eraser!) at the rate of about 15 portraits per hour. For weddings or a dinner dance it works well if he starts drawing at drinks reception and continue round the tables through the meal which usually takes about 3 hours.
For the smaller intimate party, full colour portraits might be more appropriate. Chris draws these on A3 sat at an easel at the rate of 5 per hour. Please be aware that reasonable lighting to do this kind of work is required.
If you want a pianist – Chris can do that as well! At weddings for instance, Chris can play piano for a civil ceremony, draw caricatures during the drinks reception and finish off with piano through the wedding breakfast, so you get two kinds of entertainer in one!
Please Note: The fees indicated below are approximate and based on a central location for each county. They are intended to provide a rough guide only and exact quotes can only be given once the date and exact location of your event have been provided.
Scotland
Lanarkshire
£330.00
North West
Cheshire
£330.00
Cumbria
£330.00
Manchester
£330.00
Lancashire
£330.00
Merseyside
£330.00