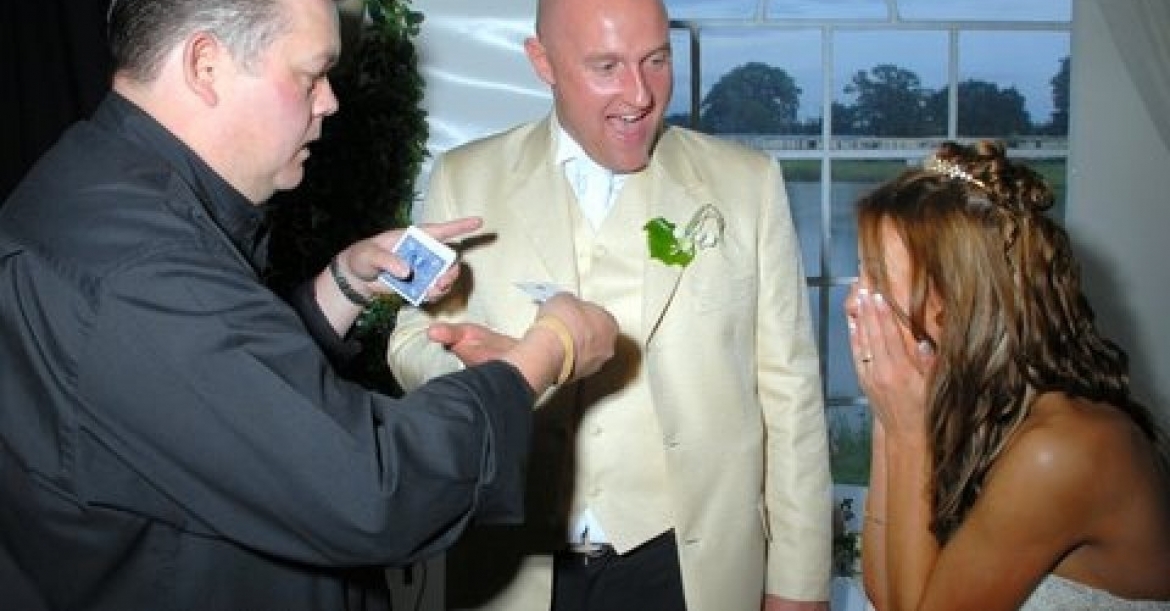 Location UK Wide
Starting from £420.00
Darren has been entertaining audiences for over 20 years.
From private parties to military balls and banquets; from the streets of London to the bright lights of Vegas. Darren's intimate style, sense of humour and experience has made him what he is today... a consummate professional who will add energy to any event.
Darren offers close-up magic with a difference that has entertained and tantalised audiences all over the world.
*Highly recommended magician to baffle all your guests - Exceptional Feedback*
Number of Reviews and Counting... 8!
Darren has been entertaining audiences for over 20 years. From private parties to military balls and banquets on the streets of London to the night lights of Vegas. Darren's intimate style, sense of humour and experience has made him what he is today.
Magic may look impressive on television but for a live audience, whether large or small, nothing can compare to the atmosphere of seeing magic performed just a few inches from their eyes, baffling even the greatest of sceptics!
As audiences become more and more sophisticated there is an increasing call for something different, something you don't see every time you watch a magician.
Darren offers close-up magic with a difference that has entertained and tantalised audiences all over the world whether big or small.
Samantha Ashby

, Birthday Party, Lincolnshire
I just wanted to say a big thank you to you and Darren. We had the most wonderful evening and Darren was the icing on the cake! My mum and all of our guests are still talking about how fantastic he was! Darren was a massive hit with my niece and nephew too, my nephew has been practicing his magic skills ever since and is determined to be as good as Darren!! He truly was amazing and he did a brilliant job of entertaining all of the guests, everyone has been asking where I found him and I have passed your details on to them all!! I can't thank you enough, for the marvellous entertainment that Darren provided, he was outstanding!! He really did make our evening that extra special!! So thank you, thank you thank you so much!! From my guests, my mum and myself!! She had the most wonderful night and it was topped off by Darren's amazing skills!! We will definitely be booking Darren again, in fact Darren is now a family favourite and I'm positive he will be the top of every party list from now on!! Thank you so much!!
---
Chris Witte

, Birthday Party, Lincolnshire
Tracey, Darren attended my wife's 50th birthday party, an important event for the family and 50 of our friends. I have to say that he absolutely made the night for us. We had fireworks a hog roast and speeches, but what everyone is still talking about is the amazing magic that Darren brought us on the night. I would recommend him to anyone and my son says he wants to be a magician! Thanks again.
---
Martin Gowing

, Birthday Party, Essex
We would just to say what a wonderful time we had with Darren. It was a 40th Birthday party held in our garden and there were over 200 people in attendance with ages ranging from 2 up to 94. His great demeanor and wonderful illusion skills had everyone mesmerised. I personally stood there with two 40yr old skeptics trying to figure out how he worked his close magic as he repeated a trick involving elastic bands and even though they were trying to catch him out they eventually had to admit defeat. We are still talking about some of the illusions we saw and I would have no hesitation in recommending Darren to any function whatsoever where you want to see the very highest standard of close up magic.
---
Liz Thompson

, Birthday Party, Essex
I would like to say how pleased we were with Darren. He was an amazing magician and impressed everyone that was at the party. Such a nice guy too. I would thoroughly recommend him.
---
Phil Hinks & Amanda Aspland

, Wedding, North Yorkshire
Superb! Darren was excellent with all our guests and worked his way round the entire party! Fantastic magician, truly amazing! There were a few kids at our wedding and he was superb with the way he involved them in certain tricks. A big thank you! Really added something extra special to our day!
---
Kate Arnold

, Wedding, Staffordshire
Darren was absolutely fab, and everyone is still talking about him.
---
Sophie Slater

, Charity, Cheshire
Huge thanks to Warble Entertainment for advising and booking such an amazing magician!!! Darren mixed and mingled all night, surprising guests with such magic!!!! Everyone was talking about him and his tricks.... simply unbelievable!!! Thanks Warble on the A* service that you always provide. Would recommend Darren again and again...... thank you so much for driving so far too! xx
---
Geoff Love

, Birthday Party, Northamptonshire
Darren was excellent. He had a great rapport with the guests, and his close-up magic left even the sceptics in awe. I would definitely use him again. As for Warble Entertainment, thank you for doing a great job. You worked really hard to find me acts, and I think you represent your entertainers extremely well.
---
Darren has performed for many prestigious clients and at many events, including:
Nokia, Skechers, The Golf Hotel, Disneyland Paris, Heritage Village Dubai, Paris Resort Las Vegas, The Lincolnshire & Nottinghamshire Air Ambulance, Audio Technica, Thomas Cook, Bentley Hotel, Sharp, Riviera Resort Las Vegas, Alexander Barracks, Jackson & Shipley, Conico, RAF Cranwell, Carver Barracks, Catterick Garrison, Centre Parcs, RAF Wyton, RNAS Yeovilton, Normandy Hall Hotel, Butlins, Post House Forte, Petwood Hotel, RAF Boulmer, The Magic Circle, Hasler Military Hospital, Brewers Fayre, Royal Marines Limpstone, Masonic Lodges, East Midlands Conference Centre, Earls Court, Olympia, East Of England Show.
Weddings: As your Wedding Magician, Darren will entertain and amaze you and your guests, leaving them with a truly unforgettable experience. There are three main times for Darren to perform at your wedding- the first would be "Mixing & Mingling" with you and your guests while the photographs are being taken, the second would be during your wedding breakfast performing at the table side ("Table Hopping" as it is called) and, the third would be at the start of your evening celebrations as the evening guests arrive.
Each wedding is totally unique, so please do not hesitate to contact us to discuss the finer details for your very special day.
Please Note: The fees indicated below are approximate and based on a central location for each county. They are intended to provide a rough guide only and exact quotes can only be given once the date and exact location of your event have been provided.
North East
Durham
£540.00
Northumberland
£474.00
North Yorkshire
£474.00
South Yorkshire
£474.00
Tyne and Wear
£474.00
West Yorkshire
£474.00
Yorkshire
£474.00
North West
Cheshire
£474.00
Cumbria
£540.00
Manchester
£474.00
Lancashire
£474.00
Merseyside
£474.00
East Midlands
Derbyshire
£420.00
Leicestershire
£420.00
Lincolnshire
£420.00
Northamptonshire
£420.00
Nottinghamshire
£420.00
Rutland
£420.00
East
Cambridgeshire
£420.00
Norfolk
£420.00
Suffolk
£420.00
Wales
Anglesey
£720.00
Caernarvonshire
£720.00
Denbigh
£720.00
Flint
£720.00
Cardigan
£720.00
Brecon
£660.00
Carmarthen
£660.00
Glamorgan
£660.00
West Midlands
Gloucestershire
£474.00
Herefordshire
£474.00
Shropshire
£474.00
Staffordshire
£474.00
Warwickshire
£474.00
Worcestershire
£474.00
South East
Bedfordshire
£474.00
Berkshire
£474.00
Buckinghamshire
£474.00
East Sussex
£474.00
Essex
£474.00
Hampshire
£510.00
Hertfordshire
£474.00
Kent
£474.00
Oxfordshire
£540.00
Surrey
£510.00
Sussex
£510.00
West Sussex
£510.00
London
£540.00
Middlesex
£540.00
South West
Cornwall
£720.00
Devon
£720.00
Dorset
£720.00
Somerset
£720.00
Wiltshire
£720.00