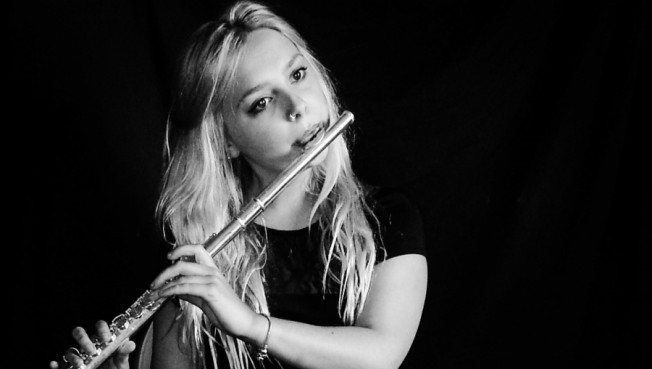 Location Merseyside
Starting from £240.00
Emily is an exceptionally talented flautist who has been captivating audiences since the age of 8. Her graceful delivery and the stunning tone that she naturally produces from her flute have become her trademarks, together with a rich and diverse repertoire that is suited to almost any occasion.
Emily's music will add sophistication and elegance to your special occasion.
Number of Reviews and Counting... 1!
As a child, Emily took to her chosen instrument immediately, showing an inherent musical ear and clear ability on the flute and was soon dazzling audiences wherever she performed. She went on to attain Grade 8 with Distinction by the age of 15, and has since embarked on a colourful musical career.
Emily has played in numerous large venues across the country both as a soloist and with full orchestras, as well as on her local stages, such as the Liverpool Philharmonic Hall, Liverpool Empire and St George's Hall. She is equally at home performing in more intimate venues such as wine bars, restaurants and private functions, where her varied set encompassing classical, jazz, musicals and the great songbooks provides the perfect backdrop for guests as they soak up the atmosphere.
Emily is an extremely popular choice at weddings as her music is an ideal option for all those important moments during the day, including the entrance of the bride, the signing, the recession and general background music as guests move around throughout the day. She has always received exceptionally positive feedback wherever she plays, and is often asked to perform at subsequent events by enthralled members of her audiences. Her professional attitude and pleasant personality compliment her musical performances, ensuring satisfied clients wherever she is invited to play.
Emily possess a wide ranging and varied repertoire that features Classical Music, Jazz, Well Known Popular music, and songs from Musicals.
Sample Setlist:
Classical & Jazz
Air on a G String
Alla Hornpipe
Allegro
Arrival of the Queen of Sheba
Ave Maria
Badinerie
Canon
Dance of the Blessed Spirits
Desifinado
Flower Duet
Four Seasons- Winter
Four Seasons- Spring
Jesu Joy of Man's Desiring
Meditation from Thais
Minuet and Trio
Pavane
Plaisir D'amour
Polovstian Dance
Reverie
Salut d'Amour
Sheep May Safely Graze
Sonata in F Major
Spanish Dance
Trumpet Voluntary
The Swan
Well Known Music / Films & Musicals
All I Ask of You
Annies Song
Beyond the Sea
Bridge over Troubled Water
Everybody Needs A Best Friend
Fawkes the Pheonix
Game of Thrones Theme
Hallelujah
Harry's Wondrous World
I Dreamed a Dream
In Dreams
Moon River
Music of the NIght
On my Own
Walking In The Air
What a Wonderful World
Somewhere
Summertime
Think of Me
Time After Time
Songbird
True Colours
Adam and Katie

, Wedding, Cheshire
Emily was recommended for our wedding by a family friend and she did not disappoint. All of our guests kept telling us how beautiful the music was and we would love to have her back for the next occasion.
---
What are your standard performance times?
This would vary depending on the event. I usually play 2 x 45 minute sets but can easily be flexible.
What is your line up?
I am a solo Flautist accompanied by professional backing tracks, which gives me the ability to be versatile, by either playing solo, with a simple accompaniment or with a full orchestra.
What parts of a wedding are you able to perform during?
I am flexible to change the length of each set to meet the requirements of the client and to suit every specific occasion. (e.g the standard 2x45 minutes, or 1 hour for drinks reception). The price will increase with the length of the performance, however a specific quote will be arranged when the exact date, location and length of the set has been determined.
E.g. I am able to perform at various parts of your wedding day, such as the entrance of the bride, the drinks reception, the signing and the wedding breakfast, giving you the flexibility to choose when I play.
How much time do you require to set up and sound check?
Approximately 45 minutes.
How much Stage space do you require?
Approximately 2 x 3 metres and a chair to be provided.
How many electrical sockets do you require?
I require 1 electrical socket.
Can you provide pre-recorded music between sets?
I can provide a range of popular music that is suitable for almost all occasions. This would be played via an MP3 player through my PA.
Are you able to learn requests and at what extra charge?
I am usually able to learn requests and will charge an extra £12 per special request if it is suitable for my performance.
How much experience would you say you have in performing at weddings, parties and corporate events?
I have been playing solo flute live for many years and for a huge variety of occasions. I therefore have a great deal of experience in performing for large audiences and in formal atmospheres.
What are your transport arrangements?
I attend events accompanied by my assistant who drives me by car.
Emily The Flautist's standard performance schedule is 2 x 45 minute sets, however she can easily be flexible to suit the occasion being played for.
Please Note: The fees indicated below are approximate and based on a central location for each county. They are intended to provide a rough guide only and exact quotes can only be given once the date and exact location of your event have been provided.
North East
Durham
£288.00
Northumberland
£288.00
North Yorkshire
£288.00
South Yorkshire
£288.00
Tyne and Wear
£288.00
West Yorkshire
£288.00
Yorkshire
£288.00
North West
Cheshire
£240.00
Cumbria
£240.00
Manchester
£240.00
Lancashire
£240.00
Merseyside
£240.00
East Midlands
Derbyshire
£288.00
Leicestershire
£288.00
Lincolnshire
£288.00
Northamptonshire
£288.00
Nottinghamshire
£288.00
Rutland
£288.00
Wales
Anglesey
£240.00
Caernarvonshire
£240.00
Denbigh
£240.00
Flint
£240.00
West Midlands
Gloucestershire
£288.00
Herefordshire
£288.00
Shropshire
£288.00
Staffordshire
£288.00
Warwickshire
£288.00
Worcestershire
£288.00