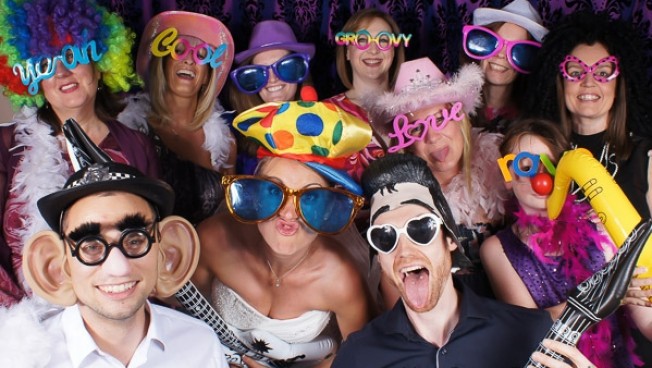 Location Cheshire
Starting from £258.00
Framed! Photobooth Hire is a fantastic way to surprise and delight your guests - Whatever the occasion!
Your guests will be able to dress up in the various props and guises that the Framed! team bring to every booking, and then get professional photos taken by a Photographer, with the images being instantly displayed on an LCD screen to laugh at and cherish afterwards.
Framed! can also attend themed events and provide a perfect memento of your event, with the interaction with your guests everyone will find themselves getting involved.
Number of Reviews and Counting... 2!
Based In Cheshire, Framed! offer a competitive alternative to an expensive and bulky photo Booth that require a lot of space at your event. These Photo Booths are limited to just two or three people's head and shoulders in the shot at onc time, whereas Framed! can get photos of much larger groups, and encourage you to have fun at the same time!
The setup is quick and easy - to both assemble and take down - creating no disruption to your event. The set up comprises of a Backdrop Screen, twostudio style lights and a Digital DSLR camera and the team can adapt to fit smaller spaces with the use of a single studio light helping to fit around your needs.
David Bartolomeu

, Birthday Party, Flint
I have no words to describe how brilliant they were. It was the highlight of our evening, Paul and Denise were very nice and very professional. Highly recommended.
---
Jon Mitchell

, Venue Club, Cheshire
Framed! added an extra touch to our event and were brilliant at getting guests to be involved and have fun. Quick set up and very little space required for the Photobooth. Highly Recommended!
---
Manchester Runway Centre
Warble Events
Southway Housing Group
Donna Louise Trust RWFanfest 2014 & 2015 (Robbi Williams charity event)
Plus many more Weddings and Parties throughout the North West, Kent, North & South Wales.
How much space does Framed! require at my event?
Typically around 3m x 3m of free floor space. but the more space the better the set up will be.
How long does it take to set up?
Setting up is really quick and can be done in around 20 minutes.
How do I get the images?
You will recieve a Boxed CD with all the post processed images (Water mark free) Plus a selection will be added to our web site and or Facebook unless, of course, you request otherwise.
How many people can fit in the Photos?
We have had a group of 15 adults in before now.
Can we see what you take?
The photos will be displayed on an LCD monitor in front of you to see (and laugh!)
Do we get prints?
All photos are digital and displayed on a screen we dont do prints due to them being lost, left on tables to get wet or just thrown away.
How soon after the event do I get a copy of the photographs?
Once the event is over, it will take 2-3 days to process the images! Once done, we will put them on a CD to post to you, or we can create a link and send it to you by email for you to get them exclusively if you would rather this done before your CD is sent.
How far in advance do I need to book?
Of course, the earlier, the better to ensure booking. However, even if your event is the next day, you are welcome to ask. We can cater for most local events right up to the last moment.
Can I order individual prints?
Once you receive the images either digitally or on your CD, you are free to print them as you like! We can provide the ability to order prints at an extra cost for yourself and your guests if you wish.
How much control do I have over the use of the photographs?
Ultimately, we retain the copyright and use some of the images to promote ourselves and increase our portfolio. Images uploaded to our web site or other will be water marked.
Prices are quoted on 2 hours Photobooth attendance and image post processing afterwards.
Pricing for 3 hours photobooth are available on request.
1 hour local kids parties are also possible on request at a reduced price.
Please Note: The fees indicated below are approximate and based on a central location for each county. They are intended to provide a rough guide only and exact quotes can only be given once the date and exact location of your event have been provided.
North East
Durham
£426.00
Northumberland
£396.00
North Yorkshire
£414.00
South Yorkshire
£396.00
Tyne and Wear
£426.00
West Yorkshire
£396.00
Yorkshire
£414.00
East Yorkshire
£414.00
Leeds
£384.00
North West
Cheshire
£258.00
Cumbria
£354.00
Manchester
£306.00
Lancashire
£306.00
Merseyside
£306.00
Liverpool
£306.00
East Midlands
Derbyshire
£396.00
Leicestershire
£396.00
Lincolnshire
£396.00
Northamptonshire
£396.00
Nottinghamshire
£396.00
Rutland
£396.00
East
Cambridgeshire
£396.00
Norfolk
£396.00
Suffolk
£396.00
Norwich
£396.00
Wales
Anglesey
£336.00
Caernarvonshire
£336.00
Denbigh
£336.00
Flint
£306.00
Cardigan
£324.00
Brecon
£336.00
Carmarthen
£324.00
Glamorgan
£336.00
Monmouth
£336.00
Pembroke
£336.00
Wrexham
£258.00
Cardiff
£336.00
West Midlands
Gloucestershire
£336.00
Herefordshire
£336.00
Shropshire
£306.00
Staffordshire
£306.00
Warwickshire
£336.00
Worcestershire
£336.00
Birmingham
£336.00
South East
Bedfordshire
£396.00
Berkshire
£396.00
Buckinghamshire
£396.00
East Sussex
£396.00
Essex
£396.00
Hampshire
£456.00
Hertfordshire
£396.00
Isle of Wight
£456.00
Kent
£456.00
Oxfordshire
£396.00
Surrey
£456.00
Sussex
£456.00
West Sussex
£456.00
London
£456.00
Middlesex
£426.00
South West
Cornwall
£456.00
Devon
£456.00
Dorset
£456.00
Somerset
£456.00
Wiltshire
£378.00
Bath
£378.00
Bristol
£378.00