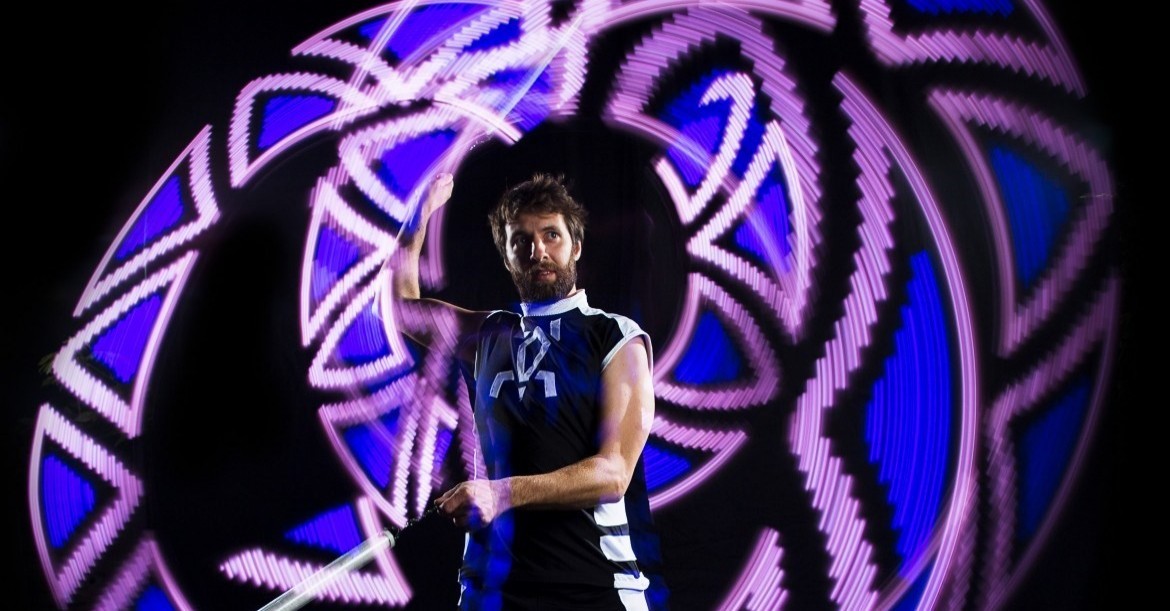 Location Bristol
Starting from £960.00

Whether you are looking for Meet and Greet entertainment or a high-tech futuristic way to build atmosphere at your event, glow spinning is guaranteed to impress your guests.
The multi-talented performers use a range of glow props including hoops, staffs, juggling clubs and our specialist pixel poi, which can be programmed to write your logo, message or image in lights.
These performers offer ambient and meet and greet performances to build the atmosphere of your event. If you would like a choreographed glow stage show as the main entertainment for your event, please see the Photon Glow Show profile on the Warble website or ask your Warble Booking Agent for the Photon Glow Show or Glow Acro.
Number of Reviews and Counting... 11!
These multi-talented performers offer a wide range of glow circus skills to entertain and delight your audiences. Offering up to 3 x 30 minute freestyle sets glow performances are a dazzling way to create stunning Meet and Greet entertainment or to build the atmosphere of your event. To keep the performances fresh for your guests, these performers use a variety of glow props including hoops, staffs, juggling clubs and pixel poi, capable of writing your name or logo in lights.
The custom made pixel poi create images and logos by drawing lines of light in the air while they are spun at incredible speeds. With the option to choose appropriate images for your event's theme from a wide range of images from an extensive image library, or for a small extra programming fee, we can use your logo or images in our props to create a truly bespoke experience.
If you really want the performers' skill and grace to shine through, there is the added option to include custom-made LED glow suits. These will give your event a high-tech futuristic feel and really make the performances stand out.
If you are looking for a more extravangant high-impact choreographed glow stage show, as the main entertainment for your event, please search for our Photon Glow Show and Glow Acro on the Warble Entertainment website, or ask your Warble Booking Agent for the Photon Glow Shows.
The price quoted is per glow performer, and you can include optional extras including programming personalised logos and messages into the props, or having the performers come out in specialist custom-made glow suits to really make them stand out.
Yvonne Povall-Fletcher

, Private Party, Bristol
Excellent performance really enjoyed it, Libby was really obliging especially as her performance time was delayed slightly.
---
Gemma Bundy

, Wedding, Orchardleigh Estate, Somerset, Somerset
Would like to thank Kat, she did amazing and everyone loved it. Highly recommend. Thank you.
---
Sworders Fine Art Auctioneers

, Corporate, Essex
This was a great act, very professional, I would definitely recommend this act and would consider hiring him again.
---
Charlotte

, Other, Salisbury, Wiltshire
Really friendly, brilliant act.
---
Teresa Sutherland - Stewart Signs LTD

, Corporate, Hampshire
Thank you very much for a providing such lovely performance. Audience loved it and were very impressed with the professional approach to the event. We would certainly recommend your company to others. Many thanks to everyone involved in making an evening such a success.
---
Karen Ivory

, Corporate, West Yorkshire
Everyone really enjoyed the entertainment and they have all said how good they were.
---
Hadasa Korer

, Private Party, London
Performer was fantastic and would definitely recommend.
---
Kelly Keating (Andy Mills-Brown)

, Charity, London
They were an absolute pleasure to work with and gave their all to perfecting our event. The circus theme cried out for a performance such as theirs and they really did give above and beyond what was asked of them. Superb! Would absolutely recommend the team and hopefully create a fitting event to use them again.
---
Mathew Goodman

, Birthday Party, Cheshire
Excellent performance, excellent all round :)
---
Romesh Navratnam

, Birthday Party, Lancashire
The stilt performance was a big hit. Children and adults were impressed and entertained. The performer was very professional and was very co-operative when working around our schedule. The younger children especially loved the glo show. He was a nice guy to work with. We would definitely recommend him to others. For agency feedback see my feedback left for Rich the Caricaturist. Thank you.
---
THORPE PARK

, Festival, Surrey
The glow performer at our event was fantatsic. He was really flexible with where he performed and interacted really well with the guests.
---
1. Are your performers insured?
All of our performers have full Public Liability Insurance and our equipment has been fully PAT tested.
2. How long can your artists perform for?
All of our artists are prepared to do up to three thirty minute sets throughout your event, and will need to have breaks to reset and recharge equipment between sets. All of our performers are professional and flexible as possible to suit your needs.
3. Can your performers do other circus skills?
Our multi-talented performers have a range of circus skills, and are happy to show them off. If you would like fire spinning or another circus skill to go alongside your glow performance please do get in touch. We also have options to send out other types of ambient glow performers such as glow acrobalance and glow drummers if you are looking for something a bit different.
4. Are you able to offer stage shows or do you just do ambient performances?
We do offer highly choreographed stage shows with glow costumes and a full range of glow props, and even options for laser animations. To find more detailed information about our glow shows on this website, search for Photon Glow Shows.
These performers are happy to do up to 3 x 30 minute sets throughout the event using a range of different glow spinning props or even incorporating other circus skills
Please Note: The fees indicated below are approximate and based on a central location for each county. They are intended to provide a rough guide only and exact quotes can only be given once the date and exact location of your event have been provided.
Scotland
Aberdeen
£2,160.00
Inverness
£2,160.00
Perth
£2,160.00
Sutherland
£2,160.00
Ayrshire
£2,160.00
Fife
£2,160.00
Stirlingshire
£2,160.00
West Lothian
£2,160.00
Dumfries-shire
£2,160.00
East Lothian
£2,160.00
Lanarkshire
£2,160.00
Midlothian
£2,160.00
Glasgow
£2,160.00
Edinburgh
£2,160.00
Dundee
£2,160.00
Foreign Locations
Europe
£2,160.00
Rest of the world
£2,160.00
North East
Durham
£1,680.00
Northumberland
£1,680.00
North Yorkshire
£1,680.00
South Yorkshire
£1,680.00
Tyne and Wear
£1,680.00
West Yorkshire
£1,680.00
Yorkshire
£1,680.00
East Yorkshire
£1,680.00
Leeds
£1,680.00
North West
Cheshire
£1,140.00
Cumbria
£1,140.00
Manchester
£1,140.00
Lancashire
£1,140.00
Merseyside
£1,140.00
Liverpool
£1,140.00
East Midlands
Derbyshire
£1,080.00
Leicestershire
£1,080.00
Lincolnshire
£1,116.00
Northamptonshire
£1,140.00
Nottinghamshire
£1,140.00
Rutland
£1,140.00
East
Cambridgeshire
£1,116.00
Norfolk
£1,140.00
Suffolk
£1,116.00
Norwich
£1,140.00
Wales
Anglesey
£1,140.00
Caernarvonshire
£1,080.00
Denbigh
£1,080.00
Flint
£1,080.00
Cardigan
£1,080.00
Brecon
£1,080.00
Carmarthen
£1,080.00
Glamorgan
£1,080.00
Monmouth
£1,020.00
Pembroke
£1,080.00
Wrexham
£1,020.00
Cardiff
£1,020.00
West Midlands
Gloucestershire
£996.00
Herefordshire
£1,044.00
Shropshire
£1,080.00
Staffordshire
£1,080.00
Warwickshire
£1,080.00
Worcestershire
£1,020.00
Birmingham
£1,044.00
South East
Bedfordshire
£1,080.00
Berkshire
£1,080.00
Buckinghamshire
£1,080.00
East Sussex
£1,116.00
Essex
£1,080.00
Hampshire
£1,080.00
Hertfordshire
£1,080.00
Isle of Wight
£1,140.00
Kent
£1,104.00
Oxfordshire
£1,020.00
Surrey
£1,044.00
Sussex
£1,080.00
West Sussex
£1,080.00
London
£1,080.00
Middlesex
£1,080.00
South West
Cornwall
£1,140.00
Devon
£1,044.00
Dorset
£1,044.00
Somerset
£1,020.00
Wiltshire
£1,020.00
Bath
£996.00
Bristol
£960.00