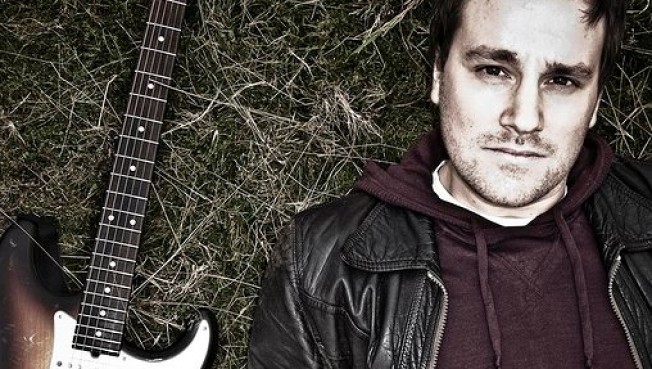 Location Manchester
Starting from £360.00
John Kay is one of the top session guitarists performing in Manchester and the UK. A talented writer as well, John has a beautifully smooth voice which lends itself perfectly to performing the dearth of talented singer/ songwriter cover tunes which grace the charts nowadays.
Number of Reviews and Counting... 1!
John Kay comes from a very musical family. His pianist father and songstress mother encouraged his evident talents from a very early age. He learned the piano from the age of 3yrs, then turned his hand to the cello before finally picking up his first guitar which he has since never put down!
His ability was 'recognised' as he won the Daily Telegraph Jazz Competition Award when he was 16 years old and he reached the regional finals of the Young Jazz Musician of Year competition when he was 17years old, which was televised and hosted by Jools Holland. Jools commented on John's incredible guitar playing by stating "...he is a filthy guitar player who we will hearing lots about in the years to come".
Session work swiftly followed and he had the privilege to also session with Miles Seabrook, who was working with Paul Weller. John then took the decision to go to Leeds college of music to learn as much as he could about voice and guitar. But, he did not finish due to an opportunity to record in Nashville, which really shaped John as a musician. When John returned to the UK he moved to his hometown Manchester and started to develop his writing skills, whilst doing this, his guitar playing was standing out above the rest which led John to play with Don Felder, Tony Christie, Hannah Ild, Andy Abraham, Wilson Minds (Produced by Chris Potter), and Jools Holland. John has also performed at the Edinburgh Festival, the Manchester jazz festival and toured across Europe.
John loves being involved in many music projects but closest to his heart is writing and performing. So, this is where John is now. He is working on his much anticipated album whilst performing around the UK at many functions, weddings and parties.
Get in touch to book John Kay.
Solo - Voice Guitar
Duo - add Guitarist
Trio - add Guitarist and Bass Player
Quartet - add Guitarist, Bass and Drums
You can also add additional instruments, such as Saxophone or Piano. John has extensive contacts in the music busniess and can provide any instrumentation.
Up Tempo Songs
Message in a Bottle – Police
Babylon - David Gray
Dreadlock Holiday – 10cc
Sweet home Alabama - lanyard skynard
I can see Clearly now
You give me something – James Morrison
Signed, Sealed, Delivered – Stevie Wonder
Light my fire
English man in New York – Sting
Superstition - stevie wonder
Moon dance – Van Morrison
Johnny b. Good - Chuck berry
Take your Mamma out – Scissor Sisters
Wade in the water – Eva Cassidy
How come - Ray Lamongtane
Hotel California – Eagles
Come together – Beatles
faith –George Micheal
she's not there
Long Train Running
Lovely day – Bill Wither
Shake you money maker
Mrs Robinson – simon and Garfunkle
Use Me – bill withers
Valerie – Zuttons (amy winehouse)
Stuck in the middle with you
I've got a woman – ray charles
Use somebody - kings of leon
No diggity
Stand by me
I'm Just looking – stereophonics
Sex on Fire – Kings of leon
Get back – Beatles
Sunshine of your love - eric clapton
Mustang sally
Place your hands
Why won't you come when I call - john mayor
Crossroads -john mayor
Closer - neon
Black and gold
Rehab - amy winehouse
You got the love - florance and the machine
Golden touch - razorlight
use somebody - Kings of leon
Mellow Songs
Sitting on the dock of the bay
One - u2
Wishing on a star - paul weller
more than words
Purple rain - prince
Aint no sunshine - bill withers
Lets get it on - marvin gay
A team - Ed Sheeran
Georgia - ray charles
Fragile - sting
Better together - jack johnson
Fix you - coldplay
Cannonball - daemon rice
you can bring me flowers - ray laymongtain
Wild wood - paul weller
Wonderful tonight - eric clapton
Easy - richie
Blackbird – Beatles
Summertime
Wonderwall - oasis
You do something to me – Paul weller
Layla - eric clapton
Stuck on you - l richie
You're beautiful
Patrick Finn

, Wedding, Cumbria
We were so happy we chose to book John to play at our wedding. He has a fantastic voice and created the perfect atmosphere for us and our guests to enjoy. All our guests commented on how much they enjoyed his performance and it really added to the day. He arrived early and was more than happy to accommodate us when we our schedule ran a little over. We could not recommend him highly enough!!
---
Peckforton Castle
Thorton Manor
Mitton Hall
Keele Hall
LG Arena
Bridge Water Hall
O2 Academy Liverpool
Apollo Manchester
MJF Festival
Edinburgh Festival
Hilton Hotel Manchester, Liverpool
The Oval, London
John can set up and soundcheck within 20 minutes, or, 60 minutes and 20 minutes to sound check as a 4 piece band.
We require minimum space of 5 feet x 5 feet for solo and equipment, or 12 feet x 12 feet for the band, but this can be adjusted to be made smaller or larger as required.
We require minimum of 2 electrical sockets for solo, 4 electrical power supplies for the band.
As Solo John has one electro acoustic guitar, two microphones and boom stands, a Yamaha 500w PA speakers with stands.
As a band we have top range muscial equipment to ensure that client's receive the best sound and the most out of your evenings entertainment.
We will require: Refreshments (Tea / Coffee / Soft Drinks / Mineral Water), Sandwiches / Food (if at venue for 4 hours or more). Parking to be provided for one car if your booking John Solo. Please advise in advance if parking facilities have height restrictions.
John performs two 45 minute acoustic sets, which can be extended on request for an additional fee.
The 2, 3, 4 piece band perform two 45 minute, 60 minute or three 30 minute sets to suit the customer and venue.
Please Note: The fees indicated below are approximate and based on a central location for each county. They are intended to provide a rough guide only and exact quotes can only be given once the date and exact location of your event have been provided.
Scotland
Aberdeen
£600.00
Inverness
£600.00
Perth
£600.00
Sutherland
£600.00
Ayrshire
£540.00
Fife
£540.00
Stirlingshire
£540.00
West Lothian
£540.00
Dumfries-shire
£480.00
East Lothian
£480.00
Lanarkshire
£480.00
Midlothian
£480.00
North East
Durham
£420.00
Northumberland
£420.00
North Yorkshire
£420.00
South Yorkshire
£420.00
Tyne and Wear
£420.00
West Yorkshire
£420.00
Yorkshire
£420.00
North West
Cheshire
£360.00
Cumbria
£360.00
Manchester
£360.00
Lancashire
£360.00
Merseyside
£360.00
East Midlands
Derbyshire
£420.00
Leicestershire
£420.00
Lincolnshire
£420.00
Northamptonshire
£420.00
Nottinghamshire
£420.00
Rutland
£420.00
East
Cambridgeshire
£480.00
Norfolk
£480.00
Suffolk
£480.00
Wales
Anglesey
£480.00
Caernarvonshire
£480.00
Denbigh
£480.00
Flint
£480.00
Cardigan
£480.00
Brecon
£480.00
Carmarthen
£480.00
Glamorgan
£480.00
Monmouth
£480.00
Pembroke
£480.00
West Midlands
Gloucestershire
£420.00
Herefordshire
£420.00
Shropshire
£420.00
Staffordshire
£420.00
Warwickshire
£420.00
Worcestershire
£420.00
South East
Bedfordshire
£540.00
Berkshire
£540.00
Buckinghamshire
£540.00
East Sussex
£540.00
Essex
£540.00
Hampshire
£540.00
Hertfordshire
£540.00
Isle of Wight
£540.00
Kent
£540.00
Oxfordshire
£540.00
Surrey
£540.00
Sussex
£540.00
West Sussex
£540.00
London
£540.00
Middlesex
£540.00
South West
Cornwall
£600.00
Devon
£600.00
Dorset
£600.00
Somerset
£600.00
Wiltshire
£600.00