Warble Entertainment's
Juggling Inferno - Fire Performers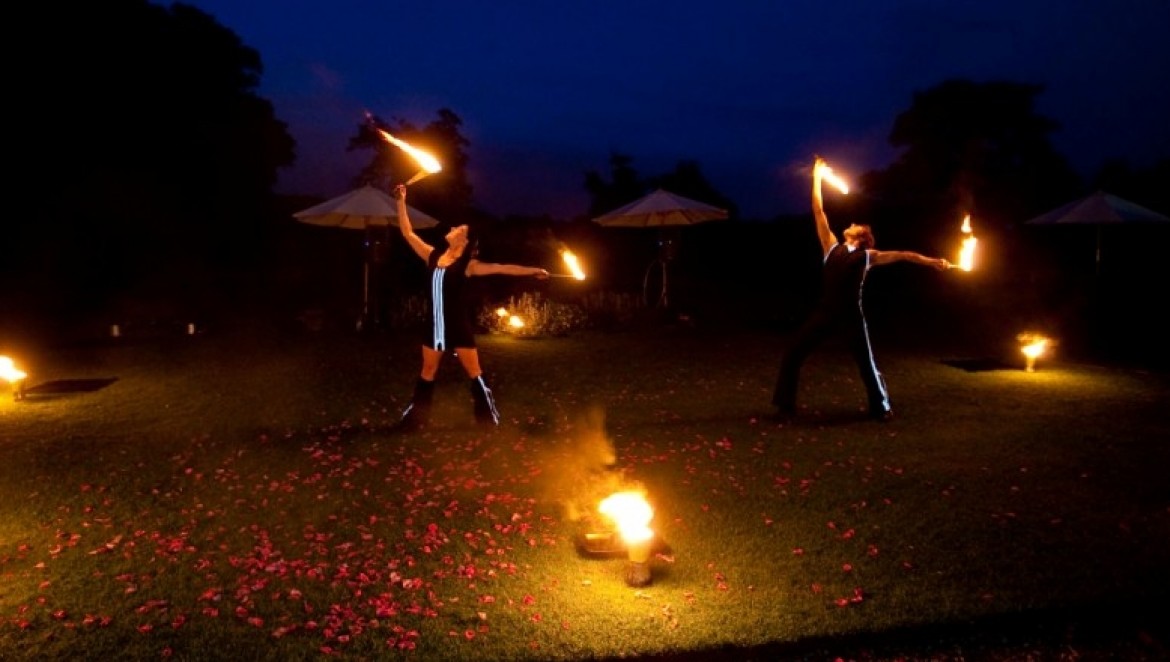 Location UK Wide
Starting from £412.18
Location UK Wide
Starting from £412.18
Introduction
Get a feel for them
Intro
Choreographed, group fire shows and fire eaters for hire. High energy event, party and wedding entertainment. A great way to entertain and impress your guests. The fire shows comes with the fantastic option of a pyrotechnic finale for the extra wow factor.
Juggling Inferno are one of the world's leading fire performance troupes and their combination of skills, danger and fun will be great addition to your next event.
53 reviews
Juggling Inferno - Fire Performers
Number of Reviews and Counting... 53!
Juggling Inferno's group fire shows have been performed all over the world at a wide variety of events from celebrity parties to weddings and birthday celebrations. All the fire eaters and fire performers are highly skilled professional entertainers of the highest calibre.
The fire shows, can be performed inside as well as outside, with 2-7 professional fire eaters. All the shows are fully choreographed to music, the fire shows typically start off with some friendly patter and then a combination of solo and group routines. The fire shows also come with option of a pyrotechnic finale as huge and impressive way to finish the show.
· All Juggling Inferno's fire shows come with the option of a free 'meet and greet' fire performance or some freestyle fire eaters performing 'ambient' or background displays. Some free walkabout entertainment is also possible alongside the fire shows (subject to availability).
· All the fire performers are based in the UK but available for work worldwide.
· If you aren't looking for fire shows, Juggling Inferno can offer high-tech LED glow shows and a great alternative.
If you would like to book one of Juggling Inferno's fire shows or fire eaters for hire please contact us now using the contact details above for pricing and availability.
Solo performer to a group ensemble of 7!
Juggling Inferno fire shows can be performed with 1-7 fire performers and come with the option of a pyrotechnic finale.
Kirsty Jones

, Festival Event, London
They were very professional in hideous weather conditions. Well done!
---
Natalie Kirk

, Private Party Event, Kent
Performer was very helpful, friendly and flexible - great!
---
Evonna Brooker

, Birthday Party Event, Wiltshire
Absolutely loved it, the performer was just great!!! He got everything what an entertainer needs - funny, got the public involved and it was just fab - definitely everyone enjoyed it and I'm sure some of the guests will request another performance from you in any upcoming events. Well done, thank you for a great time!
---
Laura Robinson & Ronan O'Driscoll

, Private Party Event, Cumbria
Very good all of our guests enjoyed the entertainment. Tim was very professional and a nice guy. Would recommend him.
---
Melanie Kenny

, Birthday Party Event, Lancashire
We had an amazing night, everything was better than I could imagine. Tim our fire performer that evening was fantastic, it was a medieval night for my 40th, and the fire show made it amazing, interaction with the crown went down a treat, everyone was truly impressed. I would certainly recommend the fire, especially the finale, amazing. If I was to plan a do like that again, I would certainly be back in touch. Thank you so much. The team are great, they make sure all your requirements are met and are really helpful. Thanks again xxx
---
Fiona Bullock

, Festival Event, Hampshire
Very happy. Sandy was pleasant to deal with, punctual and he did exactly as asked.
---
Natalie Kirk

, Festival Event, Kent
Very good display & good communication from Juggling Inferno.
---
Emma Cliffe

, Wedding Event, Devon
Warble Entertainment were very efficient and always responded quickly to my queries. The fire performer battled through the rain and put on a great performance!
---
Joanne Collins

, Wedding Event, Berkshire
Great performance. All the guests loved it! We have some fab photos too, I can email them if you want. X Jo X
---
Michelle Kilford

, Festival Event, Durham
Thank you for the fantastic performance, defiantly had the wow factor we were after. Great communication from both the agent & performer, highly recommended x
---
Nashanta Andrews

, Wedding Event, Devon
Tim was amazing, he captured all of our guest by getting them all involved in juggling workshops with his fun hands on approach! We cant thank him enough, the final fire show blew us all away and it will definitely make our wedding a memorable one for everyone there. Thanks again, Nash and Simon x
---
Nina Tinsley - Outwood Academy Adwick

, Private Party Event, South Yorkshire
The performers were excellent and seemed to have a good rapport with the students. The whole experience was excellent and would like to say a big thank you to all involved. Kind regards, Joy Simpkin
---
Vassia

, Birthday Party Event, Surrey
The guys were great and very easy going. Great finale to the night!
---
Helen Scutt

, Private Party Event, Carmarthen
Andy was great. Everybody enjoyed his act and we would certainly use him again. I also found Coral and the other staff very easy to work with and I will be in touch when I next have an event to organise.
---
Karansa Booth

, Wedding Event, North Yorkshire
This was such a fabulous show. Tim really worked the crowd and made it really entertaining as well as spectacular to watch. Everybody loved the show and it really was such a great touch for our wedding. I would definitely recommend this show and it was worth every penny. Thank you so much for making our guests feel involved. We all thought you were amazing.
---
Sasha Selkirk

, Wedding Event, Gloucestershire
I was very impressed with the high standard of customer service. I booked through Jennie Whitworth who was extremely helpful and prompt. Tim, the performer, was extremely approachable and arrived early - really appreciated as it meant a stress free night. Will be recommending Warble Entertainment to Badock Hall to use again next year. Thank you very much Jennie!
---
Cheryl Kelser

, Birthday Party Event, Wiltshire
Wow.... another amazing show from Tim. I booked Juggling Inferno again as the quality and fun of the show really impressed the guests at my 50th Party last August so decided to have them back for my daughter Hayley's 30th. Will be booking you again in the future.
---
Anne Marie McGill - Health and Wellbeing

, University Event Event, Manchester
The performers created a fun atmosphere. The pyrotechnic finale is a must! Many thanks!
---
Patrick O\'Hara

, Military Event Event, Gloucestershire
Hi Jennie, Thanks again for helping us put together our event, it all went smoothly and I think the blokes will have a good night to remember on tour - there was a great buzz going around which the fire dancers really helped to achieve.
---
Vicky Sheilds (Office Christmas)

, Corporate Event, Hampshire
Excellent performance, particularly incorporating the client's logo into the show, which went down really well. The guys faced a technical hitch due to the DJ not having the correct inputs for their equipment - this only came up shortly before their performance, but they reacted quickly and brought in their own PA system. Would definitely book them again and look forward to working with them again on 25th!
---
Hemal Morjaria

, Charity Event, Bedfordshire
The show was brilliant. We got a lot of possive feedback. The artist was very friendly and did a great show. Thank you, Hemal
---
Emma Clatworthy

, Corporate Event, Wiltshire
Wow.....absolutly brilliant. Warble provided a very good service, recommending performers and ideas for our party and when we finally committed to booking Juggling Inferno the whole process ran very smoothly. The performer himself was fantastic, arrived on time, was very pleasant and we have received nothing but absolute praise for his performance. We would definetly recommend Juggling inferno and look forward to using Warble entertainment in the future. Thank you so much Emma - Socomec.
---
Ben Groom

, Corporate Event, London
The fire juggler was fantastic, braving the cold to welcome guests with some great fiery entertainment. Thank you.
---
Pensford Tennis Club

, Festival Event, London
Our fantastic performer was a pleasure to deal with - very organised and professional and the performance was really fabulous. Thanks for helping to make our event the best yet.
---
Fiona Bullock

, Private Party Event, Hampshire
Found the whole booking from start to finish very well mannaged, good communication throughout. The act itself was very good, very laid back and accommodating of our needs. The lady was very good with all the audience gaining their interest... would definately use again.
---
Kirsty Jones

, Corporate Event, London
The show was incredible, even better than last year. Thanks!
---
Dedi Leech care of Ann

, Birthday Party Event, Oxfordshire
Good morning...... all went extremely well and the clients were absolutely delighted.... Many thanks, Dedi Leech
---
S R

, Private Party Event, Manchester
The performer was on time, really good service and she did a really good show. The kids loved it and that's what I wanted. Thanks for everything.
---
Cheryl Kelser

, Private Party Event, Wiltshire
Very impressed with the service provided by Warble Entertainment from the information provided to the booking and more so the show itself. He was amazing with the my party guests, loved the humour he bought to the show. Even my 3 year old grandson was glued to watching him. He made my birthday very special with his show which was talked about several days after the event. I will be booking again in the future for any other special event I may have, I know the Hotel where I had my party has taken details as they also were impressed. Please pass on my feedback to him personally. Thank you
---
Laura Mason

, Wedding Event, Durham
Hi Jennie, the performance was absolutely brilliant! We are so pleased we booked it. The performer was really professional and did a marvellous job. Our guests loved it and so did we! I'm pleased Tim encouraged me to go for the pyrotechnic finale - well worth it!! Thanks.
---
Jonathan Griffiths

, Corporate Event, Hampshire
The two girls that arrived to perform for us arrived punctually and with a professional attitude. The performers willingly conducted 2 x 40 minute meet and greet sets. They performed and conducted themselves in a very professional manner during their time with us. I would, without hesitation recommend them to others to book. They without doubt added to the success of our night.
---
Alice Cox

, University Event Event, Durham
They were really great, very professional and reliable, would definitely recommend them!
---
Alison Fydler

, Festival Event, Hampshire
Tim was excellent - very talented, very flexible and proactive and I would highly recommend him to anyone. Thank you.
---
Tania Almond

, Festival Event, Cambridgeshire
The event was the Queen's Diamond Jubiliee beacon lighting at Fort Widley in Portsmouth. Tim was our fire juggler. He was excellent - professional, addressed all safety concerns, was very entertaining, funny and involved the whole audience. I would fully recommend him and we will be looking to book him again later in the year.
---
Natalie Callender

, Wedding Event, Cumbria
Absolutely fantastic, Tim complimented our day perfectly with an amazing performance and excellent crowd interraction. He was a star from start to finish and especially a hit with the kids. We would have no hesitation in recommending him to any of our friends and he made a great alternative to the traditional fireworks performance which was exactly what we were looking for. Again, many thanks. Natalie and Greg.
---
Tracy Allsop

, Wedding Event, Warwickshire
Thank you so much in making our evening entertainment even more special. Tim was an amazing performer and would love to hire him again. From the moment I made the enquiry to actually booking it was made very simple and easy and very stress free. Thank you x
---
Rupi Gil (Pirtek UK)

, Corporate Event, London
Please pass on a huge thank you to the performers they were fabulous and we received some great feedback.
---
Kay Lunnon

, Wedding Event, West Glamorgan
Fantastic service - Warble have kept in close contact to ensure we had the perfect performance on our Wedding day. 'Baggs' the fire performer was an absolute legend - he kept our audience (aged between 3 weeks old and 88 years!) laughing the entire way through. We saw some very impressive tricks which we have never seen before by other performers, and our guests couldn't stop talking about the suprise performance! Fantastic - thank you for brightening our evening with fire!! From, Andi and Kay Daily :) :)
---
Neesha Thomas

, Wedding Event, Warwickshire
We booked Juggling Inferno for our wedding entertainment and the show was fantastic. We decided due to the numbers of our guests that a solo performer would be ideal and it was. Steve did our show and he was great.... very engaging with our guests. I would recommend Juggling Inferno to anyone as it's amazing to watch and gives your wedding a slightly different edge.
---
Andrew Newell

, Wedding Event, Hampshire
What can I say... Truly amazing stuff really! Tim was awesome, a true showman who delivered an outstanding performance. The whole thing was fun, interactive and pitched at the right level. What a great guy. I would not hesitate to recommend Tim or any other members of his group to anyone looking to enhance their function, wedding, party or whatever. The skills shown were amazing and the man was an absolute legend. Thank you so much, the show really made our day that bit extra special.
---
Julie Stoner (Executive Assistant, Doctors.net.uk)

, Corporate Event, Oxfordshire
Just a quick note to say 'Thank you' for such a wonderful evening last Friday. Everyone really enjoyed themselves and I am very appreciative of all the hard work that you put in to make our event perfect. I would not hesitate to recommend you and certainly hope that we will booking you again at some point in the future. Many thanks.
---
Iain Crockatt

, Birthday Party Event, Yorkshire
Fab, Fab, Fab, Fab, Fab, Fab!!!!!! Thank you so much Emma - you were a star, a gem. Just brilliant :-) What a night!! If you want any pics just let me know!
---
Kirsty Jones

, Festival Event, Cambridgeshire
Very professional. Extremely responsive and a fantastic show. The finale was amazing and both performers were incredible. Many thanks we will be booking you again next year!
---
Juliet Dale

, Festival Event, Berkshire
An amazing performance! The girls were really lovely and easy to work with. Tim and Jennie were very helpful in advance of the event. We have had really positive feedback from all the pepole that saw them perform and we would definitely consider booking them again.
---
THORPE PARK

, Festival Event, Surrey
Juggling Inferno provided the spectacle I was looking for to launch my event with a bang. They arrived in plenty of time to make sure they had been to the perfomance locations so that they could provide the best meet and greet and were on time and suitable scary to fit in with the events theme.
---
Mark & Carley Tatum

, Wedding Event, Bedfordshire
Juggling Inferno were an excellent alternative and unique act to end with on our wedding day. Our guests were thoroughly entertained and amazed by the Fire Performers and their spectacular performance. We would like to take the opportunity of thanking the performers for assisting with making our day special.
---
Paul Malone

, Private Party Event, Derbyshire
An awesome show that they performed for us at our wedding party - thank you! Pyrotechnics show was well worth it as a finale. Also really appreciated you including a bit of a "meet & greet" display for us too!
---
Julie Wannop

, Birthday Party Event, Cumbria
Very impressive. We had a great night and our guests loved the performance.
---
Alex and Nicola

, Wedding Event, West Midlands
Hi Marie, Sorry for the late reply – not long returned from our hols. The Fire performer was great – kept everyone interested and entertained as interacted really well with the crowd. Would definitely recommend him again for any future events. Thanks to you for sorting this out and if you can send the performer our thanks that would be much appreciated.
---
Mairead Carlton

, Festival Event, West Sussex
Hi Tracey, The whole service has been excellent from start to finish. On the day the fire performer Nick was really superb and the public loved him and asked when was the second performance so they could catch that also. I am very pleased with all and would book the same again and recommend for other events. Thankyou.
---
Dan Dove

, Wedding Event, Essex
Hi Marie, the event went very well for us over the weekend. Your act 'Juggling Inferno' was very easy to book and we found the process very easy. The act arrived on time and were very helpful, they were keen to work with us enabling them to fit-in as best as possible. Thank you again for your assistance.
---
Steve Schofield

, Wedding Event, Cambridgeshire
Hi Tracey, everything went very well. Thank you for your help! Superb. He was professional and funny!!
---
Julie Jacob

, Birthday Party Event, London
The booking was full-proof and the responses were very quick. Tim, the fire performer, lived up to all expectations and even went further than ever imagined. The weather put a cloud on the party but his humour lit up the whole night. It was a truly outstanding performance and I would definitely recommend Juggling Inferno - Fire Performers to family and friends.
---
1. What the duration are the fire shows? Of course we will be as flexible as possible, but we suggest around 20-25 minutes for shows outside and 8-12 minutes for indoor fire shows. If you want some additional performance we are happy to offer some meet and greet or ambient (freestyle) fire performances at no extra charge.
2. Can we hire solo fire eaters? Yes, please visit the Pyromania Fire Entertainers page in the Fire Performers section of the site.
3. Are the fire eater's multi skilled? Yes, all of our fire entertainers are highly skilled in a variety of fire performance skills including fire eating, pyrotechnics, fire spinning, body burning and fire juggling.
4. Do you have full insurance? Yes, all of our fire performers are fully insured and risk assessed. Please let us know if you or your venue needs copies of our insurance documents. We are also happy to give support and advice on any health and safety questions that may arise.
Please Note: The fees indicated below are approximate and based on a central location for each county. They are intended to provide a rough guide only and exact quotes can only be given once the date and exact location of your event have been provided.
North East
Durham
£412.18
Northumberland
£412.18
North Yorkshire
£412.18
South Yorkshire
£412.18
Tyne and Wear
£412.18
West Yorkshire
£412.18
Yorkshire
£412.18
North West
Cheshire
£412.18
Cumbria
£412.18
Manchester
£412.18
Lancashire
£412.18
Merseyside
£412.18
East Midlands
Derbyshire
£412.18
Leicestershire
£412.18
Lincolnshire
£412.18
Northamptonshire
£412.18
Nottinghamshire
£412.18
Rutland
£412.18
East
Cambridgeshire
£412.18
Norfolk
£412.18
Suffolk
£412.18
Wales
Anglesey
£412.18
Caernarvonshire
£412.18
Denbigh
£412.18
Flint
£412.18
Cardigan
£412.18
Brecon
£412.18
Carmarthen
£412.18
Glamorgan
£412.18
Monmouth
£412.18
Pembroke
£412.18
West Midlands
Gloucestershire
£412.18
Herefordshire
£412.18
Shropshire
£412.18
Staffordshire
£412.18
Warwickshire
£412.18
Worcestershire
£412.18
South East
Bedfordshire
£412.18
Berkshire
£412.18
Buckinghamshire
£412.18
East Sussex
£412.18
Essex
£412.18
Hampshire
£412.18
Hertfordshire
£412.18
Isle of Wight
£412.18
Kent
£412.18
Oxfordshire
£412.18
Surrey
£412.18
Sussex
£412.18
West Sussex
£412.18
London
£412.18
Middlesex
£412.18
South West
Cornwall
£412.18
Devon
£412.18
Dorset
£412.18
Somerset
£412.18
Wiltshire
£412.18
You may also like
Customers who have enquired for Juggling Inferno - Fire Performers have also been interested in the following performers who are also based UK wide. For more information or further options, please call 0845 643 9384.