Warble Entertainment's
Lee Sings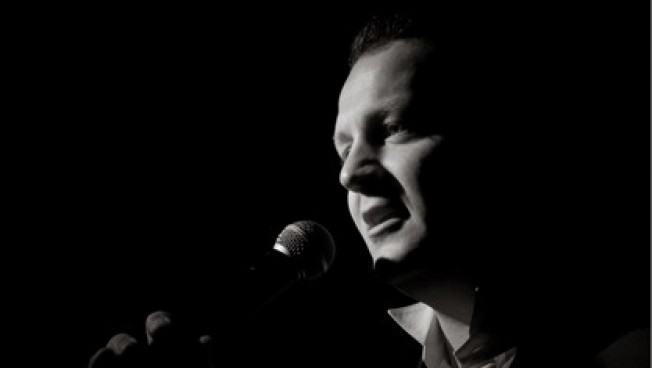 Location South Yorkshire
Starting from £540.00
Lee is a male solo artist specialising in wedding singing. His aim is to provide an intimate and memorable performance on your special day, something that you will both remember forever.
Lee provides a number of packages and aims to sing all your song requirements. Together with his wife, Hollie a professional female DJ, they are able to provide the perfect solution to your entertainment needs. Providing Wedding entertainment nationwide together they have performed in some of the UK's biggest venues.
*Let Lee and Hollie provide the soundtrack's to your Special Day*
1 reviews
Song List
These are just a select few of Lee's tracks, he has many many more available. If there are specific songs you require providing 3 months notice is given Lee will aim to provide them for your perfect day.
Advertising Space - Robbie Williams
Ain't that a kick in the head - Frank Sinatra
Alive and Kicking - Simple Minds
All Night Long - Lionel Ritchie
All of my heart - ABC
All that matters - Curtis Stigers
All these things that I have done - The Killers
Always - Jon Bon Jovi
Always on my Mind - Elvis Presley
Amazed - Lonestar
Angel Eyes - Wet Wet Wet
Angels - Robbie Williams
As long as she needs me - Sammy Davis Jnr
Baby can I hold you - Boyzone
Baby now that I've found you - The Foundations
Bed of Roses - Jon Bon Jovi
Better Man - Robbie Williams
Beyond the Sea - Bobby Darin
Bodies - Robbie Williams
Brown Eyed Girl - Van Morrisson
Build me up Buttercup - The Foundations
Burning Love - Elvis Presley
Can you feel the love tonight - Elton John
Can't help falling in love - Elvis Presley
Can't hurry Love - Phil Collins
Can't take my eyes off you - Andy Williams
Chasing Cars - Snow Patrol
Come Fly with me - Michael Buble / Frank Sinatra
Crazy little thing called love - Michael Buble/Queen
Crazy Love - Michael Buble
Cry me a river - Michael Buble
Dancing in the Dark - Bruce Springsteen
Dead or alive - Jon Bon Jovi
Destiny - Lionel Ritchie
Died in your arms - Cutting Crew
Dignity - Deacon Blue
Do they know it's Christmas - Band Aid
Don't you want me baby - Human League
Drops of Jupiter - Train
Drugs don't work - The Verve
Escape - Enrique Englasis
Evergreen - Barbara Streisand
Everlasting Love - Love Affair
Every Breath - The Police
Every time you go away - Paul Young
Everybody - The Blues Brothers
Everybody loves somebody - Dean Martin
Everybody's Changing - Keane
Everything - Michael Buble
Everything I do I do it for you - Bryan Adams
Feeling Good - Michael Buble
Fever - Micheal Buble
Fly me to the Moon - Frank Sinatra
Flying Without Wings - Westlife
Footloose - Kenny Loggins
Freedom - Robbie Williams
Gimmie all your Lovin - ZZ Top
Gold - Spandau Ballet
Great Balls of Fire - Jerry Lee Lewis
Great Pretender - Freddie Mercury
Greatest Day - Take That
Groovy kind of love - Phil Collins
Hard to say im sorry - Chicago
Have I told you lately - Van Morrison
Haven't met you yet - Michael Buble
Heard it through the Grapevine - Marvin Gaye
Heaven - Bryan Adams
Heaven must be missing an Angel - The Tavares
Hello Again - Neil Diamond
Here I go again - Whitesnake
Here it comes again - The Fortunes
Hero - Enrique Englasis
Higher and Higher - Jackie Wilson
Hold On - Michael Buble
Hollywood will listen - Robbie Williams
Home - Michael Buble
How sweet it is - Micheal Buble
Human - The Killers
I don't want to miss a thing - Aerosmith
I get a kick out of you - Frank Sinatra
I wish it could be Christmas everyday - Wizzard
I won't Dance - Frank Sinatra
Iris - Goo Goo Dolls
Is this Love - Whitesnake
It had to be you - Harry Connick Jnr
It's my Life - Jon Bon Jovi
I'll be there for you - Jon Bon Jovi
I'll stand by you - Rod Stewart
I'm yours - The Script
I've got you under my skin - Frank Sinatra
Jar of Hearts - Christina Perri
Just can't help believing - Elvis Presley
Just the way you are - Bruno Mars
Karma Killer - Robbie Williams
Keep on loving you - Reo Speedwagon
Kissing in the back Row - The Drifters
L. O. V. E - Nat King Cole
La Bamba - Los Lobos
Lady in Red - Chris De Burgh
Lady is a tramp - Frank Sinatra
Last Christmas - Wham
Last Request - Paulo Nutini
Let's stay together - Al Green
Livin La Vida Loca - Ricky Martin
Livin on a Prayer - Jon Bon Jovi
Living Years - Mike and the Mechanics
Lost - Michael Buble
Love and Marriage - Frank Sinatra
Love is all around - Wet Wet Wet
Love is in the air - John Paul Young
Love on the Rocks - Neil Diamond
Lyla - Oasis
Mack the Knife - Frank Sinatra
Make Believe - Conway Twitty
Make you feel my love - Adele
Memories are made of this - Dean Martin
Merry Christmas - Slade
Millennium - Robbie Williams
Missing you - John Waite
Moondance - Michael Buble
Mustang Sally - The Commitments
My Girl - The Temptations
My Way - Frank Sinatra
New York New York - Frank Sinatra
No matter what - Boyzone
Now and Forever - Richard Marx
Only You - The Flying Pickets
Pennies from Heaven - Frank Sinatra
Pretty Woman - Roy Orbison
Radio Ga Ga - Queen
Rain on me - Travis
Rave On - Buddy Holly
Red - Daniel Merriweather
Right here waiting - Richard Marx
Rock DJ - Robbie Williams
Rule the world - Take That
Run - Snow Patrol
Runaway - Del Shannon
Save the last dance - Michael Buble
Say you say me - Lionel Ritchie
Sex on Fire - Kings of Leon
She - Elvis Costello
She's a mystery - Roy Orbison
She's like the wind - Patrick Swayzee
She's the one - Robbie Williams
Shine - Take That
Someday I'll be Saturday night - Jon Bon Jovi
Someone like you - Van Morrisson
Somethings Gotta give - Sammy Davis Jnr
Songbird - Fleetwood Mac
Stand by me - Ben E King
Started with a kiss - Hot Chocolate
Still the one - Shania Twain
Strangers in the night - Frank Sinatra
Stuck in the Middle - Steelers Wheel
Stuck on you - Lionel Ritchie
Summer of 69 - Bryan Adams
Sun aint gonna shine anymore - Walker Brothers
Sun goin down on me - Elton John/George Michael
Supreme - Robbie Williams
Suspicious Minds - Elvis Presley
Sway - Michael Buble / Dean Martin
Sweet Caroline - Neil Diamond
Sweet Child O Mine - Guns and Roses
Sweetest Feeling - Jackie Wilson
Thank you - Jon Bon Jovi
That's Amore - Dean Martin
The Boys are back in town - Thin Lizzy
The One and Only - Chesney Hawkes
The Rose - Westlife
The way you look tonight - Frank Sinatra
Three Steps - Eddie Cochran
Three times a lady - Lionel Ritchie
Ticket to Ride - The Beatles
Tonight - Westlife
Truly - Lionel Ritchie
Twist and Shout - The Beatles
Unchained Melody - The Righteous Brothers
Under my Skin - Frank Sinatra
Use Somebody - Kings of Leon
Walk Away Renee - The Four Tops
We will Rock you - Queen
We've got tonight - Bob Seger
What a Wonderful World - Louis Armstrong
What about now - Westlife
When a man loves a woman - Percy Sledge
When I fall in love - Nat King Cole
When you say nothing at all - Ronan Keating
Wind Beneath - Bette Midler
With or Without you - U2
Wonder of you - Elvis Presley
Wonderful Tonight - Damage/Eric Clapton
You are so beautiful - Joe Cocker
You make me feel so young - Frank Sinatra
You raise me up - Westlife
You to me are everything - The Real Thing
You're my first my las my everything - Barry White
You're Song - Elton John
You've got it - Roy Orbison
You've got your Troubles - The Fortunes
You've lost that Loving Feeling - The Righteous Brothers
Zoom - Fat Larrys Band