Looking4Laffs Caricatures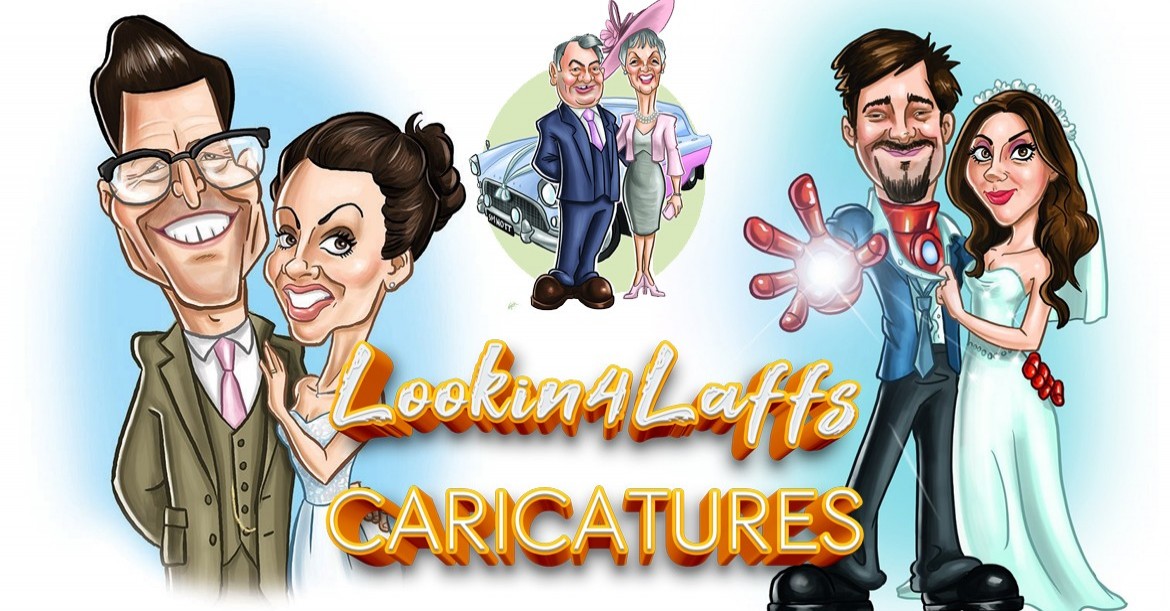 Location Devon
Starting from £360.00
Looking4Laffs Caricatures is an award winning caricaturist who provides a hugely successful, fun and outrageous experience drawing caricatures of your guests - whether it's for a wedding, party, function or event.
With a fun and relaxed attitude, Looking4Laffs will ensure everyone is happy and having a fun time, whilst giving them a momento of the day to take home and frame!
Looking4Laffs Caricatures
Number of Reviews and Counting... 2!
After studying animation at Bournemouth art college, Looking4Laffs Caricatures went on to work in the animation industry working for companies like the BBC and Aardman. He then later started working in the illustration industry where he has worked on many books and projects companies like Penguin, BBC, "Ripleys believe it or not", Disney, Marvel and many others.
Live caricatures are pure entertainment and keeps the guests busy, by sitting in the "hot seat", watching friends and others being drawn and also makes a great talking point. For weddings, this is ideal for when the photos are being taken or in the evening when the party is well under way.
On average Looking4Laffs can draw ten people in an hour. That's about 5 minutes each, keeping in mind the sitting, the reveal and bagging of the picture. All drawings are drawn on A3 paper and he provides a plastic wallet for the picture to go in, giving it an extra bit of protection. If requested, Looking4Laffs can provide the name of the bride and groom, together with the date on the paper.
Darryl Duggan - Royal Marines

, Military Event, Commando Logistic Regiment Royal Marines, Devon
Many thanks for providing a professional and high quality service, my guests were very happy with the end product and have requested we get him back for our Summer Ball. He was extremely popular and we will be definitely interested in a repeat performance and booking possibly for a longer period.
---
Ross Standen

, Wedding, Devon
Booked him for our wedding and he supplied us with the most fantastic pictures and the caricatures he did on the day were faultless. The guests haven't stopped complimenting their pictures. Can't wait to book him for another event.
---
Randy Rainbow
Dynamo Limited
and many weddings, parties and corporate events!
Do you only do 3 hours?
Not at all. 3 hours is a standard time to get a nice number of people drawn. But If I was needed for less time or more time, that is totally ok.
How many people do you draw in an hour?
On average, it takes me about 5 minutes to draw one person. If you include the sitting down, showing the picture and standing up. I get about 10 people done in the hour.
Do you walk about and draw as you mingle?
If I was really needed to, I would but as a rule I don't. Even more so if a photo book has been ordered. There are a couple of reasons for this. Not everyone wants to be drawn. So I wouldn't want to impose on someone and make someone feel awkward. Being sat at a station, people can come to me by choice (or dragged up by a friend!) I spend less time walking about finding someone to draw and more time drawing people who form a queue.
Please Note: The fees indicated below are approximate and based on a central location for each county. They are intended to provide a rough guide only and exact quotes can only be given once the date and exact location of your event have been provided.
South West
Cornwall
£360.00
Devon
£360.00
Dorset
£360.00
Somerset
£360.00
Wiltshire
£360.00
Bath
£360.00
Bristol
£360.00