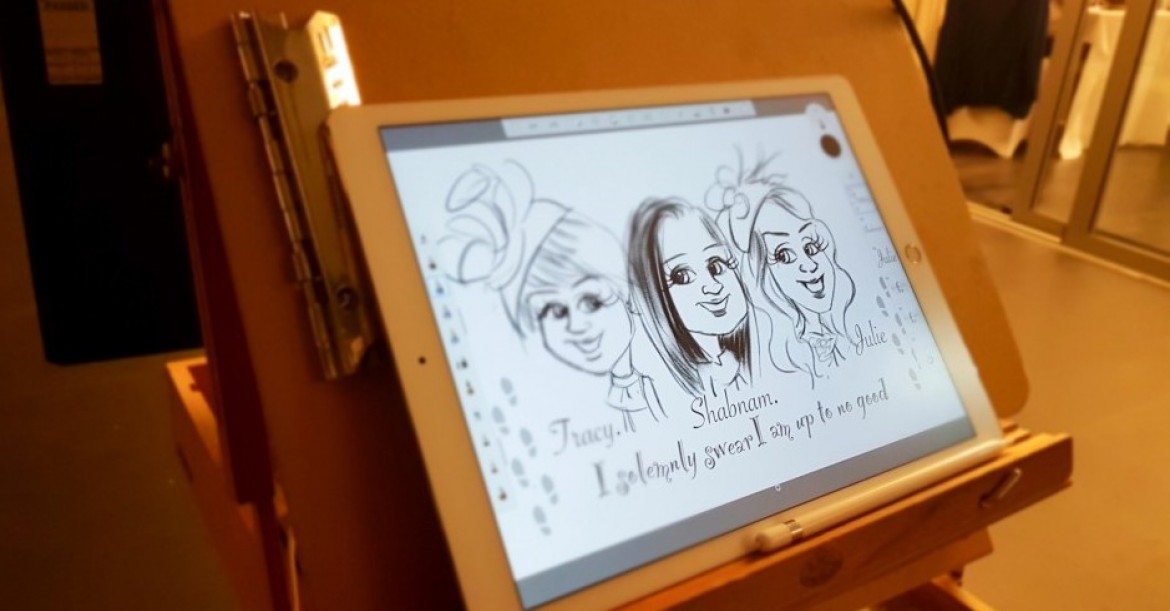 Location Aberdeen
Starting from £264.00

Lyn the Caricaturist is an experienced freelance illustrator with over 10 years experiance drawing fun, fast and flattering caricature sketches of guests on an ipad pro at a variety of events throughout Scotland.
Fun for all age groups and style of function. Interactive, modern and fun. Guaranteed to bring a smile to your guests faces.
Number of Reviews and Counting... 9!
Lyn brings a memorable twist to the traditional live caricature entertainment.
Lyn sketches live caricatures of your guests on an Ipad tablet that transmits the cartoon being created on a monitor attached to her easel or through zoom (venue wifi permitting!) creating an intimate and inclusive show that all age groups will enjoy.

Suitable for all age groups and size of function including corporate trade shows, birthday parties and weddings.


Ben Ambler

, Other, Somerset
Lyn was very approachable and understood what was required for my painting. The finished product was outstanding.
---
Nicola Dreaves

, Wedding, Big Husky Lodge, Inverness
Lyn has been absolutely fantastic throughout our booking, so friendly and easy to work with. On the day of our wedding Lyn arrived on time and set-up very discreetly, she worked away until everyone had their caricatures, which they were thrilled with. I couldn't recommend Lyn more highly, her caricatures are fun and flattering and have made a lovely keepsake that our family members will treasure.
---
Calli Jacobs - Talking Business Supplies

, Corporate, Berkshire
We are thoroughly pleased with the caricatures Lyn created, she is extremely talented! We did everything digitally and then printed and framed them as gifts for our staff on a work party. We will use them for marketing also for the company. Lyn was a pleasure to deal with and I can't believe the speed she turned around 13 Caricatures in. Highly recommended. The whole booking process via Warble was really straightforward and the advice from Jodie much appreciated. I will definitely use Warble again for future events and also recommend to colleagues.
---
Sophie Johnstone - University of Aberdeen

, University / School, Aberdeen
Lyn was a joy to work with. Set up quickly and in a timely manner and throughout the 4 hour long event was smiling and making her clients laugh. Her work was also extremely efficient and the next day she sent through everything we'd asked for - super helpful at every stage. :)
---
Steven Kirk

, Wedding, Aberdeen
Fantastic wedding entertainment for something a bit different. Highly recommended.
---
Lesley Lawrenson

, Wedding, Aberdeen
Thank you for organising Lyn to come to our big day. We found Lyn was excellent with our guests, she came on time and everyone was thrilled with her pictures. Many thanks, Les Lawrenson.
---
Pam Weir

, Private Party, Aberdeen
Lovely lady and all the children were delighted with the pics she gave them. Will definitely recommend her.
---
Joni Craigie - EY

, Corporate, Aberdeen
Lyn was an excellent and fun addition to our office Christmas party! Very talented and quick to produce an array of drawings on the night. The extra bonus was people were able to see her screen on the other side with a preview of her work. Fantastic! Highly recommended.
---
Helen

, Private Party, Aberdeen
Thank you so much for all the hard work you did yesterday to make kim's hennie such a great day - everyone was delighted with their caricatures and I am so glad you were able to join us. We will certainly be recommending you to all our family and friends. Thanks!
---
Plan B Aberdeen - IT solutions
Aberdeenshire Council
Treetops Hotel Aberdeen
Meldrum house and Hotel
No. 10 Bar and Restaurant, Aberdeen
BMW inverness
Aberdeen university
And many more...
How it works for a micro wedding with up to 20 guests:
Every guest receives a colour head and shoulder caricature 4x6 inch print to take home the same day.
A digital download of your cartoon will be made available on facebook.
I will use a photo of your guest taken outside the venue respecting social distancing rules to draw my caricature from.
I will draw the cartoons away from your event
I wont need to be added to you guest list
if your venue allows you can watch your caricatures being drawn through zoom.
How it works for per hour event entertainment:
Lyn takes a photo of the guest at the easel
I draw caricatures at my easel whilst your guests waits.
I can create approximately 10-12 black and white head and shoulder carictures in an hour
I will draw the caricatures on my easel so will only need access to a power supply and 3 chairs.
A digital download of your cartoon will be made available on facebook.
guests who have a cartoon created will receive a 4x6 inch print to take home.
Micro weddings:
Take photo of the guests before enterting the ceremony
Draw you cartoons up tp 20 guests approximately 3-4 Hours
Any event hourly rates:
Allow 45 minutes for set up
Minimum booking Start at 2 hours.
3 hours booking ideal for most events.
Please Note: The fees indicated below are approximate and based on a central location for each county. They are intended to provide a rough guide only and exact quotes can only be given once the date and exact location of your event have been provided.
Scotland
Aberdeen
£264.00
Inverness
£264.00