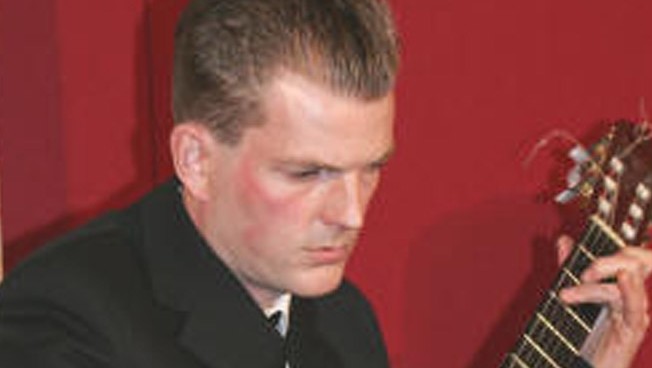 Location Hertfordshire
Starting from £360.00
By Royal Appointment, this classically trained artist is a familiar face in many top London establishments and has performed for The Prince Of Wales and The Prince's Trust on more than one occasion.
Peter started playing at the age of 11 and is now an established professional musician and classical guitarist.
Peter is equally at home with classical Spanish guitar music and popular and romantic music.
He won 1st Place at Hatfield and District Music Festival - 1987. He also won 2nd Place at St Albans and District Music Festival 1988, and 1st Place in 1995.
From dulcet and romantic to sonorous and dramatic, he creates wonderful music to complement any occasion.
Classical / Flamenco
Andaluza - Enrique Granados
Prelude No 1 - Villa Lobos
Fandanguillo - Bartolome Calatuyud
Bulrias - Bartolome Calatuyud
Rondino - Bartolome Calatuyud
Bolero - Bartolome Calatuyud
Alegria - Bartolome Calatuyud
Vals y Mazurka - Bartolome Calatuyud
Estampa Gitana - Bartolome Calatuyud
Zambra - Bartolome Calatuyud
Rumba - Robin Pearson
Granadinas - Robin Pearson
Soleares - Robin Pearson
Tanguillo - Robin Pearson
Petenera - Robin Pearson
Canarias - Gaspar Sanz
Capricho Arabe - Francisco Tarrega
Recuerdos de la Alhambra - Francisco Tarrega
Adelita - Francisco Tarrega
Lagrima - Francisco Tarrega
Mazurca - Francisco Tarrega
Dance Of The Miller - Manuel De Falla
Spanish Ballad - Anon
Leyanda - Isaac Albeniz
Popular
Nights In White Satin
Brown Eyed Girl
La Bamba
American Pie
Have I told You Lately That I Love You
We ve Only Just Begun
How Deep Is Your Love
Can't Help Falling In Love With You
Love Me Tender
Up Where We Belong
Every Thing I Do I Do It For You
The Scientist by Cold Play
You Are So Beautiful
Wonderful tonight
Lay la(acoustic version)
California Dreaming
Pretty woman
House of Rising Sun
Proud Mary
Take Five
For Once In My Life
Danny Boy
Santa Lucia
Beatles Arrangements
Hey Jude
Ticket to Ride
Day Tripper
She Loves You
Something
Here Comes The Sun
While My Guitar Gently Weeps
With A Little Help From My Friends
And I love Her
Michele
In My Life
Please Note: The fees indicated below are approximate and based on a central location for each county. They are intended to provide a rough guide only and exact quotes can only be given once the date and exact location of your event have been provided.
East Midlands
Northamptonshire
£390.00
East
Cambridgeshire
£360.00
South East
Bedfordshire
£360.00
Essex
£390.00
Hertfordshire
£360.00
London
£390.00