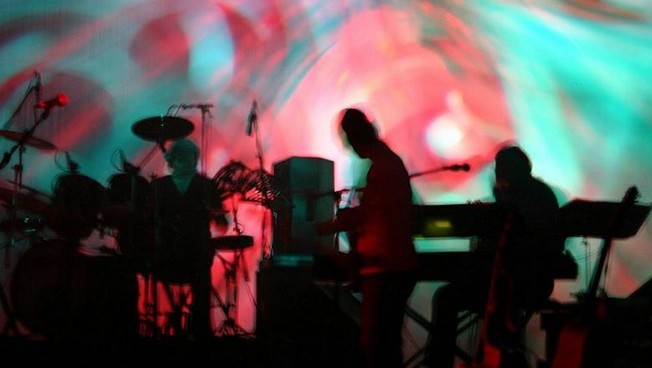 Location UK Wide
Starting from POA
This extraordinary band is renowned for their stunning celebration of the music of Pink Floyd.
They present a must-see evening for all Pink Floyd fans and their show features all the usual exhilarating lighting effects.
Listen




Number of Reviews and Counting... 1!
Think Floyd are a five piece group made up of talented musicians who aim to not only recreate the sounds of the original Pink Floyd, but also the amazing stage show. Their line up is:

Rick - Keyboard/ Vocals: Classically trained on piano and organ, Rick sang in a cathedral choir, and learned to make dubious noises on the oboe 'to get out of games lessons.' Attracted to rock by hearing Focus's 'Moving Waves', Rick grew his hair long and, to prove he was no softie, formed a pop group. Village halls throughout Gloucester were wowed by extended stylophone solos and huge speaker cabinets.

Lewis - Bass Guitar/ Vocals: Lewis started playing the Bass guitar aged 16 and after a childhood of piano lessons and learning a guitar chord here and there. He soon took to the Bass and taught himself by playing along with Led Zeppelin records.

Richard - Lead Guitar/ Vocals: Richard Morse has been a guitarist and Pink Floyd fan since an early age. As a teenager he played in an original rock band that's set at one time included 'In The Flesh' and 'Another Brick In The Wall.'

Steve - Drums/ Vocals: Steve took up drumming professionally in 1989 on the advice of the schools careers advisor who said 'You'll never make a living as a musician!' Drumming was in the blood as both his father and uncle played semi- pro in the 60s & 70s.

Hayley - Vocals: Hayley started singing at the age of seven and by twelve she was gigging with her Uncle's soul band around Peterborough. She moved to London at 19 to join a band.
Think Floyd also specialise in playing complete performances of the albums 'Dark Side of The Moon', 'Wish You Were Here' and 'The Wall' as well as epic tracks 'Echoes' and 'Atom Heart Mother'.
5 piece - male and female vocal, guitar, bass, drums, keyboards
Arnold Layne
See Emily Play
Paintbox
Lucifer Sam
Interstellar Overdrive
Bike
Celestial Voices
Let There Be More Light
Cirrus Minor
Cymbaline
Set The Controls For The
Heart Of The Sun
Astronomy Domine
Fat Old Sun
Summer '68
One Of These Days
Fearless
San Tropez
Echoes
Stay
Speak To Me
Breathe
On The Run
Time / Breathe (Reprise)
Brain Rape
Home Again
Any Colour You Like
Brain Damage
Eclipse
Shine On You Crazy
Diamond Pt 1
Have A Cigar
Wish You Were Here
Welcome To The Machine
Shine On You Crazy Diamond Pt 2
Pigs On The Wing
Dogs
Sheep
In The Flesh?
The Thin Ice
Another Brick In The Wall, Pt 1
The Happiest Days Of Our Lives
Another Brick In The Wall, Pt 2
Mother
The Great Gig In The Sky
Money
Us And Them
The Circle
Goodbye Blue Sky
Empty Spaces
Young Lust
Another Brick In The Wall, Pt 3
Goodbye Cruel World
Hey You
Is There Anybody Out There?
Nobody Home
Comfortably Numb
The Show Must Go On
In The Flesh
Run Like Hell
Waiting For The Worms
Stop
The Trial
Outside The Wall
Learning To Fly
On The Turning Away
Cluster One
What Do You Want From Me
A Great Day For Freedom
Take It Back
Coming Back To Life
Keep Talking
Barry Hester

, Birthday Party, Cornwall
Hi Tracey, Your booking service was straightforward and uncomplicated. You were also very prompt and efficient in dealing with any queries we had. Must comment upon your costs for handling the booking, which were competitive and fair, unlike certain of your competitors for the same band and venue. Any future parties etc. we will certainly use your services again, and have recommended your service to others. Regarding "Think Floyd" themselves, this band has been seen by us in concert at other venues, and this was our first time booking them ourselves for a Special Birthday Party. We truly believe in many ways they are superior to "Pink Floyd" and well worth seeing. What a really nice bunch of guys + 1 girl, they were so very helpful and friendly and nothing was too much trouble. Despite the limitations of our village hall type venue, with certain limitations on their concert lighting set, they performed brilliantly as the professionals they are. Our 100 guests ranged from 18 to 80 years old, and the music was seriously appreciated by all, their music seems to resonate wonderfully with your heart and mind. Thoroughly recommended and we all felt very elated and on top of the world afterwards. The time went too quickly. Absolutely brilliant and an unforgettable experience. Thanks again.
---
Please Note: The fees indicated below are approximate and based on a central location for each county. They are intended to provide a rough guide only and exact quotes can only be given once the date and exact location of your event have been provided.