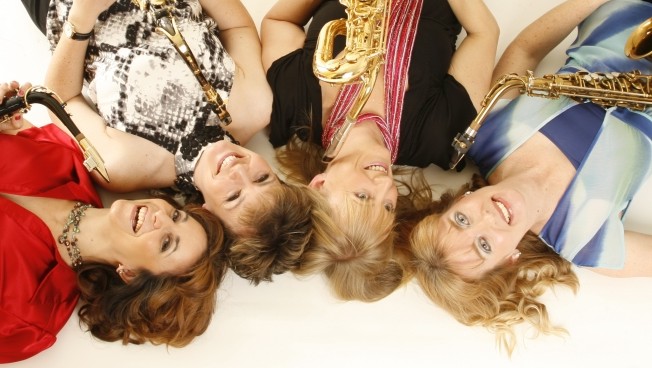 Location Oxfordshire
Starting from £660.00
'Sax And The TV' are a female saxophone quartet specialising in playing your favourite TV Theme Tunes. How many will your guests remember? If you're looking for something fun and a little bit different to jazz or classical music then look no further!
Available for any occasion. Ideal for background music during drinks receptions, product launches, during dinner, weddings, corporate functions, parties, indoor or outdoor events - this sax quartet will certainly give their audience something to chat about.
Listen




Number of Reviews and Counting... 1!
'Sax And The TV' are a new group that have been formed by Musical Director, Tracey. All the music in 'Sax And The TV's' repertoire has been specially arranged for this quartet only, and will not be performed by other groups.
The four ladies usually perform acoustically but can also be amplified for larger events. Dress can be formal or casual to suit your event.
Each player has a wealth of individual performing experience which include BBC Big Band, West End Theatres, RAF Squadronnaires, Cruise Ships, Stately Homes, Television Broadcasts, The Royal Hall, The NEC etc.
TV
Fawlty Towers
The Sweeney
I'll Be There For You (Friends)
The Liberty Bell (Monty Python)
Hawaii Five - O
Old Ned (Steptoe & Son)
Crossroads
Eastenders
Mr Benn
The Two Ronnies
Taxi
The Muppet Show
Coronation Street
The Simpsons
Emmerdale
Captain Pugwash
'Allo 'Allo
Last Of The Summer Wine
One Foot In The Grave
Men Behaving Badly
Match Of The Day
Blackadder
Cagney & Lacey
Poirot
Keeping Up Appearances
Heartbeat
M.A.S.H.
Diagnosis Murder
Laurel & Hardy
The Munsters
Thomas The Tank Engine & Friends
Montagues & Capulets (The Apprentice)
Terry & June
Grange Hill
Woody Woodpecker
Sesame Street
Dynasty
Dallas
Ground Force
Lark Rise To Candleford
Light & Tuneful (Wimbledon)
Jessica (Top Gear)
Vision On / Take Hart
Only Fools & Horses
Strictly Come Dancing
Anitiques Roadshow
The Goodies
Looney Tunes
Dad's Army
It's A Knockout
The Wombles
Black Beauty
Blue Peter
Parkinson
Minder
Wallace & Gromit
Grandstand
Film
The Addams Family
The Bare Necessities (Jungle Book)
A Shot In The Dark (The Pink Panther)
The Pink Panther
Naked Gun
Mission Impossible
Sex & The City
Colonel Bogey
Those Magnificent Men In Their Flying Machines
James Bond
The Dam Busters
The Entertainer
Cantina Band from Star Wars
And many more..............
For the festive season Sax And The TV have over 100 Christmas Carols and favourites including:
Driving Home For Christmas
Walking In The Air
Rudolph The Red-Nosed Reindeer
We Wish You A Merry Christmas
Away In A Manger
O Come All Ye Faithful
God Rest Ye Merry Gentlemen
Jingle Bells...... etc etc.
L. Aitken

, Corporate, London
The girls were great! - please pass on my thanks. I will definitely bear you in mind for any future events.
---
ICHF Ltd - NEC, Birmingham
Talk Talk
Great Western Railways
Credit Suisse
SABmiller
Bicester Village
A Saxophone Quartet is no louder than a String Quartet!
We usually play acoustically so can perform in most places without the need of electricity. Outside in grounds, parks, boats, street parties etc.
Ideal performance area would be approx. 10ft x 6ft.
Prices quoted would include performing 2 x 60 minutes or 3 x 40 minutes within a 3 hour period.
We are able to travel further distances than we have stated here but would need more information to give a realistic quote eg. where, time of day as to whether accommodation is required etc.
We would appreciate 4 chairs being provided if possible. (These need to be without arms!).
Usually 2 x 60 minute or 3 x 40 minutes.
Please Note: The fees indicated below are approximate and based on a central location for each county. They are intended to provide a rough guide only and exact quotes can only be given once the date and exact location of your event have been provided.
East Midlands
Northamptonshire
£900.00
East
Cambridgeshire
£900.00
West Midlands
Gloucestershire
£960.00
Herefordshire
£960.00
Warwickshire
£720.00
South East
Bedfordshire
£720.00
Berkshire
£660.00
Buckinghamshire
£660.00
East Sussex
£1,020.00
Essex
£1,080.00
Hampshire
£840.00
Hertfordshire
£840.00
Isle of Wight
£1,200.00
Kent
£840.00
Oxfordshire
£660.00
Surrey
£660.00
Sussex
£1,080.00
West Sussex
£1,080.00
London
£660.00
Middlesex
£660.00
South West
Dorset
£1,200.00
Wiltshire
£1,080.00