Warble Entertainment's
Scottish Wedding Quartet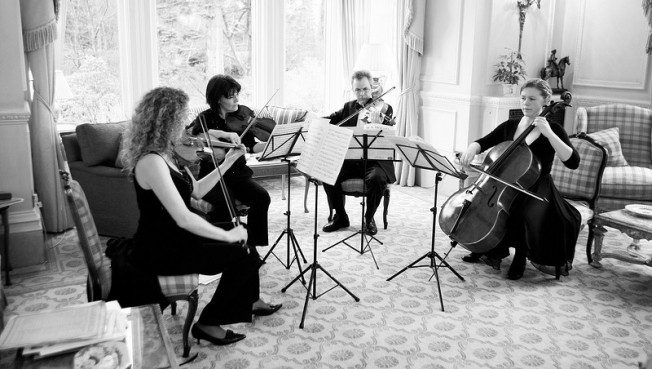 Location Glasgow
Starting from POA
The Scottish Wedding Quartet are a professional string ensemble that specialise in providing live music for weddings, recitals, parties, religious occasions, receptions, dinners and corporate events. They are based in the beautiful highlands of Scotland but regularly travel further afield to entertain at special occasions.
As well as performing as a string quartet the group also play as a string trio, string duo or violin and piano duo.
1 reviews
Song List
CLASSICAL
Pachelbel - Canon
Bizet– Duet from 'The Pearl Fishers'
Faure– Pavane
Mozart- Eine Kleine Nachtmusic, Alleluja, Andante from Piano Concerto 21, 3rd Movement from String Quartet No. 3, Divertimento in D KV 136, Divertimento in B flat major K 137, Divertimento in F K 138, The Marriage of Figaro Overture
Shostakovich- Romance from 'The Gadfly'
Haydn- Quartet 17 op. 3 no.5
Purcell- Trumpet Tune, Suite from the Fairy Queen, Two Rondeaux
Clarke- Trumpet Voluntary
Wagner- Wedding March
Handel- Entrance of The Queen of Sheeba, Let the Bright Seraphim, Aria from Xerxes, Fantasia in A minor
Bach- Brandenburg Concerto No. 3, Concerto for Oboe and Violin, Jesu Joy of Man's Desiring, Air on the G String, Wachet auf, Sheep may Safely Graze, Arioso, Bist Du bei Mir, My Heart Ever Faithful, Gounod, Badinerie, Prelude and Fugue in E minor, Sarabande, Chamber Suite in D, The Complete Water Music Suites
Boyce- Symphony No. 4
Mouret- Rondeau
Schubert- Ave Maria
Vivaldi- Largo from the Four Seasons, Concerto for 2 Violins, Concerto in D minor, Spring theme from The four Seasons
Liszt- Liebestraum
Mendelssohn- Wedding March, If With All Your Hearts from Elijah
Schumann- Traumeri
Beethoven- Ode to Joy, BagatelleFrank- Panis angelicus
Tchaikovsky- Sleeping Beauty Waltz, 'Walz' from Serenade for Strings
Charpentier- Te Deum
Massenet- Meditation from Thais
Corelli- Concerto Grosso no. 10, Giga from Sonata in D minor
Albinoni- Adagio in G minor
Greig- Morning from 'Peer Gynt' suite No. 1, Norwegian Dance No. 3
Strauss- Pizzicato Polka
Elgar- Chansan de Matin, Salut D'Amour
Dvorak- Humoresque
Tarroga- Recuerdos De La Alhambra
Monti- Czardas
Rimsky-Korsakov- The Young Prince and Princess from 'Scheherezade'
OPERA
Bizet- 'Entracte', Habanera from Carmen, Toreador's Song
Delibes– 'Flower Duet' from Lakme
Di Capua - O Sole Mio
Luigi Denza- Funiculi Funicula
Puccini- O Mio Babbino Caro, Quando M'en Vo Soletta per la Via from La Boheme
Offenbach-Barcarolle from Tales of Hoffman
Mozart- Der Vogelfanger, Bei Mannern from The magic Flute, Ah, Fuggi il Traditor! From Don Giovanni, Deh Vien, Non tardar from The Marriage of Figaro
Verdi- Triumphmarsch from Aida,
Libiamo from La traviata,
Ballata from Rigoletto
Gounod- Chanson Du Roi, Vin O Biere from Faust
Mascagni-Intermezzo Sinfonico from Cavalleri Rusticana
JAZZ & LIGHT MUSIC
Lets Do It
Anything Goes
Every Time We Say Goodbye
Makin' Whoopee
Moonlight In Vermont
Pennies from Heaven
My Funny Valentine
The Folks Who Live on the Hill
The Ragtime Dance
Country Club
Paragon Rag
Easy Winners
Entertainer
Elite Syncopations
Solace
The Man I Love
Embraceable You
I Got Rhythm
Someone to Watch Over Me
Swanee
Summertime
Lost in the Stars
Pieds-en-l'Air
Country Garden
Rendezvous
La Spagnola
Jenny Lind Polka
In Party Mood
Tango – Por Una Cabeza
Happy Birthday
FOLK
Irish Sherry Suite
My Love is Like a Red Red Rose
Coming Thro' the Rye
Mairie's Wedding
Three Scottish Dances
Londonderry Air
The Tryst
Ye Banks and Braes
She Moved Through the Fair
Ag Criost An Siol (Scottish folk melody)
Will Ye No Come Back Again
Devil on the Mountain
Irish Jig
The Ashokan Farewell
Highland Cathedral
The Flowers O' the Forest
An Eriskay Love Lilt
Dance To Your Shadow
Flow Gently Sweet Afton
Morgan Magan
Mick McGuire
Lily of the West
The Unquiet Grave
SHOW, FILM & TV THEMES
The Seceret Wedding (Braveheart)
Speak Softly Love (The Godfather)
Moon River (Breakfast at Tiffany's)
Schindler's List
A Whole New World (Alladin)
My Heart Will Go On (Titanic)
Gabriel's Oboe (The Mission)
Music of the Night (Phantom of the Opera)
Theme from 'Les Miserables'
Theme from Brideshead Revisited
Flight Over Africa (Out of Africa)
I Don't Know How to Love Him (Jesus Christ Super Star)
Cabaret
Get Me To The Church On Time (My fair Lady)
Romance from The Gadfly
POPULAR MUSIC
World Without Love
Good Day Sunshine
Hey Jude
Yesterday
Get Back
All You Need is Love
Eleanor Rigby
The Long and Winding Road
Maxwell's Silver hammer
When I'm Sixty Four
Fields of Gold
In Dreams
Bridge Over Troubled Water
You Raise me Up
In My Place
America
Sweetest Feeling
Money Money Money
CHRISTMAS
Joy To The World
O Come ,O Come Emmanuel
The First Noel
Silent Night
Deck The Halls
Lo, How A Rose
Hark! The Herald Angels Sing
What Child Is This
Bring a Torch, Jeanette, Isabella
We Wish You A Merry Christmas
Il Est Ne
Pat a Pan
Twas in the Moon of Wintertime
Shepherds, Shake Off Your Drowsy Sleep
The March of the Three Kings
The Friendly Beasts
HYMNS
Morning Has Broken
Make Me A Channel for Your Peace
All Things Bright and Beautiful
Jerusalem
Now Thank We All Our God
One More Step Along The Way
Love Divine
Give me Joy In My Heart
For the Beauty of the Earth
Love Divine All Love Exelling
O Perfect Love
The Lords My Shepherd
Dear Lord and Father of Mankind
Plus many, many more...
BOLLYWOOD
Kal Ho Na Ho
Aaye ho Meri Zindagi me
Tujhe Dekha To
Tera Meri Pyar Mein
Kabhi Kabhi
Dheere Dheere
Balle Balle
Mein Huu na
Monsoon Wedding Theme
Ghar aaja Sonja