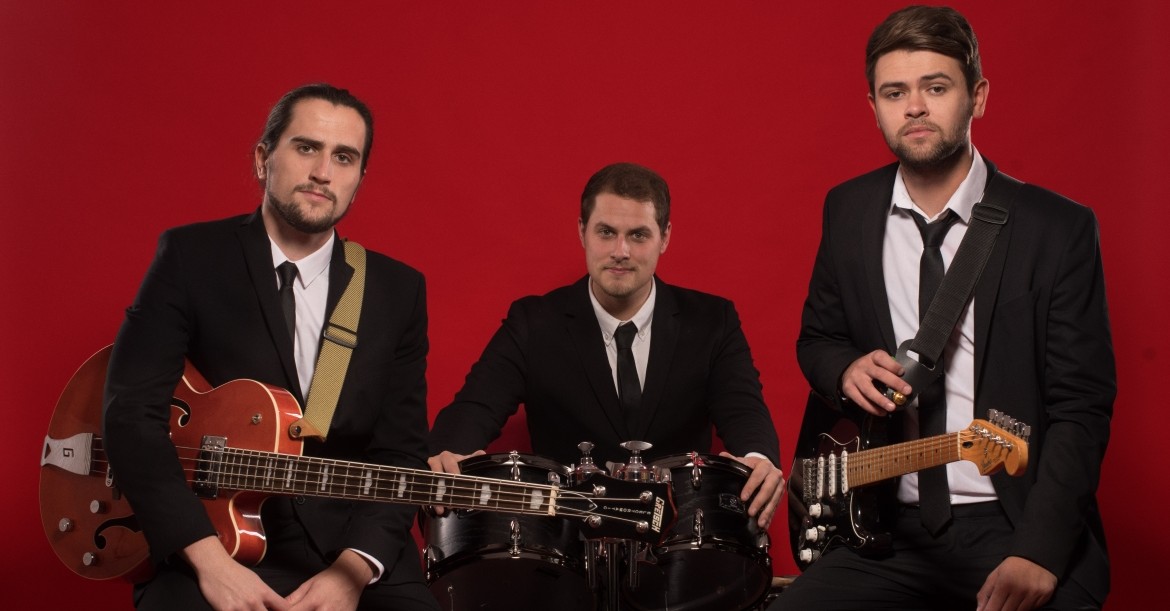 Location Hampshire
Starting from £720.00
The Bandoliers are a professional, fresh and versatile 3 piece party band from Southampton.
Playing together for over 6 years they have built up a repertoire of well over 100 songs, allowing them to perfectly tailor a set for any Wedding, Function or Party. Available for both acoustic and electric sets, they can create an ideal atmosphere for any event.
Number of Reviews and Counting... 1!
The Bandoliers are a professional 3 piece band with an awesome set list featuring the biggest dance floor fillers from 60's to current chart hits. The band pride themselves on a high-energy performance customised to ensure the perfect event. Not only do they provide great music and packed dance floors for all events, their solid organisation and logistics also lead to a stress free booking process. Available for both acoustic and electric sets, with a repertoire of over 100 songs spanning 5 decades, The Bandoliers can create an ideal atmosphere for any event, ensuring you and your guests have an unforgettable experience.
Drums
Bass
Guitar
Vocals x3
Additional keyboard player available upon request. The Bandoliers can also provide anything up to a 10 piece band including Horn Section and extra Vocalists.
Noughties To Present
7 Nation Army – The White Stripes
All The Things I've Done – The Killers
Chelsea Dagger – The Fratellis
Crazy – Gnarls Barkley
Dakota – Stereophonics
Dreaming Of You – The Coral
Fell In Love With A Girl – The White Stripes
Get Lucky – Daft Punk
Happy – Pharrell Williams
Hold Back The River – James Bay
I Can't Feel My Face – The Weekend
Last Night – The Strokes
Locked Out Of Heaven – Bruno Mars
Maybe Tomorrow – Stereophonics
Molly Chambers – Kings Of Leon
Mykonos – Fleet Foxes
Naïve – The Kooks
Painkiller – Turin Brakes
Royals – Lorde
Sex On Fire – Kings Of Leon
Somebody Told Me – The Killers
Take Me Out – Franz Ferdinand
The Bucket – Kings Of Leon
The Cave – Mumford & Sons
This Love – Maroon 5
Times Like These – Foo Fighters
Treasure – Bruno Mars
Underdog – Kasabian
Underdog – Turin Brakes
Use Somebody – Kings Of Leon
Valerie – Amy Winehouse
We Are Young – Fun
When You Were Young – The Killers
Yellow – ColdplayWhite Winter Hymnal – Fleet Foxes
You Got The Love – Florence And The Machine
You Know I'm No Good – Amy Winehouse
80's & 90's
Alright – Supergrass
A Little Respect – Wheatus
Crazy Little Thing Called Love – Queen
Dani California – Red Hot Chili Peppers
Don't Dream It's Over – Crowded House
Don't Look Back In Anger – Oasis
Don't Stop Me Now – Queen
Drain You – Nirvana
Everlong – Foo Fighters
Faith – George Michael
Fall at Your Feet – Crowded House
Here Comes Your Man – The Pixies
Hey – The Pixies
I Wanna Be Adored – The Stone Roses
Kiss – Prince
Learn To Fly – Foo Fighters
London Calling – The Clash
Long Train Running – The Doobie Brothers
Love Cats – The Cure
Psycho Killer – The Talking Heads
Road Trippin' – Red Hot Chili Peppers
She Bangs The Drums – The Stone Roses
Smells Like Teen Spirit – Nirvana
Teenage Dirtbag – Wheatus
The Importance of Being Idle – Oasis
This Charming Man – The Smiths
Under The Bridge – Red Hot Chili Peppers
Waterfall – The Stone Roses
Where Is My Mind – The Pixies
Wonderwall – Oasis
50's, 60's & 70's
8 Days A Week – The Beatles
20th Century Boy – T-Rex
Blame It On The Boogie – Jackson 5
Brown Sugar – The Rolling Stones
Burning Love – Elvis Presley
Call Me – Blondie
Come Together – The Beatles
Country Roads – John Denver
Dancing Queen – ABBA
Does Your Mother Know – ABBA
Go Your Own Way – Fleetwood Mac
Heart of Glass – Blondie
Helter Skelter – The Beatles
Hound Dog – Elvis Presley
I Feel Good – James Brown
I Wish – Stevie Wonder
Johnny B Goode – Chuck Berry
Jumpin' Jack Flash – The Rolling Stones
Mrs Robinson – Simon & Garfunkel
My Generation – The Who
Play That Funky Music – Wild Cherry
Saw Her Standing There – The Beatles
Signed, Sealed, Delivered – Stevie Wonder
Starman – David Bowie
Stuck In The Middle – Steelers Wheel
Sunny Afternoon – The Kinks
Superstition – Stevie Wonder
Sympathy For The Devil – Rolling Stones
The Chain – Fleetwood Mac
Twist & Shout – The Beatles
Under My Thumb – The Rolling Stones
Eugene McManus, The Saint

, Venue Club, Hampshire
The Bandoliers are here at least twice a year including our large events held outside, every time we witness a level of maturity, musically, far beyond their years with a diverse playlist that stimulates all. Our Customers always comment on how good they are and whether here playing an acoustic set or electric sets they 'smash it' every time and I personally consider them one of the tightest and best cover bands out there.
---
How long does it take the band to set up?
As there are not very many of us, it only takes the three of us 45 minutes to set up and less time to pack away. You can request to have us come and set up earlier in the day but there will be an extra fee for that.
How long will the band play for?
We can offer 2 x 60 or 3 x 45 minute sets.
Will the band learn a specific song to be played at our Event/Wedding?
Yes! We pride ourselves on catering our set for our clients and are very keen to learn new songs. If you are booking us for a wedding we always learn the first dance.
Can we choose the set list?
We always encourage our clients to choose what songs they want to hear and do not want to hear from our set list. This means we can ensure the customer always has the perfect music for their events.
What will the band wear?
We will usually dress smart in suits or smart casual shirt and trousers.
Does the band provide their own PA system/Sound equipment?
Yes, we provide our own suitable sound equipment including lights.
What are the minimum power requirements for the band?
We require at least 2-3 sockets. This can vary depending on the size of the band and sound system. Details will be included on the contract.
Is the band PAT tested with adequate public liability insurance (PLI)?
Yes, if the venue requires a certificate for either of the above, please let us know to ring certificates in advance.
2 x 60 minutes
3 x 45 minutes
Please Note: The fees indicated below are approximate and based on a central location for each county. They are intended to provide a rough guide only and exact quotes can only be given once the date and exact location of your event have been provided.
Foreign Locations
Europe
£2,400.00
Rest of the world
£3,600.00
South East
Bedfordshire
£960.00
Berkshire
£960.00
Buckinghamshire
£960.00
East Sussex
£840.00
Essex
£1,200.00
Hampshire
£720.00
Hertfordshire
£1,080.00
Isle of Wight
£840.00
Kent
£960.00
Oxfordshire
£960.00
Surrey
£840.00
Sussex
£840.00
West Sussex
£840.00
London
£1,200.00
Middlesex
£1,200.00
South West
Cornwall
£1,200.00
Devon
£1,080.00
Dorset
£960.00
Somerset
£1,080.00
Wiltshire
£960.00
Bath
£960.00
Bristol
£960.00