Warble Entertainment's
The Belles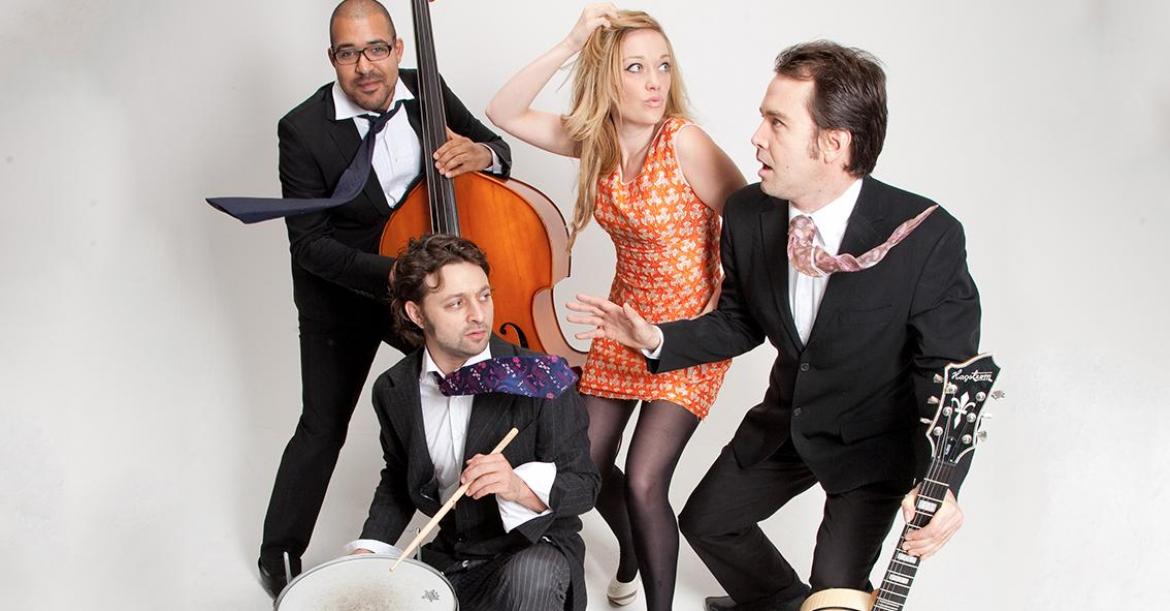 Location London
Starting from £900.00
The Belles are a stylish, zesty, female-fronted quartet comprised of vocals, guitar, bass and drums.
Made up of pro musicians from the London music scene, The Belles work in the UK focusing on all range of functions and events. They rework arrangements from the 20's till the present to produce mash-ups and re-imagined material drawing on swing, shuffle, bossa, rock n roll, 60's bop, blues, funk, skiffle, New Orleans, reggae, ska and more.
18 reviews
Song List
Rock/Pop
Abracadabra – The Steve Miller band
Alabama Song– Doors
All About The Bass – Meghan Trainor
American Boy – Estelle
Are You Gonna Be My Girl – Jet
Beautiful Girls – Sean Kingston
Blister in the sun - Violent femmes
Be My Baby – Ronettes
Big In Japan – Tom Waits
Boys And Girls – Blur
Black And Gold – Sam Sparrow
Blame it on the boogie - Jackson 5
Budapest - George Esra
Can't Take My Eyes Off You – Andy Williams
Come Together – The Beatles
Crazy In Love – Beyonce
Crazy Little Thing Called Love – Queen
Everybody Needs Somebody To Love – Blues Brothers
Fever – The Black Keys
Hey Ya – Pop
Hit The Road Jack – Ray Charles
House Of Fun – Madness
Havana - Camila Cabello
Just Like Heaven – The Cure
Inside Out – Imelda May
Is This Love – Bob Marley
I feel good – James Brown
It Must Be Love – Madness
Kiss – Prince
Know One knows – Queens Of The Stone Age
Let's Stay Together – Al Green
Light My Fire – The Doors
Lime And The Coconut – Harry Nilsson
Little Red Rooster – Margie Day
Love Cats – The Cure
Mercy – Duffy
Moondance – Van Morrison
Moves like Jagger – Maroon 5
Never Can Tell – Chuck Berry
One Way Or Another – Blondie
Outta My Head – Kylie Minogue
Only Girl In The World – Rihanna
Pack Up Your Troubles – Eliza Doolittle
People Are Strange – The Doors
Perhaps Perhaps Perhaps – Desi Arnaz
Pusherman – Curtis Mayfield
Rehab – Amy Winehouse
Ring Of Fire – Johnny Cash
Rockin Robin – Michael Jackson
Seven Nation Army – White Stripes
She Said – Plan B
Suit And Tie – Justin Timberlake
Sunny – Bobby Hebb
Sunny Afternoon – Kinks
Superstition – Stevie Wonder
Tainted Love – Soft Cell
These Boots Are Made For Walking – Nancy Sinatra
The Way You Make Me Feel – Michael jackson
Toxic – Britney Spears
Upside Down – Paloma Faith
Valerie – Amy Winehouse
Walk Like An Egyptian – Bangles
Walk This Way – Run DMC
You Really Got Me – The Kinks
Up beat Swing/Jazz/Jive/Latin
Almost Like Being In Love – Frederick Loewe
Agua De Bebe – Antonio Carlos Jobim
At Last – Etta James
Autumn Leaves – Joseph Kosma
All Of Me – Gerald Marks
Blue Bossa – Kenny Dorham
Desafinado – Antonio Carlos Jobim
Dindi – Antonio Carlos Jobim
Fever – Davenport Cooley
Girl From Ipanema – Antonio Carlos Jobim
Is You Is Or Is You Ain't My Baby – Austin/Jordan
It Don't Mean A Thing – Duke Ellington
Jump Jive And Wail – Louis Prima
King Of The Swingers – Richard and Robert Sherman
La Vie En Rose – Louiguy/Piaf
Like Someone In Love – Jimmy Van-Heusen
Love Me Or Leave Me – Walter Donaldson
Lullaby Of Birdland – George Shearing
Mambo No 5 – Lou Bega
My Baby Just Cares For Me – Nina Simone
My Favourite Things – Rodgers/Hammerstein
Paper Moon – Harold Arlen
Stormy Weather – Harold Arlen
Summertime – George Gershwin
Sway – Ruiz/Gimbel
Under My Skin – Cole Porter
You Do Something To Me – Cole Porter
Route 66 – Bobby Troup
Minnie the moocher - cab calloway
Just a gigalo - louis Prima
Heid heidi hi. TV show.
Ballads and Smoochers
Talking Out Loud- Ed Sheeran
All Of Me – John Legend
You're The Best Thing – Style Council
All Time High – Rita Coolidge (Octopussy)
A Thousand Years – Christina Perri
Something Changed – Pulp
Songbird – Eva Cassidy
What A Wonderful World – Weiss/Thiele
Stay With you – John Legend
Knockin On Heaven's Door – Bob Dylan
Hey Ho – Lumineers