Warble Entertainment's
The Belles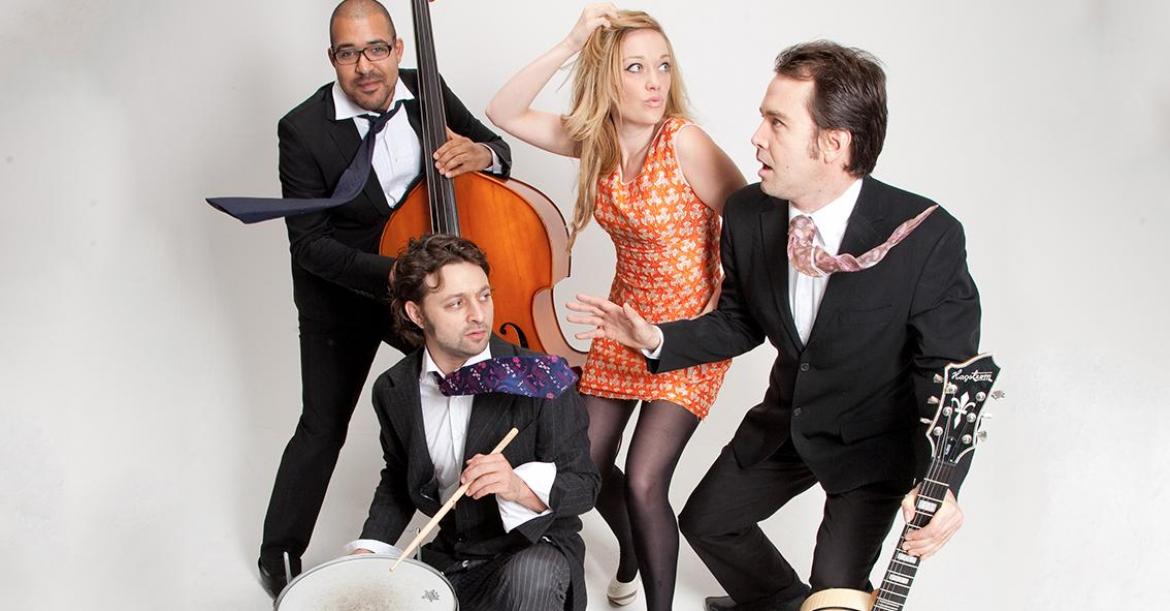 Location London
Starting from £960.00
The Belles are a stylish Pop/Rock/Jazz Band for Hire in London and throughout the South East UK.
An all-star fun, zesty, female-fronted band playing popular rock and pop covers in their unique style
Wide repertoire and genre of songs from the 20s Great Gatsby to current hits
Original arrangements, mash-ups and stylised reworkings mixing up iconic tunes with contemporary releases
A unique style with punchy infectious rhythms playing Pop, Rock Skiffle, Ska, Bossa, Hotclub, Reggae & Swing
Additional Acoustic duo for reception drinks
2 hours of live music
Great look - Great vibe - Quality PA sound
5 piece quintet with trumpet - allows more Funk n Soul tunes
DJ prepared playlist between sets
17 reviews
Song List
Rock/Pop
Abracadabra – The Steve Miller band
Alabama Song– Doors
All About The Bass – Meghan Trainor
American Boy – Estelle
Are You Gonna Be My Girl – Jet
Beautiful Girls – Sean Kingston
Be My Baby – Ronettes
Big In Japan – Tom Waits
Boys And Girls – Blur
Black And Gold – Sam Sparrow
Can't Take My Eyes Off You – Andy Williams
Come Together – The Beatles
Crazy In Love – Beyonce
Crazy Little Thing Called Love – Queen
Everybody Needs Somebody To Love – Blues Brothers
Fever – The Black Keys
Hey Ya – Pop
Hit The Road Jack – Ray Charles
House Of Fun – Madness
Just Like Heaven – The Cure
Inside Out – Imelda May
Is This Love – Bob Marley
I feel good – James Brown
It Must Be Love – Madness
Kiss – Prince
Know One knows – Queens Of The Stone Age
Let's Stay Together – Al Green
Light My Fire – The Doors
Lime And The Coconut – Harry Nilsson
Little Red Rooster – Margie Day
Love Cats – The Cure
Mercy – Duffy
Moondance – Van Morrison
Moves like Jagger – Maroon 5
Never Can Tell – Chuck Berry
One Way Or Another – Blondie
Outta My Head – Kylie Minogue
Only Girl In The World – Rihanna
Pack Up Your Troubles – Eliza Doolittle
People Are Strange – The Doors
Perhaps Perhaps Perhaps – Desi Arnaz
Pusherman – Curtis Mayfield
Rehab – Amy Winehouse
Ring Of Fire – Johnny Cash
Rockin Robin – Michael Jackson
Seven Nation Army – White Stripes
She Said – Plan B
Suit And Tie – Justin Timberlake
Sunny – Bobby Hebb
Sunny Afternoon – Kinks
Superstition – Stevie Wonder
Tainted Love – Soft Cell
These Boots Are Made For Walking – Nancy Sinatra
The Way You Make Me Feel – Michael jackson
Toxic – Britney Spears
Upside Down – Paloma Faith
Valerie – Amy Winehouse
Walk Like An Egyptian – Bangles
Walk This Way – Run DMC
You Really Got Me – The Kinks
Jazz/Jive/Latin
Almost Like Being In Love – Frederick Loewe
Agua De Bebe – Antonio Carlos Jobim
At Last – Etta James
Autumn Leaves – Joseph Kosma
All Of Me – Gerald Marks
Blue Bossa – Kenny Dorham
Desafinado – Antonio Carlos Jobim
Dindi – Antonio Carlos Jobim
Fever – Davenport Cooley
Girl From Ipanema – Antonio Carlos Jobim
Is You Is Or Is You Ain't My Baby – Austin/Jordan
It Don't Mean A Thing – Duke Ellington
Jump Jive And Wail – Louis Prima
King Of The Swingers – Richard and Robert Sherman
La Vie En Rose – Louiguy/Piaf
Like Someone In Love – Jimmy Van-Heusen
Love Me Or Leave Me – Walter Donaldson
Lullaby Of Birdland – George Shearing
Mambo No 5 – Lou Bega
My Baby Just Cares For Me – Nina Simone
My Favourite Things – Rodgers/Hammerstein
Paper Moon – Harold Arlen
Stormy Weather – Harold Arlen
Summertime – George Gershwin
Sway – Ruiz/Gimbel
Under My Skin – Cole Porter
You Do Something To Me – Cole Porter
Route 66 – Bobby Troup
Minnie the moocher - cab calloway
Just a gigalo - louis Prima
Heid heidi hi. TV show.
Ballads and Smoochers
Talking Out Loud- Ed Sheeran
All Of Me – John Legend
You're The Best Thing – Style Council
All Time High – Rita Coolidge (Octopussy)
A Thousand Years – Christina Perri
Something Changed – Pulp
Songbird – Eva Cassidy
What A Wonderful World – Weiss/Thiele
Stay With you – John Legend
Knockin On Heaven's Door – Bob Dylan
Hey Ho – Lumineers