The Cambridgeshire Harpist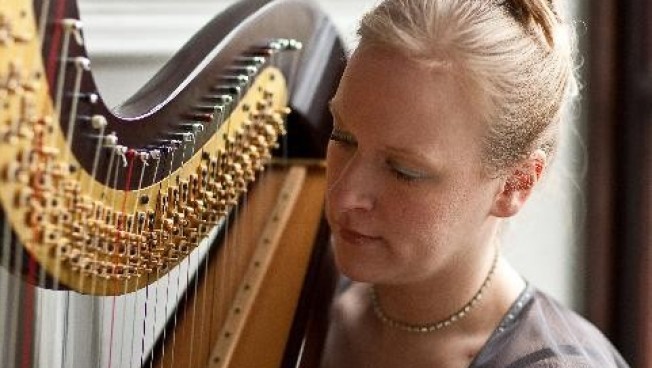 Location Cambridgeshire
Starting from POA

The enchanting sound of the harp will bring an air of magic and occasion to your wedding day.
The harp not only sounds beautiful but also looks visually stunning and can be played almost anywhere!
Whether you are looking for classical music for your wedding, traditional folk harp, or popular classics and jazz standards, The Cambridgeshire Harpist, will bring that extra sparkle to your special day with her beautiful harp music.
*The Cambridgeshire Harpist has been playing at weddings and functions for the past ten years*
The Cambridgeshire Harpist
Number of Reviews and Counting... 2!
The Cambridgeshire Harpist is available to provide wedding music on the harp at venues in Cambridge, and throughout the Eastern region Cambridgeshire, Bedfordshire, Hertfordshire, Essex, Norfolk and Suffolk.
She is also available to play at all other kinds of occasion - dinner music, balls, birthday parties, christenings, anniversaries, garden parties.
The Cambridgeshire Harpist started playing the harp at the age of nine, and studied with Elaine Pamphilon and Alison Nicholls. In recent years, she has also been Alison's teaching assistant. She plays an Aoyama, mahogany, concert harp and her repertoire includes classical, folk and popular music.
The Cambridgeshire Harpist studied Music at Cambridge University and at The Royal College of Music, where she studied film composition. She now works as a professional composer and harpist.
Classical Pieces Include:

Anon: Variations On A Theme Of Mozart
J.S Bach: Air On A G String
J.S. Bach: Arioso
J.S. Bach: Jesu Joy Of Man's Desiring
J.S. Bach: Prelude In C
J.S. Bach/Gounod: Ave Maria
J.S. Bach: Wachet Auf
Beethoven: Ode To Joy
Britten: Interlude From The Ceremony Of Carols
Chopin: Etude No 3
Chopin: Raindrop Prelude
C. Debussy: Clair De Lune
C. Debussy: Arabesque No 1
C. Debussy: La Fille Aux Cheveus De Lin
Delibes: Flower Duet From Lakme
Dussek: Sonata No 2 In F
Franck: Panis Angelicus
Glinka: Nocturne
Gluck: Dance Of The Blessed Spirits
Granados: Spanish Dance
Handel: Largo From Xerxes
Handel: The Peace
Handel: Water Music
Handel: Where'er You Walk
Hasselmans: Nocturne
S. Kanga: Automne
Mayer: Sonata
Mathias: Improvisations For Harp
Mendelssohn: Wedding March
Mussorgsky: Pictures At And Exhibition
Naderman: Sonatina No 2 In C Minor
J. Pachelbel: Canon In D
E. Parish Alvars: Romance
J. Parry: Sonata In D Major
Purcell: Trumpet Tune
Renie: Feuillets d'Albumn
Schubert: The Trout
Strauss: The Blue Danube
J. Thomas: Automne
Tournier: Etude De Concert
Vivaldi: Suite From Spring From The Four Seasons
Vivaldi: Suite From Autumn From The Four Seasons
Wagner: Bridal Chorus
D. Watkins: Petite Suite
Popular Works Include:
Arlen: Over The Rainbow
Aznavour: She
Bacharach: Raindrops Keep Falling On My Head
Barry: Born Free
Becaud: Let It Be Me
Bernstein: One Hand One Heart From West Side Story
Coleman: The Colours Of My Life From Barnum
Desree: Balcony Theme From Romeo And Juliet
Garner: Misty
Gershwin: Embraceable You
Gershwin: Lady Be Good
Gershwin: Summertime
Gershwin: Love Walked In
Henley And Silbar: The Wind Beneath My Wings
Horner: My Heart Will Go On (Theme From Titanic)
Howard: Fly Me To The Moon
Kern: All The Things You Are
Lenon And Macartney: Hey Jude
Lloyd-Weber: Selections From Phantom Of The Opera
Lloyd-Weber: Don't Cry For Me Argentina, Memory, Tell Me On A Sunday
Lloyd-Weber: Pie Jesu
Louiguy: La Vie En Rose
Mancini: Moon River
Mcbroom: The Rose
Quarantotto: Con Te Partiro
Rand: Let There Be Love
Richie: Lady
Rodgers: Blue Moon
Rodgers: My Favourite Things
Rodgers: Falling In Love With Love
Rodgers: Bewitched
Rodgers: My Funny Valentine
Schmidt: My Cup Runneth Over
Schmidt: Try To Remember
Sherwin: A Nightingale Sang In Berkley Square
Shore: Into The West (Theme From Lord Of The Rings)
Simon: Bridge Over Troubled Water
Sondheim: Send In The Clowns
Steiner: Tara's Theme
Sting: Fields Of Gold
Streisand: Evergreen
Tiersen: Theme From Amelie
Van Morrison: Moondance
'Fats' Waller: Honeysuckle Rose
Yared: Ada And Inman From Cold Mountain
Folk Pieces Include:

Celtic Arr. Stevenson: The Cockle Gatherer
Celtic Arr. Stevenson: Eriskay Love Lilt
Celtic Arr. Stevenson: The Sheep Under The Snow
English: The Water Is Wide
Irish: I Love My Love In The Morning
Irish: Merrily Kiss The Quaker
Irish: Londonderry Air
Robertson: New Leaves
Robertson: Etude
Robertson: Glenlivet
Scottish: Waulking O' The Fauld
Thomas: Watching The Wheat
Trad: Greensleeves
Trad: Scarborough Fair
Rad Arr. Heulyn: Four Welsh Waltzes
Welsh: David Of The White Rock
Welsh: The Bells Of Aberdovey
Daniel Cant KT.Hkt.C, Dip PI (Inst PI)

, Charity, Cambridgeshire
There is very little that I can say about The Cambridgeshire Harpist, the event was a complete success. The Cambridgeshire Harpist was 'OUTSTANDING' A true professional. As for Warble Entertainment, a company that I shall be recommending for a very long time. From the outset Warble Entertainment has been very professional and helpful. However, the company is only as professional as the staff that it employ's. In other words you were as professional as The Cambridgeshire Harpist. Thank you for all of your help, and for helping me to make a success of this event. I will be using Warble Entertainment for our future events. Once again thank you very much.
---
Tim Casey

, Private Party, Norfolk
Absolutely awesome. The sound of the harp filled the whole room sounded beautiful and The Cambridgeshire Harpist was flawless and very professional. I would recommend her to anyone.
---
The Cambridgeshire Harpist has been playing at weddings and functions for the past ten years and has played at most of the Cambridge Colleges, many of the wedding venues in Cambridgeshire and has also appeared playing on Anglia Television. She has also played with various choirs and orchestras in the area.
The beautiful sounds of the harp will bring a magical atmosphere to your wedding day, whether to announce the arrival of the bride and bring a sophisticated sense of occasion to the ceremony, or to provide a relaxed and enchanting musical backdrop to the drinks reception or wedding breakfast.
The Cambridgeshire Harpist is happy to tailor her repertoire to suit any particular occasion, and is available to meet for a free consultation to discuss your requirements in person.
Quotations are available for playing at any combination of events, ranging from a wedding ceremony to a drinks reception, a garden party or throughout a dinner.
The Cambridgeshire Harpist is also a professional composer and founder of 'Songs for Occasions', a personalised songwriting gift service. If you would like a personalised song to be especially composed for your special day please contact us for more information.
Please Note: The fees indicated below are approximate and based on a central location for each county. They are intended to provide a rough guide only and exact quotes can only be given once the date and exact location of your event have been provided.