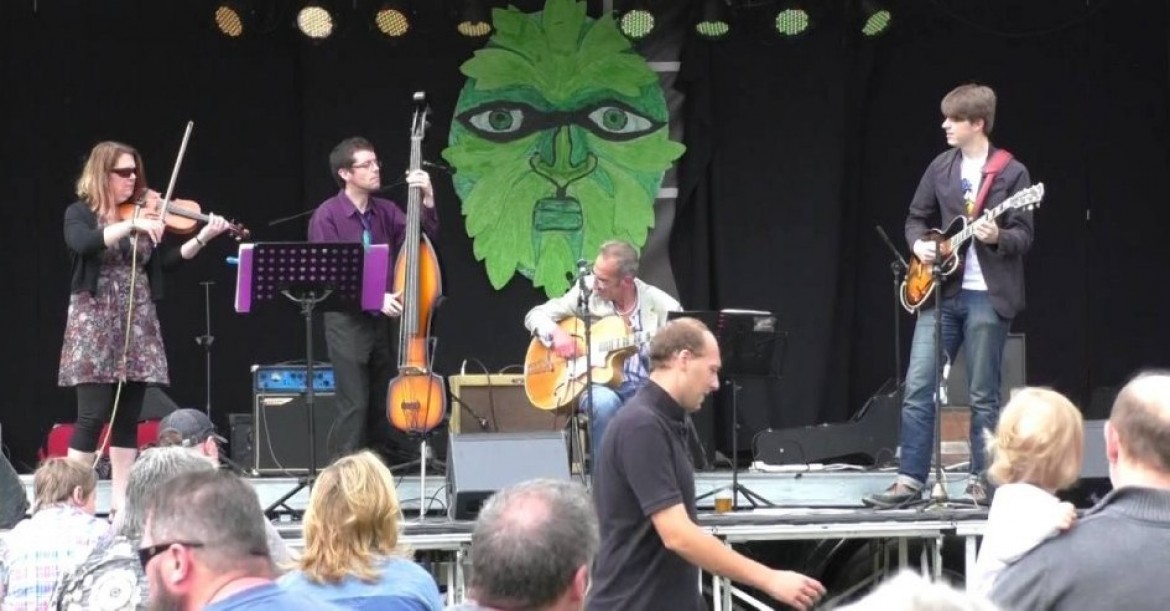 Location Devon
Starting from £1,680.00
A hot, hot, hot gypsy swing quintet featuring superlative girl vocals. Great to listen to, smooth to dance to! The Lounge Lizards are also available for smaller, more intimate venues in duo or trio format.
Listen




Number of Reviews and Counting... 1!
The Lounge Lizards play volcanic, swinging gypsy jazz. Whilst portraying the influence of Django Reinhardt and the Hot Club of France, the unique addition of Rosie's soaring, flaming vocals is guaranteed to turn the thermostat up a notch.
Mel (swing violin) utilises her impeccable classical pedigree to lend virtuosity to the flair of her improvisation. Julian (rhythm guitar), a veteran of the gypsy jazz scene for over three decades, and talented composer and multi-instrumentalist Howard (double bass) provide the driving force that is the rhythm section.
The Lounge Lizards are also available for smaller, more intimate venues in duo or trio format.
Option A (Quintet): Vocals, swing violin,lead guitar, rhythm guitar, double bass
Option B (Trio): Vocals, lead guitar, rhythm guitar
Option C (Trio): Vocals, swing violin, rhythm guitar
Option D (Duo): Vocals, guitar
Option E (Larger ensemble): Line-up as per quintet above but with additional saxophone, trumpet, drums, or any combination thereof.
Pricings for trio or duo formats are 60% & 40% of overall band fee respectively - for additional band members, please add 20% of fee per band member.
Current repertoire (all songs are Jazz / Swing standards):
(1) Lady Be Good
(2) Blue Skies
(3) Undecided
(4) Ain't Misbehavin'
(5) The Bare Necessities
(6) Minor Swing
(7) I'm Confessin'
(8) The Sheik Of Araby
(9) If I Had You
(10) Autumn Leaves
(11) Summertime
(12) Sweet Sue
(13) Georgia On My Mind
(14) After You've Gone
(15) I Can't Give You Anything But Love
(16) I Got Rhythm
(17) Steppin' Out With My Baby
(18) Paper Moon
(19) White Christmas
(20) Honey Pie
(21) China Boy
(22) You Took Advantage Of Me
(23) Limehouse Blues
(24) Sweet Georgia Brown
(25) HCQ Strut
(26) The Very Thought Of You
(27) Caprice No. 24 in A Minor
(28) Misty
(29) Gee Baby (Ain't I Good To You)
(30) We'll Meet Again
(31) Convince Me Honey
(32) You Can't talk To My Baby Like That
(33) Fight The Good Fight
(34) What A Difference A Day Makes
(35) My Funny Valentine
(36) Johnny & Mary
(37) Blue Moon
(38) Our Love Is Here To Stay
(39) Crazy Rhythm
(40) Shine
(41) Nagasaki
(42) Night & Day
(43) Swing Guitars
(44) What You Don't Say
(45) You Do Something To Me
(46) All Of Me
(47) Lambeth Walk
(48) Slow Boat To China
(49) As Time Goes By
(50) ( I Don't Know Why I Love You) But I Do
(51) I've Got You Under My Skin
(52) The Man I Love
(53) Stormy Weather
(54) In A Mellow Tone
(55) Old Penny
(56) How High The Moon
(57) Cherokee
(58) Don't Get Around Much Any More
(59) I'm In The Mood For Love
(60) Don't Fence Me In
(61) Walkin' My Baby Back Home
(62) I'll See you In My Dreams
(63) Dream A Little Dream Of Me
Lucy Taylor

, Wedding, Cornwall
I heard The Lounge Lizards and knew straight away I wanted them to play at our wedding. They were flexible when our set times changed and had an amazing repertoire to choose from. They were exceptional on the day and many of our guests commented on how fantastic they were. Would highly recommend!
---
Rick Stein's Fish Restaurant - New Year's Eve show (2 years)
Dawn French - Private Soiree
Barbican International Jazz & Blues Festival (3 years)
Salcombe Festival
Looe Festival
Budleigh Salterton Literary Festival
Black Cotton Club
Le Quecumbar (UK's Premiere Gypsy Swing venue)
Gaz's Rockin' Blues
& numerous weddings...
Standard performance times are 2 hours, split into 2 x 60 minute sets or 3 x 40 minute sets.
The Lounge Lizards are fully flexible and can perform extra sets and/or extend their performance times for an increased fee.
Please Note: The fees indicated below are approximate and based on a central location for each county. They are intended to provide a rough guide only and exact quotes can only be given once the date and exact location of your event have been provided.
Scotland
Aberdeen
£3,000.00
Inverness
£3,000.00
Perth
£3,000.00
Sutherland
£3,000.00
Ayrshire
£3,000.00
Fife
£3,000.00
Stirlingshire
£3,000.00
West Lothian
£3,000.00
Dumfries-shire
£2,700.00
East Lothian
£2,700.00
Lanarkshire
£2,700.00
Midlothian
£2,700.00
North East
Durham
£2,400.00
Northumberland
£2,400.00
North Yorkshire
£2,400.00
South Yorkshire
£2,400.00
Tyne and Wear
£2,400.00
West Yorkshire
£2,400.00
Yorkshire
£2,400.00
North West
Cheshire
£2,100.00
Cumbria
£2,220.00
Manchester
£2,100.00
Lancashire
£2,100.00
Merseyside
£2,100.00
East Midlands
Derbyshire
£2,100.00
Leicestershire
£2,100.00
Lincolnshire
£2,100.00
Northamptonshire
£2,100.00
Nottinghamshire
£2,100.00
Rutland
£2,100.00
East
Cambridgeshire
£1,800.00
Norfolk
£1,800.00
Suffolk
£1,800.00
Wales
Anglesey
£2,100.00
Caernarvonshire
£2,100.00
Denbigh
£2,100.00
Flint
£2,100.00
Cardigan
£2,100.00
Brecon
£1,920.00
Carmarthen
£1,920.00
Glamorgan
£1,920.00
Monmouth
£1,920.00
Pembroke
£1,920.00
West Midlands
Gloucestershire
£1,800.00
Herefordshire
£1,800.00
Shropshire
£1,920.00
Staffordshire
£2,100.00
Warwickshire
£1,920.00
Worcestershire
£1,920.00
South East
Bedfordshire
£1,920.00
Berkshire
£1,800.00
Buckinghamshire
£1,800.00
East Sussex
£1,920.00
Essex
£1,920.00
Hampshire
£1,680.00
Hertfordshire
£1,920.00
Isle of Wight
£2,100.00
Kent
£1,920.00
Oxfordshire
£1,920.00
Surrey
£1,920.00
Sussex
£1,920.00
West Sussex
£1,920.00
London
£1,800.00
Middlesex
£1,800.00