The South Cheshire String Quartet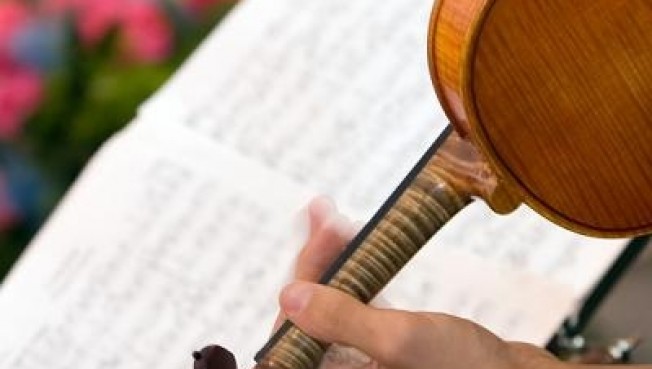 Location Cheshire
Starting from POA
The South Cheshire String Quartet
Number of Reviews and Counting... 1!
The South Cheshire String Quartet have built up an extensive and eclectic repertoire, which is evolving all the time, not only due to public demand but also to their own personal taste.
Therefore, The South Cheshire String Quartet is certain that they will have plenty of choices to suit everyone. However, if you'd like a special piece that is not mentioned in their repertoire, they will endeavour to get hold of it and ultimately perform it at your event.

The South Cheshire String Quartet mainly performs at weddings, corporate events, such as product launches, parties, conferences and company meals, as well as recitals.

Members of The South Cheshire String Quartet have worked with artists as diverse as Pavarotti, Bjork, Lisa Stansfield, Bryn Terfyl, Elaine Page, The Syd Lawrence Orchestra, Dave Willetts, Aled Jones, Philip Schofield, Cerys Matthews, Terry Wogan, Bonny Langford, Julia McKenzie, Dennis Quilley, Susan Hampshire, Alvin Stardust, Paul Nicholas, Clive James, etc.
When not playing as the The South Cheshire String Quartet, the members perform independently as freelance players for orchestras like The Hallé Orchestra, The Liverpool Philharmonic, The Academy of St Martin's-in-the fields, The Royal Philharmonic Orchestra, Northern Chamber Orchestra, Manchester Camerata, Manchester Concert Orchestra, Welsh Chamber Orchestra, Northern Ballet amongst others.
Also, for large scale touring productions of musicals such as "Phantom of the Opera", "Les Miserables", "Miss Saigon", "Joseph", "Singin' in the Rain" and many more!
Quartet - Cello, Viola, Violin (x2)
Air (From Suite No. 3 In D), Bach
Brandenberg Concerto No. 3, Bach
Jesu Joy Of Man's Desiring, Bach
Prelude To Carmen, Bizet
Flower Song (Carmen), Bizet
Minuet, Boccherini
Nocturn, Borodin
First Polovtsian Dance, Borodin
Hungarian Dance No. 5, Brahms
O Sole Mio, Capua
Prince Of Denmark's March, Clarke
Flower Duet (Lakme), Delibes
Slavonic Dance No. 8, Dvorak
Chanson De Matin, Elgar
Salut d'Amour, Elgar
Berceuse (Dolly Suite), Faure
Waltz Op. 12, Grieg
Norwegian Dance No. 2, Grieg
Wedding Day At Troldhaugen, Grieg
Water Music, Handel
Arrival Of The Queen Of Sheba, Handel
Pastoral Symphony (Messiah), Handel
Cavalleria Rusticana – Intermezzo, Mascagni
Liverpool Suite, Mccartney
Wedding March, Mendelssohn
Rondo Alla Turca, Mozart
Divertimento In D, Mozart
Divertimento In F, Mozart
Divertimento In B Flat, Mozart
Eine Kleine Nachtmusik, Mozart
Ave Verum Corpus, Mozart
Barcarolle, Offenbach
Canon, Pachelbel
Nessun Dorma, Puccini
Vocalise, Rachmaninoff
Melody In F, Rubinstein
Traumerei, Schumann
Romance (The Gadfly), Shostakovitch
Wiener Blut Waltz, Strauss
Radetzky March, Strauss
Blue Danube Waltz, Strauss
Nutcracker Suite, Tchaikovsky
Polka (Schwanda The Bagpiper), Weinberger

Popular
A Nightingale Sang In Berkeley Square
Michelle
All Creatures Great And Small
Misty
Anything Goes
Molly On The Shore
As Time Goes By
Money, Money, Money
Beer Barrel Polka
Pennies From Heaven
Belle Of The Ball
Pink Panther
Blue Tango
Plink, Plank, Plunk
Cavatina
Sandpaper Ballet
Chimes Blues
Scarborough Fair
Eleanor Rigby
Scott Joplin Rags (Various)
Every Time We Say Goodbye
Serenata
Fiddle-Faddle
Singing In The Rain
Floral Dance
Sleigh Ride
Forgotten Dreams
Smoke Gets In Your Eyes
Funny Valentine
Someone To Watch Over Me
Harry Lime Theme
Spanish Eyes
Hill Street Blues
Summertime
Horse And Buggy
The Folks Who Live On The Hill
It's Rock'n'Roll
The Man I Love
Jazz Legato
The Syncopated Clock
Jazz Pizzicato
The Typewriter
La Bamba
The Waltzing Cat
La Paloma
Trumpeter's Lullaby
Last Of The Summer Wine
Up A Lazy River
Latin-American Ludwig
Upstairs Downstairs
Leaning On A Lamppost
What'll I Do?
Love Is The Sweetest Thing
When I'm 64
Making Whoopie
Yellow Submarine

TV, Film And Radio
All Creatures Great And Small
Barcarolle, Offenbach
What'll I Do?, Berlin
Flower Duet, Delibes
Casablanca
As Time Goes By
O Solo Mio, Capua
Cavatina, Myers
Prelude To Carmen, Bizet
Air On The G String, Bach
Minuet, Boccherini
Berceuse, Faure
Misty, Erol Garner
Canon, Pachelbel
Harry Lime Theme, Kavas
The Edwardians, Faris
2001 A Space Odyssey
Blue Danube Waltz, Strauss
Dave Botham

, Military Event, Yorkshire
Just like to say how pleased we were with The South Cheshire String Quartet.
---
Please Note: The fees indicated below are approximate and based on a central location for each county. They are intended to provide a rough guide only and exact quotes can only be given once the date and exact location of your event have been provided.