The Warwickshire String Quartet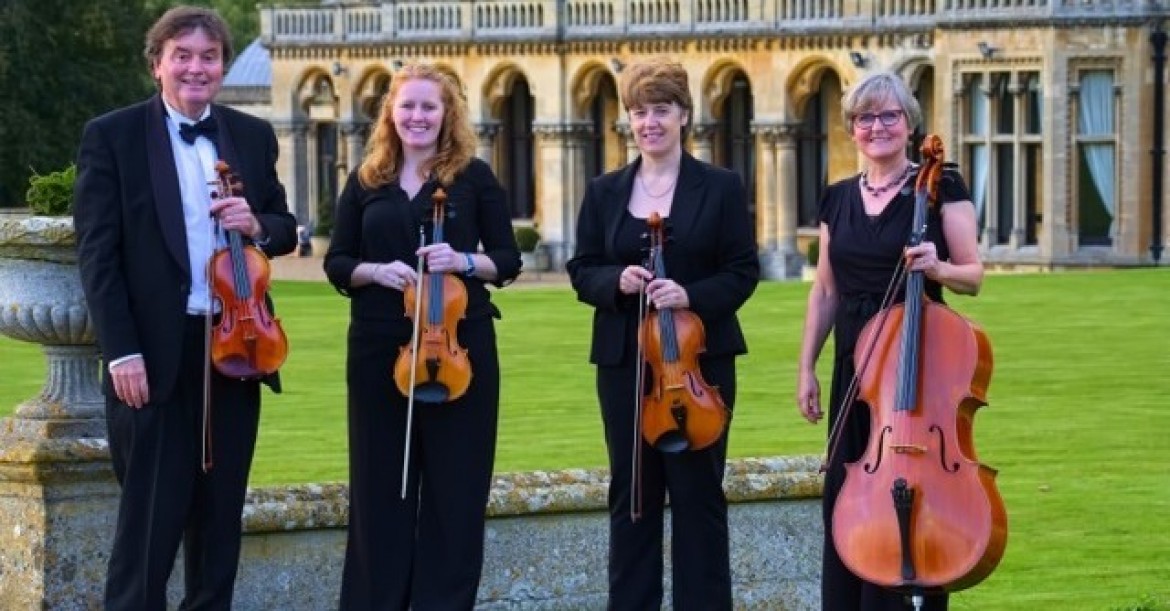 Location Warwickshire
Starting from POA
The Warwickshire String Quartet is a group of dedicated, professional musicians who have an expansive and varied repertoire and have performed at many weddings and functions since forming in 1994.
The quartet performs regularly for church & civil weddings, receptions, corporate functions, product launches, anniversaries and birthday parties.
*The Warwickshire String Quartet are all busy, full-time freelance players and specialist instrumental teachers based in the Midlands*
Listen




The Warwickshire String Quartet
Number of Reviews and Counting... 2!
The Warwickshire String Quartet is a group of dedicated, professional musicians who have an expansive and varied repertoire and have performed at many weddings and functions since forming in 1994. The quartet perform regulalrly for church & civil weddings, receptions, large scale fund raising events, for churches charities and hospices, after dinner entertainment, funerals, corporate functions, prize-givings, annual dinners, product launches, anniversaries, birthday parties and building openings!
The Warwickshire String Quartet are all busy, full-time freelance players and specialist instrumental teachers based in the Midlands.
Quartet - Violin (x 2), Viola, Cello
Trio - Violin, Viola, Cello or Flute, Viola, Cello
Duos - Cello and Violin / Flute / Harp / Piano
Any of the above with voice
Air On A G String
Brandenburg Concerto No.3
My Heart Ever Faithful
Arioso
Grasshopper's Dance
Trumpet Voluntary
Golliwog's Cake Walk
Hunoresque
Chanson De Matin
Beau Brummel
Panis Angelicus
Student Serenade
Music For The Royal Fireworks
Andante From Oboe Concerto
Serenade
To A Wild Rose
Sehnsuchtig
Rondeau
Eine Kleine Nacht Musik
Divertimenti
Chaconny
Vocalise
Ballet Music From William Tell
Jesu Joy Of Man's Desiring
Brandenburg Concerto No 5
E Major Violin Concerto
Minuet
Te Deum
Clair De Lune
Feniculi Fenicula
Slavonic Dances
Salut d'Amour
Pavane
Morning From Peer Gynt Suite
Arrival Of The Queen Of Sheba
Water Music Suite
Liebestraum
If With All Your Heart
Wedding March
Rondo Alla Turca
Alvira Madigan (Piano Concerto)
Allelujah (Exultate Jubilate)
Canon
Two Rondeaux
Bolero
Melody In F
Moment Musicale
Scenes From Childhood
Romance From The Gadfly
Force Of Destiny
Four Seasons (Selected)
Walzes And Dances
Polovtsian Dances
Hungarian Dances
Slavonic Dance No. 8
Wedding Day At Troldhaugen
Waltz
Waves Of The Danube
Gold And Silver Waltz
Merry Widow Waltz
Dances Of Pozsony
William Tell Gallop
March Militaire
Annen Polka
Blue Danube
Radetsky March
Thunder And Lightening Polka
Tritsch-Tratsch Polka
Sleeping Beauty Waltz
Waltz Of The Flowers
Drinking Song
Skater's Waltz
Nutcracker Suite
Miniature Overture
Dance Of The Mirlitons
Dance Of The Sugar Plum Fairy
Waltz Of The Flowers
Chinese Dance
Opera Selection (Also See Waltz Selection)
Carmen Prelude
Intermezzo
Voi Che Sapete From Marriage Of Figaro
O Mio Babbino Caro
Three Little Maids From School
Quartet From Rigoletto

Russian Folk Tunes
Kalinka
The Wonder Story
Moscow Nights
By The Seashore

Swedish Folk Tunes
Ifolkviseton
Kristallen
Ta Mej Till Havet
Vem Kan Segla
Lilla Idas Sommarvisa
Mors Lilla Olle

Italian Traditional Tunes
Come Back To Sorrento
The Isle Of Capri
O Sole Mio
Ceilito Lindo
La Paloma
British Folk Tunes
Greensleeves
Scarboro Fair
English Country Gardens
Galopede
Keel Row
Fairy Dance
The Girl I Left Behind Me
Sir Roger De Coverley
The Arethusa
British Grenadiers
Barbara Allen
Home Sweet Home
My Love Is Like A Red, Red Rose
Where Have All The Flowers Gone
Tulips From Amsterdam
Lavenders Blue
The De'il Amang The Tailors
Clean Pea Strae
The Wind That Shakes The Barley
Irish Sherry Suite
The Turkey In The Straw
Londonderry Air
The Dear Little Shamrock

Light Music
A Hard Day's Night
All You Need Is Love
From Me To You
Get Back
Lady Madonna
Michelle
When I M 64
In The Mood
A String Of Pearls
Chatanooga Choo Choo
Rock Around The Clock
That'll Be The Day
Runaway
Peacherine Rag
Paragon Rag
Country Club
Cats
Lion King
My Fair Lady
West Side Story
White Horse Inn
Wham
Scarboro Fair
An Eriscay Love Lilt
Londonderry Air
Clean Pea Strae
The Wind That Shakes The Barley
Irish Sherry Suite
The Soldier's Joy
The Acrobat Arranged For Quartet And Trombone For The Amateur Trombone
Players Amongst Your Guests!
Trumpet Voluntary Arranged For Trumpet And Quartet
Flower Duet For 2 Sopranos And String Quartet
Fine Romance
All The Things You Are
Annie's Song
Anything Goes
A Nightingale Sang In Berkeley Square
A Trumpeter's Lullaby
Autumn Leaves
Beautiful Dreamer
Bill Bailey, Won't You Please Come Home
Blue Suede Shoes
Blue Tango
Cock Linnet
Chasing Cars
Dixie
Embraceable You
Fawlty Towers
Fly Me To The Moon
Forgotten Dreams
Getting Sentimental Over You
Goldfinger
Happy Birthday To You
Harry Lime Theme
Horse And Buggy
I Do Like To Be Beside The Seaside
I Got Rhythm
It Had To Be You
It's All Right With Me
Jeeves And Wooster
Leaning On A Lamp-Post
Let's Do It
Let S Face The Music And Dance
Love And Marriage
Makin' Whoopee
Misty
Moonlight And Roses
Moon River
Pennies From Heaven
Sandpaper Ballet
So In Love
Someone To Watch Over Me
Swanee
Swing Low, Sweet Chariot
The Man I Love
The Yellow Rose Of Texas
Theme From 'The Godfather'
Theme From 'Jaws'
Theme From 'Match Of The Day'
Theme From 'Rocky'
Theme From 'The Piano'
Theme From ' Titanic'
The Typewriter
The Man I Love
When I Fall In Love
You're Getting To Be A Habit With Me
Hey Jude
I Wanna Hold Your Hand
Yesterday
American Patrol
Solace
Entertainer
Maple Leaf
New Rag
Pineapple Rag
Fiddler On The Roof
King And I
Phantom Of The Opera
Sound Of Music
South Pacific
Apocolyptica
Mexican Hat Dance
The De'il Amang The Tailors
The Turkey In The Straw
Everything I Do, I Do For You
Your Song
Wonderful Tonight
It Must Be Love
You Do Something To Me
Bohemian Rhapsody
Angels, Eternity, She's The One
When You Say Nothing At All
God Only Knows
Wake Me Up, Before You Go Go
Blueberry Hill
Elbow, One Day Like This
Smashing Pumpkins
Mogwai
Universal
Death Cab for Cuties
My Way
Emma De Alwis

, Wedding, Coombe Abbey, Warwickshire, Warwickshire
I would highly recommend the Warwickshire String Quartet. They were very professional and were very willing to play our requests.
---
James Furness

, Wedding, Warwickshire
Thank you for helping to make my sisters wedding such a memorable occasion. Your choice of music for both the church and the reception were ideal and enjoyed by all. I thank you for your communication and correspondence throughout and in the run up to my surprise gift. I would, without hesitation, recommend you to family, friends and others.
---
The quartet have previously performed at the following venues:
Anstey Hall, Coventry, Bank House Hotel, Worcestershire, Bay Tree Hotel, Burford, Beaumanor Hall, Loughborough, Billesley Manor Hotel, Nr. Stratford on Avon, Botanical Gardens, Birmingham, Castle Ashby, Northamptonshire, Chateau Impney, Droitwich, Worcestershire, Chatsworth House, Derbyshire, Chavenage House, Gloucesershire, Cheltenham Park Hotel, Gloucestershire, Church of St Eadburgha, Broadway, Cleeveway Manor, Bishops Cleeve, Colwall Park Hotel, Herefordshire, Coughton Court, Alcester, De La Bere Hotel, Gloucestershire, Dumbleton Hall, Gloucestershire, Easter and Steele furniture salesrooms, Worcester, Edgemond Village Hall, Newport, Telford, Edward King House, Lincoln, Ettington Park Hotel, Warwickshire, Fawsley Hall, Nr. Daventry, Foley Arms Hotel, Malvern, Worcestershire, Fox Inn, Stourton, Grafton Manor, Bromsgrove, Hagley Hall, West Midlands, Highbury Hall, Moseley, Hotel du Vin, Birmingham, Jarvis Heath Hotel, Nr Kidderminster, Kidderminster Trading Estate, Landrover Technical Academy, National Motorcycle Museum, Coventry, New Hall Hotel, Sutton Coldfield, Nottinghamshire Hospice, Nottingham, Nuthurst Grange, Hockley Heath, One Hundred House Hotel, Great Witley, Pittville Pump Rooms, Cheltenham, Prestwold Hall, Leicestershire, Puckrup Hall, Tewkesbury, River Severn Cruise party, Rockingham Castle, Leicestershire, St Andrews Hotel, Droitwich, Stonehouse Court Hotel, Gloucestershire, Sudbury Hall, Derbyshire, Sutton Bonington Church, Leicestershire, Sydney Mitchell, Solicitors, Birmingham, The Bear, Rodborough, The Granary, Droitwich, The Nash, Kempsey, Worcestershire, The Vale Golf Club, Bishampton, Three Ways House Hotel, Mickleton, Trent Cricket Ground, Nottinghamshire, Westmead Hotel, Worcestershire, Wolverley Register Office, Worcester Rugby Club.
What time do you arrive at the venue? About 1 hour before to allow for traffic. This is not included in the fee.
What does the fee include? The fee is from starting time to finishing time and covers any moves or changes of venue.
Will you be able to help me choose the music? Yes, we would discuss your requirements in as much detail as you like. If you want to leave it up to us, that is fine too.
How much do you play during the ceremony? We play while guests arrive for about 20 minutes, then for the bride's entrance, for the signing when we usually like to have 2 pieces ready. Then for the exit of the bride and groom.
Do you play for hymns? Yes we do, as a quartet and also as a trio.
Do you need electricity? We bring our own lights for our stands in case it is a bit dim so a plug somewhere nearby is useful.
What else do you need us to supply? A chair for each player which is flattish with no arms.
Do we have to supply refreshments? We do like a coffee on arrival as we tend to be there early to be on the safe side. If you want to provide sandwiches or a hot meal, it is up to you. Just let us know either way so we can provide our own if necessary. If you can make sure a soft drink is available without charge, that is appreciated.
What do the musicians wear? Usually either smart black, or black and white jackets. Sometimes the ladies wear summer dresses if asked.
Do you play special requests? Yes, we try to as long as the music is available. If it is not and it has to be arranged, there is a small charge.
Do you play pop songs as well as classical? Yes, we have a very broad range of music to suit most tastes.
Have you any stories to tell of previous weddings? Yes, ask for our wedding experiences sheet.
Up to 1 hour, 2 hours, 3 hours, 4 hours, 5 hours.
With reasonable breaks as arranged with client.
Please Note: The fees indicated below are approximate and based on a central location for each county. They are intended to provide a rough guide only and exact quotes can only be given once the date and exact location of your event have been provided.