The West Yorkshire String Quartet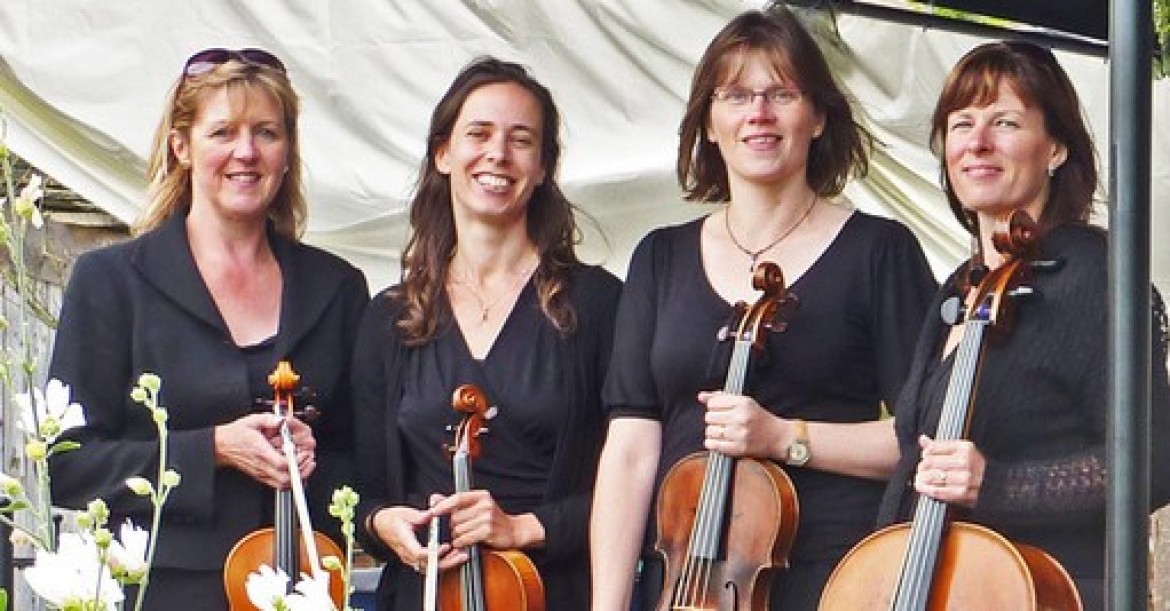 Location West Yorkshire
Starting from POA
The West Yorkshire String Quartet specialise in providing the perfect accompaniment to Wedding Receptions, Corporate Entertaining, Private Functions, Parties, Dinners and Balls.
The West Yorkshire String Quartet is four professional musicians with over 12 years experience, playing together at venues all over Yorkshire.
Listen




The West Yorkshire String Quartet
Number of Reviews and Counting... 1!
The West Yorkshire String Quartet specialise in providing the perfect accompaniment to Wedding Receptions, Corporate Entertaining, Private Functions, Parties, Dinners and Balls.
At a Wedding, The West Yorkshire String Quartet can be there to greet the arrival of your guests, to play during the ceremony - church or civil - and to entertain during the Wedding Breakfast. Never too loud, just the right balance to make your day an occasion that everyone will remember.
The West Yorkshire String Quartet is four professional musicians with over 12 years experience, playing together at venues all over Yorkshire.
Quartet - Cello, Viola, Violin (x 2)
Classics
Tango, Albeniz
Air On A G String, Bach
Arie, Bach
Brandenburg 3 & 4, Bach
Double Violin Concerto, Bach
Jesu Joy Of Man's Desiring, Bach
Organ Concerto In A Minor, Bach
Sheep May Safely Graze, Bach
Wachet Auf, Bach
Adagio Cantabile (Pathetique Sonata), Beethoven
Minuet, Beethoven
Ode To Joy, Beethoven
Carmen Suite, Bizet
Duet From The Pearl Fishers, Bizet
Minuet, Boccherini
Notturno From String Quartet, Borodin
Polovtsian Dance, Borodin
O Sole Mio, Capua
Te Deum (Prelude), Charpentier
Grande Valse Brillante, Chopin
Valse, Chopin
Prince Of Denmark's March, Clarke
Ballet- Petite Suite, Debussy
Clair De Lune, Debussy
Golliwogg's Cake Walk, Debussy
Flower Duet – Lakme, Delibes
Funiculi Funicula, Denza
Toccata, Dubois
Humoresque, Dvorak
Beau Brummel, Elgar
Chanson De Matin, Elgar
Chanson De Nuit, Elgar
Nimrod, Elgar
Salut D'amour, Elgar
Berceuse & Mi-A-Ou – Dolly Suite, Faure
Le Canticle De Jean Rancine, Faure
Pavane, Faure
Pie Jesu, Faure
Florentine March, Fucik
Por Una Cabeza (Tango), Gardel
2 Norwegian Dances, Grieg
Peer Gynt Suite, Grieg
Waltz (Op. 70 No. 3), Grieg
2 Allegro Movements & Siciliana, Handel
Arrival Of The Queen Of Sheba, Handel
Firework Suite, Handel
Hornpipe, Air & Largo – Water Music, Handel
Lascia Chi'o Pianga, Handel
Passacaglia, Handel
Canzona, Hasse
Oboe Concerto – Andante, Haydn
Serenade, Haydn
Liebesfreud Plaisir D'amour, Kreisler
Schon Rosmarin, Kreisler
Canzonetta, Mendelssohn
Wedding March, Mendelssohn
3 Divertimenti, Mozart
Adagio In C, Mozart
Eine Kleine Nachtmusik, Mozart
Elvira Madigan (Theme From Piano Concerto No 21), Mozart
Musical Joke – Presto, Mozart
Non Piu Andrai (Marriage Of Figaro), Mozart
Rondo Alla Turca, Mozart
Voi Che Sapete (Marriage Of Figaro), Mozart
Barcarolle, Offenbach
Can Can, Offenbach
Canon, Pachelbel
Stabat Mater Dolorosa, Pergolesi
Peter And The Wolf, Prokofiev
O Mio Babbino Caro, Puccini
2 Rondeaux, Purcell
Bolero, Ravel
La Cumparsita, Rodriguez Ballet Music (William Tell), Rossini
Barber Of Seville Overture, Rossini
Galop (William Tell), Rossini
Largo Al Factotum, Rossini
Melody In F, Rubenstein
The Swan, Saint-Saens
Ave Maria, Schubert
Moments Musicale, Schubert
Standchen, Schubert
Traumerei, Schumann
Trumpet Tune, Stanley
Pizzicato Polka, Strauss
Radetsky March, Strauss
Dance Of The Reedpipes, Tchaikovsky
Dance Of The Sugar Plum Fairy, Tchaikovsky
Danse Des Mirlitons, Tchaikovsky
Sleeping Beauty Waltz, Tchaikovsky
Waltz Of The Flowers, Tchaikovsky
La Forza Del Destino, Verdi
La Traviata - Drinking Song, Verdi
Rigoletto – Quartet, Verdi
Four Seasons (Scenes From), Vivaldi
Bridal March – Lohengrin, Wagner
Popular Song,Walton

Songs
All You Need Is Love
Anything Goes
Blue Moon
C'est Si Bon
Can't Buy Me Love
Can't Take My Eyes Off You
Cavatina (Deer Hunter)
Champagne Super Nova
Don't Get Around Much Anymore
Eleanor Rigby
Embraceable You
Fascinatin' Rhythm
Flowers In The Window
Fly Me To The Moon
For You, For Me, For Evermore
Four Seasons In One Day
Getting Sentimental Over You
Hard Day's Night
Have I Told You Lately
Heart And Soul
I Do Like To Be Beside The Seaside
I Got Rhythm
If
In My Life
It Don't Mean A Thing
It Had To Be You
It Must Be Love
La Paloma
Lady Be Good
Lady In Red
Lazy Bones
Leaning On A Lamppost
Let's Do It
Louise
Love Is Here To Stay
Makin' Whoopee
Mamma Mia
Mellow Yellow
Money, Money, Money
Moon River
Moonlight And Roses
Moonlight In Vermont
Mrs Robinson
My Funny Valentine
Neapolitan Serenade
Nice Work If You Can Get It
Pennies From Heaven
Piazzolla's Nice Work
Rockin' All Over The World
S'wonderful
Someone To Watch Over Me
Something (George Harrison)Strangers In The Night
Summertime
Take The A Train
That's Amore
The Folks Who Live On The Hill
The Man I Love
They Can't Take That Away From Me
Volare
When I Fall In Love
When I'm Sixty Four
Without You
Wouldn't It Be Nice (Beach Boys)
Yerushaliam
Yesterday
You Can't Hurry Love
Your Song

Film, Song And Show
All I Ask Of You ('Phantom')
All My Loving (A Hard Day's Night)
America (West Side Story)
Annie's Song
Anthem (From 'Chess')
Any Dream Will Do (From 'Joseph')
As Time Goes By
Beauty And The Beast
Bring Him Home
Bring Me Sunshine
But Not For Me
By The Sleepy Lagoon (Desert Island Discs)
Cabaret
Close Every Door (From 'Joseph')
Far From The Home I Love
Fawlty Towers
Gabriel's Oboe ('The Mission')
Gigi (Selection)
Happy Talk (From 'South Pacific')
Harry Lime
I Could Have Danced All Night
I Don't Know How To Love Him
I Dreamed A Dream
I Know Him So Well
If I Were A Rich Man
Is You Is Or Is You Ain't Ma Baby
Jeeves And Wooster
Lara's Theme (From 'Dr Zhivago)
My Fair Lady
My Heart Will Go On (Titanic)
Nun Music (The Sound Of Music)
One Hand, One Heart ('West Side Story')
Perfect Day
Pirates Of Penzance
Poirot
Pride And Prejudice
Raindrops Keep Falling On My Head
Shakespear In Love
Somewhere ('West Side Story')
Somewhere Out There
Sunrise, Sunset
The Graduate
The Snowman
The Time Of My Life (I've Had)
The Wind Beneath My Wings
There's No Business Like Show Business
These Boots Are Made For Walking
Three Little Maids
To Life
Tradition
Unchained Melody ('Ghost')
Upstairs Downstairs
What Kind Of Fool Am I?
Whistle While You Work
Wouldn't It Be Loverly?
You'll Never Walk Alone

Plus Many More...
Claire and David

, Wedding, West Yorkshire
Thank you to Jo, Hilary and the rest of the group for a truly amazing Wedding day! I cannot over emphasise how much you really made our day. Every single piece you played gave me goosebumps! You were professional, note-perfect and looked the part. All our guests commented how absolutely fantastic you were and how you really added an element of elegance to our day. Claire and David
---
Recent Venues include: Rudding House, Fountains Abbey, The Devonshire Arms, Betty's Tea Rooms, Hazlewood Castle, Wood Hall, Allerton Castle, Harlow Carr Gardens, Ripley Castle, Harewood House, Tickton Grange, Markenfield Hall, Merchant Adventurers Hall, Merchant Taylors Hall, Valley Gardens Harrogate. Plus, numerous marquees, private houses and other venues.
Please Note: The fees indicated below are approximate and based on a central location for each county. They are intended to provide a rough guide only and exact quotes can only be given once the date and exact location of your event have been provided.