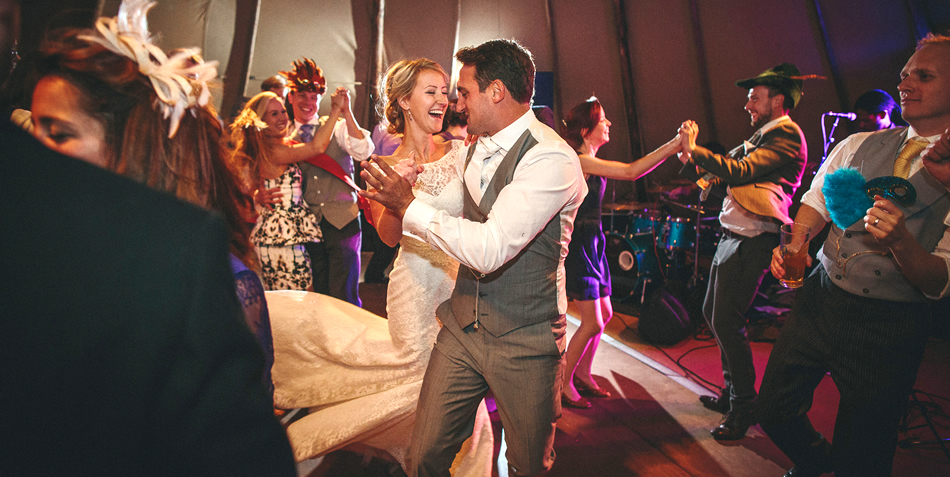 Trying to find and book a wedding band, or wedding entertainment to delight your guests is just one of the potential headaches you might face. It shouldn't be. Okay, you're on a deadline so let's make the process of choosing the most appropriate wedding reception entertainment an easy one. Some couples hire a DJ, but nothing matches the experience of a live act. Warble Entertainment offers over 2,000 bands for hire, but you need a few pointers to help you make the right decision for you. That sounds like a massive choice, but we recommend that you confirm that booking as early as possible. These bands get snapped up quickly! The most respected wedding music bands are always in demand, and for good reason. They know the drill and look after the music. They are the professionals, so you get to concentrate on the other important details that make up your exciting day.
So here are five bite-size chunks of information that will hopefully help to focus your thoughts, give you a comprehensive insight into the incredible array of talent on offer, and ultimately put your mind at ease when you select that all-important band.
Pick the Right Wedding Music for Your Big Day
This sounds so obvious, picking the right kind of music, but you need to talk it over, consider friends and family, and aim to book entertainment that will make it truly memorable for everyone concerned. Of course, it's your day, and the bride and groom should be in the spotlight, but you know from events that you have attended happy guests make for a successful party. You want your closest friends singing and dancing alongside you, aunties and uncles joining in the fun, and distant relatives talking about the wedding reception for years to come. And who doesn't like posting photos of everyone enjoying themselves on Facebook, Twitter, Instagram and the many other social media streams.
So the perfect starting point is deciding what style of band you think will best suit your post-ceremony event. You're getting married, so you enjoy similar things. You have plenty in common and you have probably been to shows and concerts together. Hopefully that includes music, and sharing the love of the same genre. But it's not that easy. Heavy metal might be your thing, but unless you're only inviting fellow rockers then you don't want your guests demanding ear plugs. Similarly, a 90s pop covers band won't quite do it when your circle of friends grew up to the sound of punk.
So you either consider a style that has wide appeal, like soul bands who perform catchy sing-a-long sounds that also get people dancing, or rock, maybe a bit of jazz, or a quality covers band that can adapt to any situation. Let's face it, the whole wedding band hire scene is an art in itself. It's a tradition, just like the speeches, tipsy uncles and cute bridesmaids. There's so much to consider. The last thing you need is a group of musicians that look great on paper but fall flat at the function. You need recommendations, star ratings, information, good quality video and audio coverage, plus a team of professionals who will back you from initial enquiry through to the performance itself. That's us, by the way!
A polished group will boast a varied catalogue of tracks. That will almost certainly mean something from the swinging sixties, a hearty splash of rock and pop from the seventies, some electronica and synth from the eighties, and of course some meaty guitar sounds from the nineties, whilst not forgetting the latest chart hits from 2000 and beyond! Get a wedding band that delivers all of that, and none of your guests will feel left out. The food and drink will get things started, then your chosen wedding band will be the icing on the cake. The music really should be one of the lasting memories alongside watching you swap vows at the altar.
Name that Wedding Tune
Robbie Williams got something right when he sang "Angels" for the first time back in 1997. That smash hit is one of the most requested songs at UK weddings in recent years, possibly around the world. And quite right too. We're sure it's not everyone's favourite track, but you can guarantee that nearly all guests in the room will know it, and most will sing along when they hear the first notes played. Heck, even the waiters and waitresses will be joining in. And happy staff can only add to a great occasion.
When couples start to think about the various aspects of their special day it's worth asking the band exactly what they are comfortable playing. The best wedding bands UK have to offer will be able to offer a huge set list that is designed for keeping dance floors full. Better still, look through their playlist and find out which tunes are a 'must-have' of songs to kick-start the celebrations. Some bands have a preferred sound, and the slow-dance ballads might not be their thing. And while they might be a talented bunch, you need to know that ad-hoc requests can also be played if that's what your guests want when the party is in full swing.
The list of classics is endless, but any ABBA track gets people to their feet, just as a Michael Jackson, The Beatles or Queen will encourage most in the room to belt out each chorus, whether they can sing or not. That's not the point. People love to sing and shout, let off steam, holding pretend microphones and strumming air guitars. It's a party, an amazing celebration and they want to be involved as the champagne corks pop.
New to the scene are infectious dancefloor fillers like Bruno Mars' "Uptown Funk", anything from Take That usually does the trick, maybe a One Direction favourite for the younger guests, or something from The Killers if you want a rockier edge. These are the most popular wedding songs to cover for a band. Flooding the room with sounds that people recognise is an essential part of getting the wedding mix just right. How about some of these classics?
Kings of Leon – Sex on Fire
Bon Jovi – Livin' on a prayer
The Killers – Mr Brightside
Pharrell Williams - Happy
The Beatles - Twist & Shout
Aretha Franklin - Respect
Bruce Springsteen - Born To Run
Guns N' Roses - Sweet Child O' Mine
Jackson 5 - Blame It On The Boogie
The B52s – Love Shack
The list is endless… So, start putting together your own favourites that will reach out to some of your most important guests (go on, dedicate something special to your loved ones), then pick a hatful of irresistible tracks for your live wedding band to perform that will get everyone in the party spirt.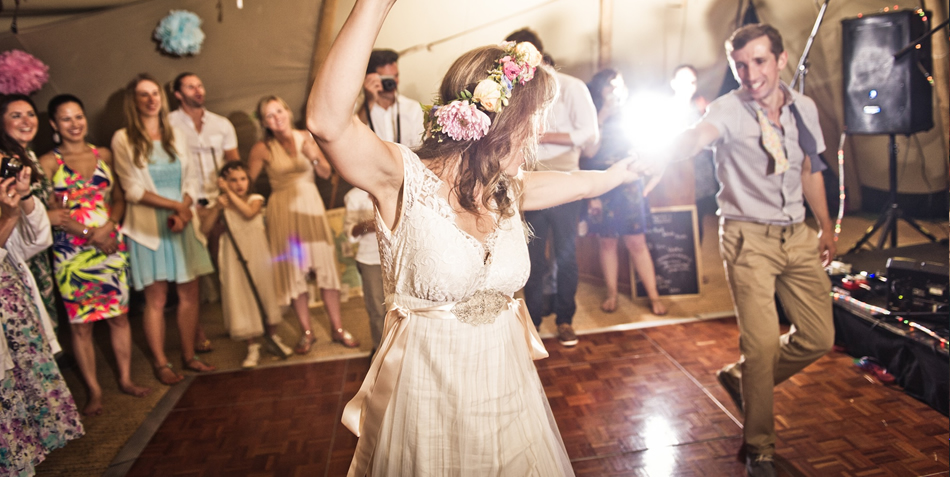 The Wedding Reception WOW Factor
You have the musical genre, you have considered some of the songs that you'd all love to hear performed, but other ingredients can really give your reception the WOW factor. That could mean dressing the set to match your overall wedding theme, maybe with photos or video streaming on a big screen in the background? You might even want the wedding band and guests in fancy dress!
As for what the band offers? A professional wedding music band brings everything that you will ever need for a successful and lively party. All acts are different, but with a little communication and planning you can ensure that you piece together exactly what you have always dreamt about. From first dances being learned or provided via the PA sound system, to full DJ sets before, between and after the bands live performances, you can see what extra options are available. Some groups will even provide acoustic sets at earlier points in the day, which are perfect for wedding breakfasts, drinks receptions and even the ceremony itself. Make a plan for what you think will work and then speak to one of our coordinators who will be able to advise on the best band to suit your needs.
Musicians are a diverse bunch. Some play in a more subtle acoustic style to create background sounds that complement an occasion perfectly. So, consider if you want a smaller three or four-piece band performing in a more laid back style, or something much bigger that will make for a stunning visual performance? Ideally, you want something unique and exciting, so just when you think that the band has peaked, out comes the saxophone or extra guitar and they crank it up another notch. Those unexpected moments make all the difference.
Some artists sing and dance about the stage, while the ultimate entertainers go even further. They know how to work an audience. Some of those on your guest list will be shy, but with a little coaxing they too can become involved. And when they do they love it, they just need a nudge in the right direction. A wedding singer (or frontman or woman) that knows how to strike the right balance on the night is vital. Being able to make that call comes with experience. Weaving amongst the crowd, getting grandma to join in with one of the old favourites, or a niece to sing and dance to a pop classic will light up a room. Point, click, flash! Cameras will go crazy as guests scramble to get that perfect photo.
When you watch some of the many videos of Warble Entertainment's acts you'll get a good feel for a band. But don't leave it there, speak with our coordinators and planners who deal with these performers each week. You really can't absorb enough information. So ask those questions: exactly what does your preferred combo offer? And if it doesn't tell you on a wedding band's bio, we'll get you the answers you need to make informed choices.
What is the Cost of Wedding Band Hire?
The average cost of a wedding band may vary greatly and could fall anywhere between £500 and £6,000 plus, depending on a number of factors. Some of these include; how experienced the group is and the kind of reputation they have built since forming, how many members there are in the band, the experience of the individual musicians (for example, have they toured extensively with famous acts), the quality of their sound and lighting equipment, whether they have a sound technician or additional crew members, and, if they are specialists within a specific genre.
When choosing a wedding band it is worth taking these aspects into account in order to get the best quality wedding band for your available budget.
Other Wedding Band Considerations
You could hire the best wedding band on the circuit, but if you haven't considered a few of the following details you could encounter problems on the night. That's the last thing you need, awkward hiccups that might take the edge off what is otherwise the perfect evening celebration. So having a simple check list is always recommended, and it's something that Warble Entertainment would be delighted to assist you with. We've done it for thousands of couples, making sure that the smallest detail is not overlooked.
A good place to start is finding out what questions to ask a wedding venue before you book. Especially if you want to get the most out of your live wedding music.
For starters, is your venue big enough? That idyllic village hall looks beautiful, and the wedding photos will look glorious on the wall, in albums and shared across social media. Inside the venue it could be very different. The performance area is vital if you want your guests to see the action, also to give the band space to perform while your party people dance the night away. Will your band perform outdoors if the weather is fine? So, do you have enough room for a standard four-piece, is five too many, and just how big is that drum kit? We can tell you where our bands have played and what space they require to give you a great performance.
Power, lighting and access… some musicians come with plenty of kit, heavy and sometimes cumbersome equipment. They'll need to get in and out without too much fuss, certainly without interrupting any other preparations – like the catering, flowers and seating. When feeling your way through the world of wedding band hire, you will soon realise that they also need power, and lots of it if they're heavy on the electrics. Your venue will have experience of various forms of entertainment, but never assume that that everything is supplied. Check, then check again!
And another top tip: keep your band sweet. You don't want a bunch that demand the earth, like asking for one hundred white roses scattered across pink leather sofas, bizarre flavoured vodka or 5-star hotel accommodation and a Bentley to transport them to and from the performance. That's what the bride and groom deserve from their wedding suppliers. Still, a few home comforts will put the artists at ease and get them in the right mood ahead of taking to the stage. Simple things like bottles of water, a heater or fan depending on the time of year, and of course a little food is always appreciated. Just check if they have any special requirements.
Some of the Best UK Wedding Bands
And finally, with those vital boxes ticked, and decisions made about what style of music will appeal to your guests, you must be eager to pick the group that will forge ever-lasting memories. Warble Entertainment assesses every one of our party bands and monitors every snippet of feedback so that you can chose the right act.
Regardless of where you are based, it is easy to hire UK wedding bands from every area with us. We have incredible musicians based in Scotland, London, Wales, Manchester, Bristol, Cheshire, Essex, Kent, Devon and many more locations. Simply search for your wedding band via the location field to see the most popular performers in your region.
What Warble Entertainment guarantees is peace of mind, right up to the wedding band playing that first note. Most events run without a hitch, but to cover anything unforeseen we have a 24-hour helpline just in case you need any final reassurance.